Our 20+ Favorite Cottage Garden Plants & Flowers
Create a beautiful cottage style landscape with these reliable flowering plants
Published 7/15/2022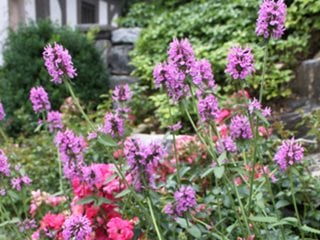 Photo by: Jan Johnsen.
Cottage-style gardens conjure up romantic images of a storybook home in the British countryside surrounded by colorful flower borders. These gardens are characterized by loose, informal design and dense, exuberant plantings.
You can achieve the cottage garden style in your own yard by growing quintessential cottage garden plants. Include varieties that bloom at different times during the growing season and some with fragrance to capture the essence of a cottage garden. Create a layered look by choosing plants by size to grow in the front, middle, or back of a border. There are no hard-and-fast rules; select plants that most appeal to you.
On this page: Front of Border | Mid-Border | Back of Border | More Cottage Garden Plants
On this page:
FRONT OF BORDER PLANTS
These varieties can be used at the front of a border or as pathway edging.
MID-BORDER PLANTS
Plants at the center of a border are what anchors the rest of the landscape. Choose varieties that are medium sized that can create a smooth transition between plants in front and back.
BACK OF BORDER PLANTS
Tall plants placed at the back provide a backdrop to set off the rest of the plants in a cottage border.
MORE COTTAGE GARDEN PLANTS & IDEAS
Other cottage garden flowers include baptisia, bellflower, columbine, daffodil, daylily, honeysuckle, hydrangea, lilac, marigold, poppy, sunflower, tulip and wisteria.
Classic cottage garden herbs and edible flowers include anise hyssop, calendula, chives, feverfew, nasturtium, oregano, parsley, rosemary, sage, and violets.
Get more cottage garden ideas in this video from Jenny and Jerry at Creekside Nursery.
RELATED