15 Edible Flowers to Grow
Add visual appeal and fresh flavor to your meals with these common garden flowers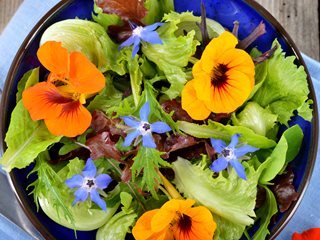 Photo by: Geo-grafika / Shutterstock.
If you want to step up your cooking repertoire, incorporate edible flowers into your meals. Pretty as well as tasty, edible flowers add a touch of elegance to appetizers, salads, main dishes, beverages, baked goods, and desserts. Create memorable dishes for special occasions such as birthdays or anniversaries using edible flowers that your guests will be talking about long after the party is over.
It's essential to research what flowers are edible before cooking or eating to make sure they aren't toxic, or have other properties such as a bitter taste or prickly texture that make them unpalatable. The possibilities for using edible flowers are nearly endless, whether used as a decorative garnish, raw, cooked, or preserved. Here are some of the best edible flowers to grow and eat. On this page:
EDIBLE FLOWER TIPS
Harvest flowers early in the day when the blooms are fresh and essential oils are most intense. Make sure flowers are free from bugs and refrigerate until you're ready to use them. Use as soon as possible for the best quality.
To wash flowers, dip them in a bowl of cold water and shake gently to dislodge dirt or bugs. Some flowers may be too delicate to wash.
Before eating the flowers, remove pistils and stamens. Flowers such as nasturtium, chives and borage can be left intact.
Never use pesticides or chemicals on any plants that you plan on eating. Don't use flowers that have been purchased at a florist or garden center, as they may have been treated with chemicals that can be harmful if ingested.
If you decide to forage for edible flowers in the wild, avoid harvesting flowers adjacent to roadsides, as they may contain pollutants.
Eat edible flowers sparingly, as some people may experience digestive issues if they over-consume.
Don't use too many different types of flowers at once, as the individual flavors will be overwhelmed.
Herb flowers tend to be more pungent than the leaves, so use them more sparingly.
For tiny delicate flowers such as borage, use tweezers for easier handling, more precision, and to avoid damaging the flowers.
Some plants have other parts that are edible, such as stems, leaves, fruits or tubers. Check to make sure these other parts are edible before consuming.
If you have pollen allergies, avoid eating edible flowers, or proceed with caution.
RELATED:
24 Purple Flowers to Brighten Your Garden
32 Red Flowers for a Gorgeous Garden
34 Yellow Flowers for Your Garden
How to Start a Flower Garden