Shade Garden Design Ideas
Lighten up a shady garden with a well-thought-out design and carefully selected plants
For some gardeners shade is a luxury, for others it is challenge. If you fall into the latter group, don't give up. A thriving garden in the shade is possible! Whether you want to spruce up a shady backyard patio, add color to a shaded border or bring life to a woodland path, a well-thought-out design and carefully selected plants are essential. Both foliage and flower lovers will be impressed by the wide variety of shade-loving plants available that will flourish in filtered light, deep shade, or even a wetland environment. Check out the resources below to start the journey of transforming your landscape's shady spots into a stunning low-light garden.
Shade Gardening Articles: Get an inside look at well-designed shade gardens in Los Angeles, New York, Portland, Toronto and more.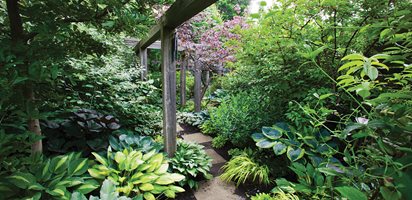 Shade Garden Pictures
Browse a collection of shade garden photos from around the country to get design ideas for your own home.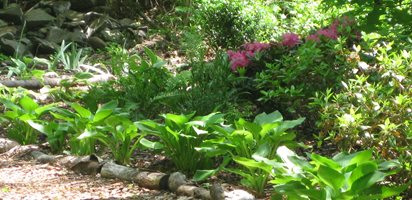 Creating a Shade Garden
See how a former eyesore was transformed into a wonderful shady retreat complete with clearings, meandering paths, a gurgling pond, seating areas and colorful woodland plants.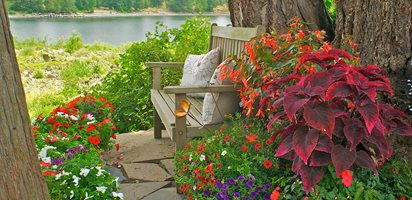 Container Gardens Made for the Shade
Learn how to enhance shady spots with the addition of brightly colored or shiny metal pots, paired with lighter or contrasting hues of foliage and flowers.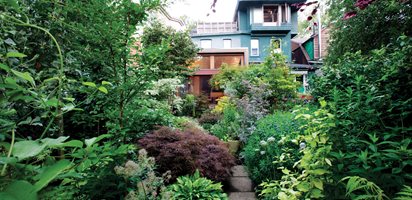 Toronto Shade Garden
Discover how the owner of this property uses a layered, well-edited selection of plants appropriate for her specific shade conditions to create a dramatic garden with thrilling colors and textures.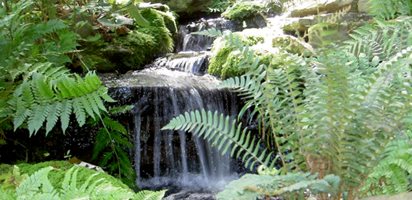 North Carolina Woodland Reverie
Ferns, mosses, hostas, and coleuses unite in this woodland landscape that makes the most of a hilly lot with a plethora of trees that keep the garden partially shaded at all times.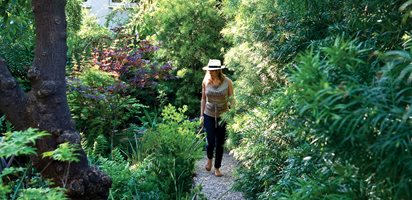 The Path Less Taken
Shrouded by mature trees, this Los Angeles property is cool and shadowy, allowing shade ferns and philodendrons to coexist with jasmines, Japanese maples, succulents, and plumeria.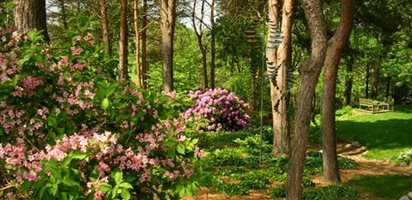 Overgrown Hillside Becomes Wooded Wonderland
The owners of this Michigan garden cleared shady spots overrun with poison ivy to make room for lush fern and hosta gardens.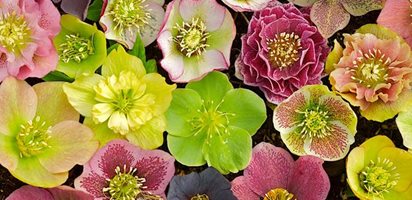 A Winter Jewel Box
Faced with a problematic slope and mature oaks that block much of the natural light, this Portland gardener created a winter jewel box featuring hellebores, winter hazel and snowdrops.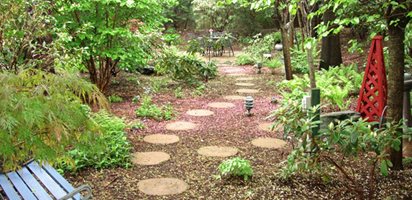 A Cool, Quiet Corner of the World
Located on Long Island, this property was transformed into a woodland shade garden that gives the sense of being in a deep forest glen or hollow.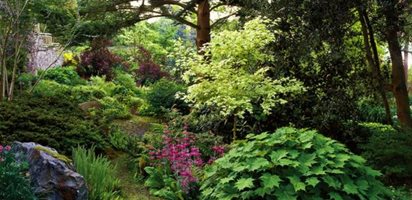 The Elisabeth C. Miller Botanical Garden
This public garden was originally carved out of native woodland on a rocky slope overlooking Puget Sound and is shaded by a canopy of towering, evergreen conifers.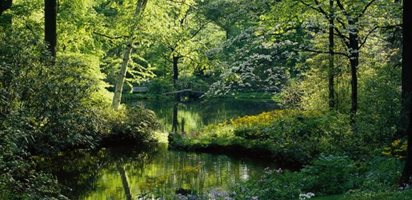 Mt. Cuba Center
Another shade garden open to the public, this one in Delaware, offers a great example of how to layer plants from canopy to ground level in a way that ensures interest all year.
PLANTS FOR SHADE GARDENSDiscover some of our favorite shade-loving plants to add interest to your own garden no matter how much light it receives.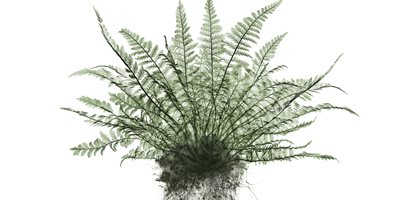 Ferns
Preferring indirect light & moist soil, ferns produce fiddleheads that unfurl into fronds with intricate fretwork. They can be grown indoors or out & are common additions to shade gardens across the U.S.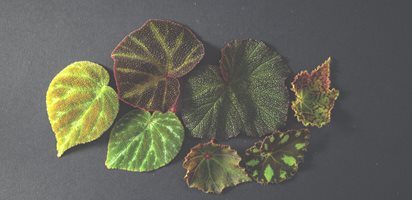 Begonias
Typically employed as houseplants or in shaded summer beds, begonias have tropical and subtropical ancestries and are recognized by their asymmetrical leaf shapes. Many have beautiful foliage and bloom in a wide array of colors.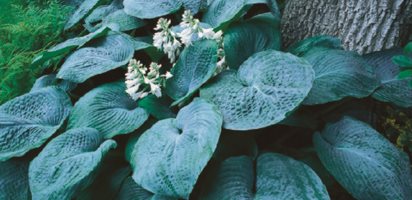 Shade-Loving Hostas
The ultimate foliage plant for shade, hostas offer versatility, durability and a seemingly limitless variety of forms, sizes and shades of green.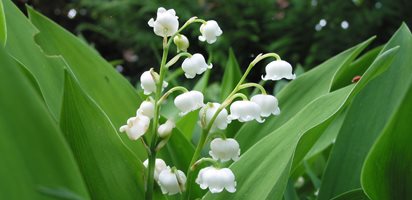 Lily-of-the-Valley
Fall in love all over again with this fragrant white-flowering perennial.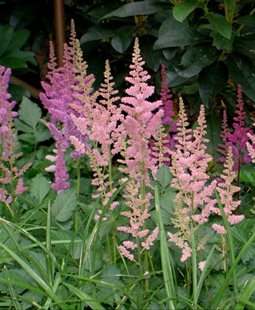 Jay Sifford
Astilbe
Hardy in zones 3-9, astibles are the go-to plant for adding color to shady spots. Choose between showy flowers in red, pink or white and enjoy the fern-like foliage in the off season. Mature plants can reach a height of five feet. (Picture originally appeared here.)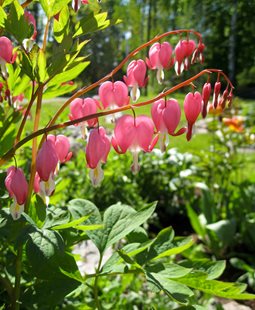 Thomas Hägg
Dicentra
Better known as bleeding heart, this perennial has beautiful foliage with graceful stems of heart-shaped flowers in spring. Prized for the ability to flourish in damp woodland settings alongside ferns and other shade-lovers, bleeding heart is hardy in zones 3-9, can grow up to three feet wide and tall, and is available in pink, white or yellow. (Picture originally appeared here.)
Chelsea Stickel
Caladiums
These leafy plants pair well with ferns and impatiens and are a popular choice for containers. Their splashy foliage colors will add a bright spot to any shade garden. See 9 types of caladiums.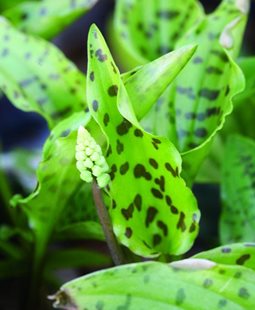 Chelsea Stickel
Drimiopsis maculata
A great plant for partial to light shade, Drimiopsis maculata is hardy to Zone 9 and is a nice size for containers. Learn more.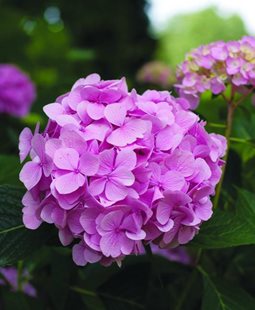 Spring Meadow Nursery
Hydrangea macrophylla Let's Dance™ 'Moonlight'
Hydrangeas are classic big, pretty flowers, and the reblooming Let's Dance series from Spring Meadow Nursery takes it to the next level, with saturated colors and lush plants. 'Moonlight' is a mophead form in rich pink that ages to chartreuse; in acidic soils the flowers are blue. Hardy to Zone 5. gardencrossings.com, springmeadownursery.com, stargazerperennialscatalog.com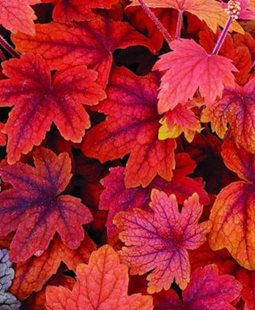 Terra Nova Nurseries
Foamy Bells 'Sweet Tea'
Coppery-orange leaves, 4 inches across, are marked with cinnamon-colored stars. X Heucherella 'Sweet Tea', a hybrid between Tiarella and Heuchera villosa, forms a neat mound 1 to 2 feet tall and wide. Performs best in light shade. Looks fabulous no matter how hot the summer. Perennial. Zones 4 to 8.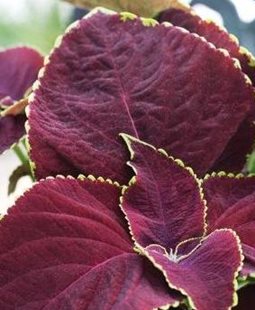 Chelsea Stickel
Solenostemon 'Chocolate Mint'
Solenostemon 'Chocolate Mint' is a rich new coleus with mahogany velvet leaves edged in chartreuse. For just a hint of black, try racy 'Fishnet Stocking' coleus, with an inky tracery of black-purple veins over lime green. burpee.com, chocolateflowerfarm.com, parkseed.com, veseys.com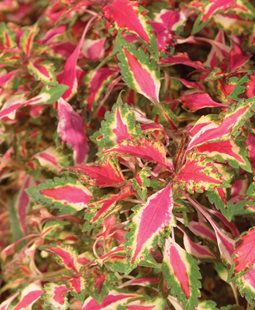 Proven Winners
Coleus 'Pink Chaos'
Hot-pink leaves with ruffled, variegated borders edged with a thin line of light green make Solenostemon 'Pink Chaos' look like an explosion of neon paisley. Grows 6 to 18 inches tall. Can be perennial in Zones 10 to 11, but elsewhere is an annual. Available from Proven Winners.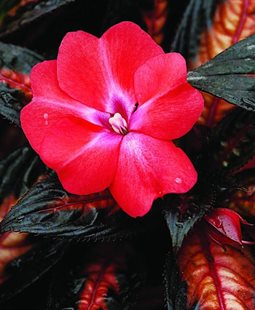 Chelsea Stickel
New Guinea Impatiens
One of 22 varieties in the Celebrette Series, 'Coral Light' has a kickin' combination of large coral flowers hovering over dark-edged foliage midstriped with a blaze of more coral. Needs some shade, but laughs at heat and humidity. Grows 8 to 10 inches tall and 10 to 12 inches wide. Annual. simplybeautifulgardens.com
Reader Questions
My lawn languishes under several large shade trees. Is there anything I can do short of cranking up the chain saw?
See answer
The shady, narrow walkway beside our city house is a straight 30-foot shot, flanked by beds only a foot wide. Are there any ways to make this dead space come alive?
See answer
Get more gardening advice.