Vertical Gardens
Vertical gardens have become incredibly popular, with versions created from succulents, air plants, and more, appearing all over the world. We take a look at some of the big names—Patrick Blanc, Flora Grubb, Wooly Pocket, and Michael Hellgren—behind the trend.
Vertical gardens have an amazing and dramatic appeal and public vertical gardens have begun popping up in major urban centers all over the world. In a cityscape full of concrete facades and architectural flourishes that can only imitate nature's aesthetics, a building covered completely in hundreds of species of living plants is a showstopper.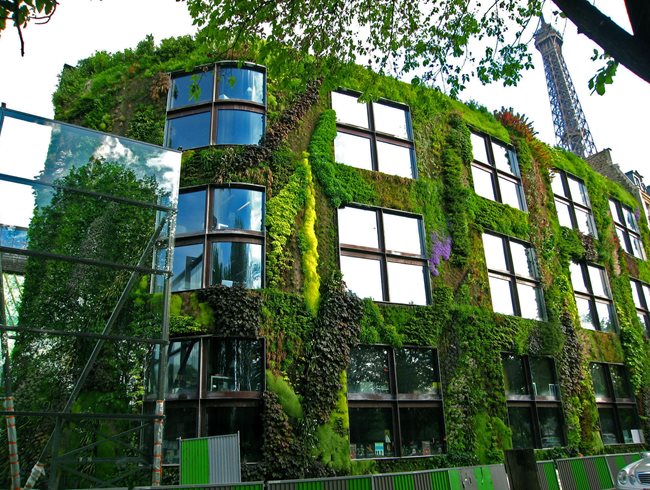 Musée du Quai Branly, in Paris, features art from Africa, Asia, Oceania, and the Americas. The building was designed by architect Jean Nouvel and the vertical garden on the exterior, was designed by Patrick Blanc and Gilles Clément. (Photo by: Patrick Blanc)See also our post about the National Gallery's Van Gogh Vertical Garden!SEE MORE VERTICAL GARDEN PHOTOS
Patrick Blanc, a French botanist and a pioneer of the vertical garden concept, says that his numerous creations that include the exterior of the Quai Branly Museum (shown above) in Paris and the Parliament in Brussels, prove that living in a city doesn't have to mean abandoning the natural world. His work designing public vertical gardens, which began in the late 1980s, helped solve one of the biggest urban planning problems of modern times: How to find space for the greenery that we need to maintain our air quality and emotional health.
But planting up instead of out is easier imagined than done. One of the biggest design challenges that Blanc had to overcome was preventing the plants' roots from growing inside the building's wall and slowly breaking it down. His patented solution is to plant the greenery directly into a complex framework of metal, PVC and nonbiodegradable felt that sits on top of the building's façade. Blanc says that once the garden is in place, it needs very little upkeep. An automated watering system on the top of the garden provides the plants with hydration and nutrients. Even better, because the plants are planted so densely on the wall, the garden doesn't need to be trimmed or weeded.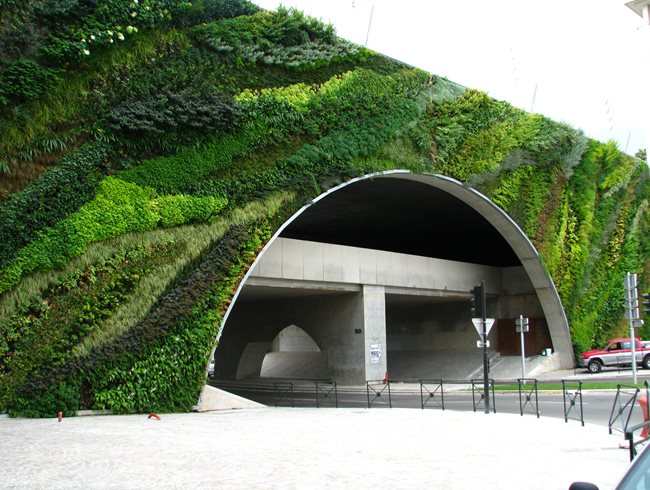 Pont Max Juvénal, Aix-en-Provence, France One of Blanc's vertical gardens, installed on a highway overpass in 2008, is striking enough to stop traffic. Blanc writes in his book The Vertical Garden: From Nature to the City that when building open air gardens in temperate regions like this one in southern France, he imitates a naturally occurring gradation: starting at the bottom with plants that would grow in an understory (ferns, Heuchera, Pilea, Iris japonica), then moving up the wall with plants from rocky slopes (hydrangeas, Bergenia, Sedum), and finishing at the top with plants from exposed cliffs (conifers, Cotoneaster, Berberis). (Photo by: Patrick Blanc)SEE MORE VERTICAL GARDEN PHOTOS
Since the mid-90s, Blanc's colorful, lush walls have become popular attractions in large cities in France, Spain, and Japan, inspiring the next generation of botanists to experiment with the form. A few years ago, Bay Area gardener and blogger Flora Grubb started planting vertical gardens in hotels and cafés around San Francisco for private commissions. Now, it's fairly common to spot vertical gardens growing on the sides of banks, hotels, city buildings, and even parking lots in American cities, including Philadelphia, Los Angeles, and Fort Lauderdale, Florida.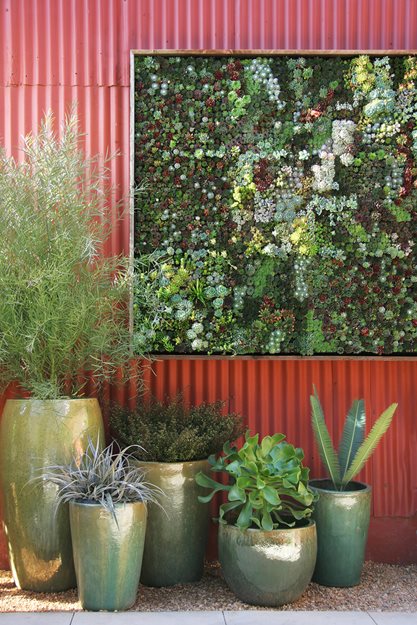 Flora Grubb Gardens, San Francisco, California
Grubb's creation may look like a painting but it is actually a growing vertical garden of succulents. Grubb wrote in a post on her blog that the garden is extremely easy to maintain: she mists it with water every so often and sometimes prunes out overgrown plants, but mostly lets it be. (Photo by: Caitlin Atkinson)
SEE MORE VERTICAL GARDEN PHOTOS
Private vertical gardens have also become a popular home gardening project for space-deprived urbanites, who plant everything from edible herbs to succulents on the interior walls of their apartments. While some types of home vertical gardens are outrageously expensive to construct and maintain (the New York Times reported that one home vertical gardener in Miami spent an estimated $10,000 on his living wall), companies like Woolly Pocket have come up with low-cost structures that are easier to install.
Whether public or private, vertical gardens seem to have a special pull for city dwellers-one that Blanc describes in rather poetic terms in his book The Vertical Garden: From Nature to the City. He writes, "Any human being standing in front of one…will feel the breath of the wilderness in the midst of the city."