Designing a Contemporary Garden with Warmth
Designer Colin Miller of Envision Landscape Studio in Walnut Creek, California, shares tips on designing a contemporary landscape that is suited to the welcoming indoor-outdoor lifestyle modern gardeners are trying to create.
Taken to its extreme, the sleek materials and minimalist approach of modern landscaping can sometimes seem cold or uninviting. Yet modern design's emphasis on crafting an organized space and respecting unadorned materials has the potential to create a setting which feels not only friendly and inviting, but also personalized and artful. Designer Colin Miller of Envision Landscape Studio in Walnut Creek, California, shares his tips on designing a contemporary landscape that is less space-age and more suited to the welcoming indoor-outdoor lifestyle modern gardeners are trying to create.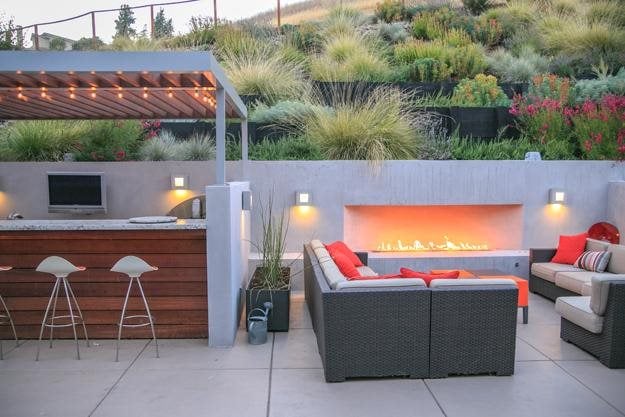 Photo by: Colin Miller.
Opt for a Natural, Loose Planting StyleNeatly organized lines of stiff, sculptural plants are the norm in many contemporary landscapes, as though the architect wanted to impose the minimalist structure of the building on the exterior spaces. Yet this type of planting style seems to utterly reject any relationship with the natural world. Miller shares a friendlier approach. "There's no reason to feel stuck with rigid, architectural plants," he says. "When your plantings have a loose, alive appearance, they bring a sense of playfulness, liveliness, and warmth."
Photo by: Colin Miller.
In a modern landscape, there is enough organization in the hardscape that you have the option to go more natural in the plantings. "You don't see a lot of perennials in modern gardens, and I'm not sure why that is," says Miller. "The flower color warms things up a lot, and combines well with the color from ornamental grasses. Perennials can get a little loose and messy looking, so you need to use them very strategically, but they can really soften a corner or a walkway."
Photo by: Colin Miller.
Use Plants to Connect Your Garden With Its SurroundingsPlants with bold silhouettes have a clean look which feels appropriate next to the architecture. "We start with an organized palette in and around the outdoor rooms, then as we go farther out, we want the plantings to almost dissolve into the surrounding natural environs," explains Miller. "In our area the gardens often have beautiful backdrops, sometimes overlooking golden California hills, or a riparian area near a creek."
He designs the outer edges of the planted areas almost as one would weave a tapestry, creating a loose fabric of textures and colors which blurs the boundary lines of the landscape and visually claims the scenery beyond. Near a riparian zone, he pulls in rushes and other fresh, lush plants. Next to grassland, he draws upon the motion and softness of ornamental grasses. "We never want a landscape to feel like a sterile museum," he says.
Photo by: Huettl Landscape Architecture.
Bring Warmth to Your HardscapesA sterile, lifeless appearance is a common pitfall in modern design. There's an emphasis on the use of "honest" materials, which is to say they aren't pretending to be something they are not. For example, a simple concrete patio is more honest than is concrete that has been stamped and colored to look like flagstone. Yet as Miller points out, "the natural colors of concrete, steel, smooth stucco, and some types of stone have a cool appearance which can be uninviting if overused. The obvious solution is to add color, but color can take you away from a modern aesthetic."
One simple solution he's discovered is to use color, but with such subtlety that it barely reads as such. The Davis Colors concrete color chart has two colors, pebble and sandstone, which provide just enough lightness to make a large concrete patio feel more inviting, yet "it's nothing too bright," says Miller. "It still reads as concrete." When the mild warmth of the colored concrete is carried through the landscape in the plants and other materials, as in the project above (co-designed by Miller and Joseph Huettl while at Huettl Landscape Architecture), the coloration of the patio fits intuitively and seems a perfect choice.
Photo by: Colin Miller.
Oiled wood or weathered and rusted Cor-Ten steel also introduce a warm, rich tone to the landscape which softens contemporary materials in black, gray, and silver. A backdrop of horizontal wooden retaining walls or a low horizontal fence of Cor-Ten steel organize and define a space, while floating wooden benches placed within a smooth stucco wall are a decorative accent which can double as overflow seating during gatherings.
Don't Forget Layout & LightingThe layout of the landscape also plays a part in adding warmth. "What we do is pull the plantings into the hard spaces by using planters, either elevated or on the ground plane, within patio areas," says Miller. When the planters are raised up, the plantings within become a more tangible and focal part of the design. When confronted with a slope, Miller sees an opportunity to use retaining walls to elevate the plantings so they are a stronger visual element.
Photo by: Colin Miller.
Contemporary landscapes are designed to act as an extension of the home, and with busy modern schedules, the ambience at night is as important as during the day. Cool-toned lighting gives off an eerie, off-putting glow, and should be avoided. "When LEDs first came out they were very blue," says Miller. "But they are a lot warmer now and can look like incandescents."
Of course, the fixtures are as important as the quality of light they emit. Recently, Miller has been rethinking the shiny stainless-steel ultramodern fixtures that have been a staple in so many high-end contemporary landscapes, because they become such a focal point during the day. "I've been thinking about light fixtures as though they were more of a sculptural piece and asking myself, if those weren't lights, would I add them to the garden?" Lately, he's been moving towards simple bronze fixtures which blend more seamlessly into the plantings.
Photo by: Colin Miller.
Express Your Personality with Artful TouchesA design comes together most fully when the focal points, furnishings, and artful touches combine for a space that is customized and connected to the owners and the surroundings. However, adding personality without disrupting the minimalist aesthetic inherent in contemporary styling can be a challenge. When in doubt, Miller advises keeping it simple. "Picking out furniture that incorporates wood is always a safe way to add warmth," he says. "It's not going to go out of style. You have the option of adding color using cushions, but anytime you introduce color, it demands your attention and is going to be a focal point."
While it's sometimes fun to follow trends, the lime green and orange cushions that are so popular in modern gardens right now can easily overwhelm the design of a space. Instead, look to your planting palette for cues. Repeating a color found in an ornamental grass or flower is more personal to your landscape, and won't be out of fashion next season.
The liveliness of nature also elevates the elegance of a simple design. "Water features are sculptural elements in and of themselves, and I always encourage clients to put fish in their water features to create an exciting ecosystem and introduce color and life," he says. Native plants and pollinator-attracting perennials also play a part in bringing balance and connection to a structured contemporary space. The seasonal visits from hummingbirds, butterflies, and bumbling bees is a lighthearted addition to the garden which keeps it from becoming static.
RELATED:
Modern Garden Ideas
Plants for a Modern Garden
Backyard Landscaping