Ideas for an Enticing Cottage Garden
Featured in: Garden Design's Top 9 Garden Trends for 2023 ("Creating Cottage Gardens")
The call of a cottage garden, filled with a profusion of flowers and smelling of roses, dianthus, and lilacs, is alluring indeed. The image of a resplendent, colorful garden has enticed many a homeowner to install a picket fence and a bounty of flowers in the hopes of creating such a haven.
The original cottage gardens were planted by British laborers who had little land and no time for flowers. They simply needed food for their family and herbs to treat illnesses so they planted vegetables, herbs, and fruit interspersed with a few flowers to ward off bugs.
Around the end of the eighteenth century, members of the well-to-do gentry began to idealize the cottage life and created their own version of cottage gardens. It was then that the British cottage garden was transformed into the flower-filled setting that we dream of today.
Here are a few tips to create your own cottage garden.
Go for the Romance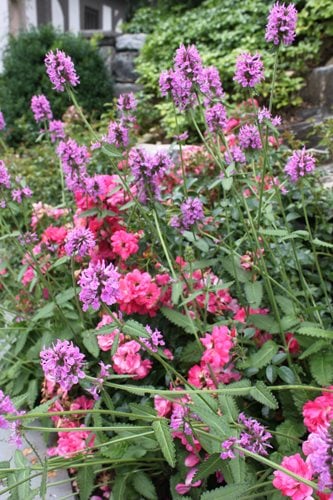 Stachys officinalis 'Hummelo' and Pink Supreme Roses.
Most cottage gardens seem to set a romantic tone. Maybe it is because pastel shades are favored here or perhaps it is because fragrant flowers are popular in this kind of garden. Peonies and old roses scent the air and add that touch of sumptuous sensuality.
But there are many plants you can use in cottage gardens. In this photo, I planted lavender Stachys officinalis 'Hummelo' along with Flower Carpet® 'Pink Supreme' Roses for an exuberant effect. They are both fairly easy to grow and the Stachys tolerates some drought. Its scalloped leaves also add to the scene.
Enclose the Cottage Garden
A twist on the typical picket fence.
Since cottage gardens can be small, the look of the surrounding fence is an important decision. Traditional fences were lower than are typical today. Picket fences are popular as are lattice fences which can support flowering vines such as clematis, wisteria, and climbing roses.
The picket fence is the traditional favorite and there are many variations on this theme that you can consider. And remember that you can use any color you want for this fence!
Plant Close/Keep Soil Healthy
Clematis and Nepeta.
Cottage gardens traditionally have plant beds by the house packed tight with plants. This informal crowding of a wide variety of plants is a signature feature and the mix of perennial and annual flowers with vegetable and foliage plants, twining around each other and competing for attention, is what makes a cottage garden so fascinating. Here I planted Clematis 'Jackmanii', climbing up a fence, fronted by Nepeta racemosa 'Walker's Low'.
Good, rich organic soil ensures that overflowing plant beds look great—and plants stay healthy—from day one. Make sure to incorporate plenty of compost in the soil and use compost, tea, or fish emulsion fertilizer. Also cover the soil with mulch (not dyed). Mulch is important as it maintains soil moisture, keeps temperatures steady, and improves soil as it breaks down.
Use Curving Pathways
A curved bluestone path.
Soft, curving pathways are at home in a cottage-style garden. They add to the homey feeling and invite people to explore further. You can use hard surfacing like bluestone (as I did here in this garden in New York), brick, or a combination of old bricks, tile, and stone. Soft paving like wood chips and gravel also work well as long as the walkway is edged to hold these materials in bounds.
Mix and Match
Super Hero roses and hardy geranium 'Rozanne'.
Color theorists may scoff at mixing certain colors together, but in a cottage garden anything goes! Here I planted the deep-red Easy Elegance® 'Super Hero' rose with the ever-blooming lavender perennial geranium 'Rozanne'. The geranium has exceptional heat tolerance and blooms throughout the summer. It also grows easily among the roses.
Use Fun Elements
A cast stone finial.
This is where a cottage garden shines! It is such a joy to add items that delight you in a garden and share your vision with others. Place an old wheelbarrow in a corner or moss-covered statuary in a bed. Tools, lanterns, and stone finials, as shown here, all become part of the cottage garden tableau. The idea is to have fun.
Don't Follow the Rules
Artemisia, Laurentia and Dianthus.
Be free in your cottage garden! Of all garden styles, the cottage garden is one that is meant to delight and appeal to your own personal taste. Plant cabbage among the flowers or Swiss chard along the path. Do not follow "the rules." Plant whatever appeals to you—there is no 'no'.
Here, I combined silver artemisia with dianthus and the star-shaped 'Blue Star' Laurentia axillaris. This is an annual flower in my part of the world and has soft blue blossoms that flower nonstop from June. It is a great filler plant and has lovely, ferny foliage.
7 Steps to the Perfect Cottage Garden
| | |
| --- | --- |
| Go for the Romance | Pastel shades and fragrant flowers are hallmarks of the cottage style. |
| Enclose the Cottage Garden | Picket or lattice fences that aren't too tall are ideal. |
| Plant Close/Keep the Soil Healthy | Plant to promote informal crowding of perennials, annuals, vegetables and foliage plants. Use rich organic soil and mulch. |
| Use Curving Pathways | Invite people to explore further with a bluestone, brick, wood chip or gravel path. |
| Mix and Match | Try unusual color combinations (deep-red and lavender). |
| Use Fun Elements | Display an old wheelbarrow, moss-covered statuary, tools, lanterns, stone finials. |
| Don't Follow the Rules | Plant whatever appeals to your personal taste. |
Jan Johnsen is a landscape designer (Johnsen Landscapes & Pools), blogger (Serenity in the Garden) and author.
Books by Jan Johnsen
Join us for our next webinar!
WORKING WITH BULBS:
The Great Dixter Way
with Fergus Garrett
Saturday, October 21st @ 12PM EDT
RELATED