GROWING DIANTHUS
Add beauty and fragrance to your garden with this old-fashioned favorite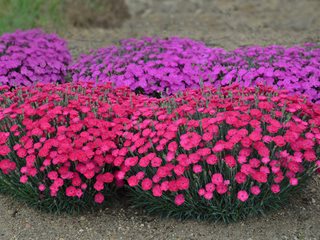 Photo: Walters Gardens, Inc
A welcome sight in the garden come spring, dianthus are admired for their spicy clove-scented flowers and cottage-style appeal. This low-maintenance plant blooms in nearly every color, from white to almost black. Plants come in a range of shapes and sizes, from low, mat-forming groundcovers to upright varieties 3 feet tall. Their uses in the garden are nearly endless, from border displays and rockeries, to containers and cutting gardens. Dianthus plants attract butterflies and hummingbirds, as well as pollinating insects.
From a large genus of about 300 species, Dianthus are native to Europe and Asia. Most are perennial, though some are biennial or annual. Perennial forms—also called pinks—are evergreen or semi-evergreen. The common name is derived from the frilly edges of the petals, which look like they were cut with pinking shears. Sweet William is a short-lived perennial most often grown as a biennial or annual. Carnations are a favorite of florists for their long stems and extended bloom time. Less hardy than other types, carnations are typically grown in milder climates.
On this page: The Basics | Planting | Care | Choosing the Right Dianthus | Pictures | Landscaping Tips
DIANTHUS BASICS
Zones:
3-9, differs by variety
Height/Spread:
4 to 36 inches tall, 4 to 24 inches wide
Exposure:
Dianthus bloom best with at least six hours of full sun, but can tolerate partial shade.
Bloom time:
Spring to early summer; some rebloom intermittently or continuously through summer and fall.
Color and characteristics:
Flowers are single, semi-double or double with frilly petals. They come in nearly every color with the exception of blue, as well as patterned bicolors. Foliage is strappy and grass-like, occurring in shades of green, blue-green or silver-green.
Toxicity:
Dianthus foliage can cause minor skin irritation in some individuals, the effects usually lasting just a few minutes. The plants can be mildly toxic to pets if ingested, causing stomach upset or vomiting. Seek advice from your veterinarian or poison control center if needed.
PLANTING INSTRUCTIONS
When to plant:
Perennial types are best planted during cooler months in spring or fall. For biennials and annuals, plant nursery starts outside in spring, or sow seed indoors 6 to 8 weeks before your last frost date for bloom the same year. Seeds sown directly in the garden in late spring or summer will bloom the following year.
Where to plant:
Choose a site with rich, well-draining soil in full to part sun. Plants will bloom best in full sun; too much shade can result in fewer flowers and crown rot.
How to plant:
Place plants 6 to 12 inches apart, depending on the variety. Loosen soil to a depth of 12 inches and mix in 2 to 4 inches of compost. Dig a hole twice the diameter of the root ball and place the plant in the hole so the top of the root ball is level with the soil. Gently tamp soil around the base of the plant and water well.
DIANTHUS CARE
Deadheading and dividing:
Cut off spent blooms to encourage new flowers. Older plants may develop dead spots in the center of the foliage, which means it's time to divide. Cut clumps into several pieces, removing the dead foliage, and transplant divisions to new spots.
Soil:
Carnations, sweet William, and cottage pinks do best in rich, well-draining soil that's kept moist but not soggy. Alpine types, such as cheddar pinks, prefer a slightly alkaline, sandy soil with sharp drainage.
Amendments & fertilizer:
For established perennials, apply a thin layer of compost in spring and sidedress with a well-balanced fertilizer according to instructions. Avoid organic mulch, as it can contribute to rot or fungal problems, instead using gravel or stone chips to suppress weeds. For biennials or annuals, apply a liquid fertilizer monthly during bloom time.
Watering:
Water once a week in summer, or more frequently in hot weather if needed. Avoid overwatering, which can cause rot. Overhead watering may cause leaf mildew.
Staking:
Carnation types with long stems may need staking to keep them from falling over.
Diseases and pests:
Dianthus are free of most pests and diseases when healthy and planted in the ideal site. Overwatering or heavy mulch can cause crown rot. Poor drainage can result in stem or root rot. Insect problems can include slugs, snails, sow bugs or grasshoppers.
Deer resistance:
Dianthus are seldom bothered by deer.
HOW TO CHOOSE THE RIGHT DIANTHUS
With so many choices, here are some tips to consider:
For bedding displays and borders:
Edge the front of a border with low-growing perennial varieties. Sprinkle annual or biennial seeds to fill in gaps between established perennials.
For containers, rock gardens, and small yards:
Dwarf and mat-forming types will stay smaller and not overwhelm a space. Combine in containers, rockeries, or beds with other small annuals or perennials that thrive in the same growing conditions.
For cutting gardens and large-scale landscapes:
Choose sweet William or carnation varieties that will grow tall and plant them in rows or masses for the greatest visual impact. The stately stems and long bloom time make these suitable for floral arrangements.
DIANTHUS LANDSCAPING TIPS
There are many ways to incorporate this beloved heirloom into any landscape. Here's how:
Mass in a bed along a patio or deck, where the spicy fragrance can be enjoyed up close.
Plant alpine types in a rockery with other rock garden plants such as columbine, sedums, thyme, creeping phlox, and lamb's ear.
Dress up an entryway or balcony with a decorative container and plant with dianthus in varying colors, or with annuals such as sweet alyssum, lobelia, and dusty miller for months of continuous color.
Place window boxes on a side of your house that receives full sun and plant dianthus in cheerful colors for a nostalgic, cottage-style effect.
Line a pathway with shorter varieties that bloom at different times for a season-long display of color.
Convert a raised bed into a cutting garden and plant carnation types with long stems. Add other cutting flowers such as dahlias, sweet peas, zinnias, and sunflowers for freshly cut bouquets through summer and fall.
Combine in a mixed border with other cottage-style plants such as cranesbill geranium, coral bells, iris, roses, columbine, artemisia, and lavender.
RELATED:
Ideas for an Enticing Cottage Garden
21 Easiest Flowers for Beginners
16 Surprisingly Drought-Tolerant Plants
Last updated: 7/25/2019