Growing Sedum & Stonecrop Ground Cover Plants in Your Garden
Plant sedum ground cover or tall types of sedum for color and interest during the transition from summer to fall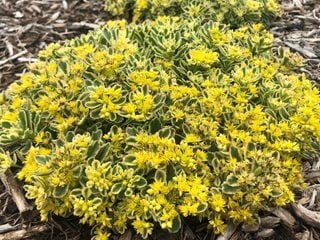 Rock 'N Low™ 'Boogie Woogie' ground cover sedum. Photo by: Proven Winners.
Sedums, also called stonecrop, are easy-to-grow succulent plants that add color and interest to your garden in summer and fall. Their blooms attract butterflies and other pollinators, and varieties that bloom late summer to early fall provide food when other sources are scarce.
There are hundreds of varieties of sedums and most require "little more than a sunny spot in well-drained soil," according to Brent Horvath, author of The Plant Lover's Guide to Sedums. With the many color, size, and blooming options, there's one (or more) perfect for every garden.
On this page: Basics | Types | Sedum Varieties | Planting Sedum | Sedum Care | Landscape Design Tips | Container Recipes
On this page:
BASICS
Zones:
Varieties available for zones 3-11.
Height/Spread:
Taller varieties can grow to be 2 feet tall and wide; creeping sedums (ground covers) range 2 to 6 inches tall and up to 24 inches wide.
Exposure:
Full sun to partial shade, depending on variety.
Bloom time:
Late summer and fall flowers.
Deer:
Although stonecrops do appear on some deer-resistant plant lists, they may still be nibbled on if there isn't a better food source available. Well-established garden plants will almost always bounce back after some deer damage.
2019 Annual of the Year: Lemon Coral® Sedum
TYPES OF SEDUM
There are 3 varieties of sedum plants:
Tall border varieties (Hylotelephium or Sedum telephium)
Dense, domed flowers and succulent leaves on 1- to 2-foot stems.
Provide late-summer color with both flowers and foliage.
New varieties have leaves in shades of copper, dusky mauve, and dark purple.
Dried flowerheads on upright sedums add interest in fall and winter.
In colder climates, they may die back to a rosette at ground level in winter.
A layer of winter mulch recommended in zones 4 and 5.
Creeping ground covers (Sedum)
Produce clusters of brilliant, star-shaped flowers in summer.
Often grown for their colorful foliage that comes in shades of blue, plum, red, purple, silver, gray-green, orange, coral, yellow, gold, green, or variegated.
Well suited for ground cover, rock walls, roof gardens, living walls, tucked into strawberry pots, or draping over the edges of containers or hanging baskets.
Trailing varieties (Sedum morganianum)
Such as the popular houseplant donkey's tail, also called burro's or lamb's tail.
SEDUM VARIETIES
PLANTING SEDUM
When to plant:
Spring, summer, and fall are all good times to plant, just not on overly hot days.
Where to plant:
Check the light requirements of the variety you are planting. They can be grown in rocky or sandy soil, hillsides, raised beds, or in containers as long as the soil drains well.
Soil:
Well-drained soil, and most prefer slightly acidic conditions with a soil pH of 6 to 6.5. Sedums will tolerate poor soil.
How to plant:
The planting hole should be the same depth as the pot. No fertilizer needs to be added. Water after planting.
Spacing:
They tend to be slow growers, so allow them time and space to spread out. Don't plant too closely to aggressive growers that might take their space before they have a chance to mature.
For ground cover varieties to fill in quicker and form a dense mat, plant a little closer together, but not touching.
Taller border varieties should be planted approximately 15 inches apart to allow enough room for their mature size. Overcrowding can lead to poor plant health.
SEDUM CARE
Pruning:
Sedums are very low maintenance and pruning isn't necessary. You can clean them up a bit after winter by removing any dead or damaged branches or foliage; this will also help keep your plants healthy.
For taller border varieties, pinch new growth in spring to promote branching and shorter growth; this will help keep them from getting leggy and drooping. Deadheading sedums in fall isn't necessary, as the flower heads provide fall and winter interest.
Ground cover types can be trimmed to stay within their boundaries. If you don't want seedlings from these creeping varieties, the flower heads can be removed after blooming in summer.
Amendments & Fertilizer:
Stonecrops prefer lean conditions. In fact, unless your soil is extremely poor, it may be best to avoid fertilizer at all. However, if needed, apply an organic fertilizer at half-strength during the growing season or a light layer of compost. Chemical fertilizers tend to cause stretching and flopping on taller varieties.
Watering:
They are quite drought tolerant. Water weekly from spring through fall, and may require more in extremely hot weather or if planted in a container. Wait until the soil is completely dry in-between watering. Water newly planted sedums daily for the first couple of weeks.
Propagation:
Sedums can be reproduced by division, cuttings, or seed.
For taller varieties, division is the easiest and is best done in early spring. Dig the plant up and divide into wedges, making sure to get some new budding areas within each section. Replant the sections. They can be divided every few years.
For the ground cover varieties, take a clipping and place the cut end in a shallow layer of potting soil.
Pests:
Rarely bothered by pests, but aphids, snails or slugs may be attracted to them. Keep plants and surrounding areas dry to help deter them.
Diseases:
Can be susceptible to disease, and younger plants are more affected. Cleaning up dead plant material and clearing weeds will go a long way in keeping your plants healthy.
Other problems:
Tan to brown patches appearing on the fleshy leaves may resemble disease or a pest infestation, but could also be from edema (swelling) if the plant has been overwatered or conditions are excessively humid or wet (the leaves swell and burst causing the spots to appear).
---
Love succulents? Learn more, and get timely planting advice, garden design inspiration, growing tips and more in our weekly newsletter.
LANDSCAPE DESIGN TIPS
Because of the many varieties, sedums can be used in multiple ways in the garden. Here are some ideas to get you started:
Tall and groundcover varieties are perfect for container planting, especially in colder climates where they can be moved indoors over winter.
Creeping varieties are ideal for rock gardens, crevice gardens, living walls, and green roofs due to their low water requirement and spreading nature.
Cut flowers from the tall border varieties make beautiful additions to floral displays, as well as when dried.
Tall varieties don't spread, but are spectacular in a mass planting.
Good companion plants include coneflower, black-eyed Susan, Russian sage, goldenrod, dwarf aster, geranium, and yarrow.
CONTAINER RECIPES
Sedum, especially the trailing types, make great additions to containers and hanging baskets. They are perfect for using as a spiller to hang over the edge of a pot. Check out these three ideas for combining them with other plants to make eye-catching container arrangements.
East Coast Swing
Get This Look
Featuring: Proven Accents® Lemon Coral® (Sedum mexicanum)
Monte Carlo
Get This Look
Featuring: Angelina (Sedum rupestre)
Nighthawk
Get This Look
Featuring: Proven Accents® Lemon Coral® (Sedum mexicanum)