21 LOW-MAINTENANCE PLANTS
Discover 21 of our favorite low-maintenance shrubs, perennials, annuals, and groundcovers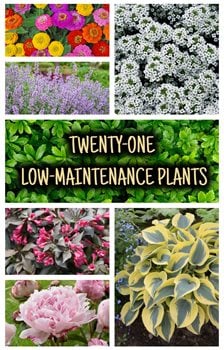 Plants can be both beautiful and easy care if you understand the factors that create additional work and balance that knowledge against what you personally enjoy. For example, if you like the meditative aspect of deadheading spent flowers, then avoiding perennials that need this attention will not be important, as it is not a chore to you.
When selecting plants that are lower maintenance, the first step is to ensure you are following the "right plant-right place" principle. Less than ideal conditions, such as growing a sun-loving shrub in shade, will result in a plant that may survive but won't thrive, increasing the potential for it to succumb to disease, to develop longer, weaker branches and therefore need additional pruning to manage its shape and size.
Seek out plants or varieties that don't need staking, regular deadheading, frequent dividing, complicated pruning or excessive watering so that you can relax and simply enjoy your garden. Listed below are some of our favorites.
On this page: Shrubs | Perennials | Annuals | Groundcovers
LOW-MAINTENANCE PERENNIALS
LOW-MAINTENANCE ANNUALS
Licorice Plant
Proven Accents® Petite Licorice. Photo by Proven Winners.
Although perennial in warmer climates, licorice plant (Helichrysum petiolare) is an invaluable annual for the rest of us, especially as a deer resistant, drought tolerant, heat-loving groundcover which can be left to weave between maturing shrubs, suppressing weeds with its network of fuzzy, silver stems and small round leaves.
Zones:
9-10 or annual
Height/Spread:
8 to 12 inches tall and 18 to 36 inches wide
Plants to try:
Petite licorice (pictured), Licorice Splash.
Sweet Alyssum
Snow Princess® sweet alyssum. Photo by Proven Winners.
Few flowering annuals can match the heat and drought tolerance of sweet alyssum (Lobularia maritima). Low cushions of green leaves are covered by honey-scented white flowers for much of the summer, attracting butterflies, bees, and other pollinators, but mercifully usually ignored by both rabbits and deer. When flowering begins to wane, a quick trim with scissors will help the plant rebound. Newer, larger hybrids are available, but note that these are not usually so drought tolerant as this old-fashioned favorite.
Zones:
Annual to zone 8, short-lived perennial in zones 9-11
Height/Spread:
4 inches tall and 10 to 12 inches wide.
Plants to try:
Snow Princess® sweet alyssum (pictured).
Zinnia
Photo by Unverdorben Jr /Shutterstock
Easy to grow from seed and offering a wealth of jewel-toned flowers for cutting, zinnia is a classic summer annual. Shorter varieties do not need staking, although the taller Benary's Giant is well worth the few minutes it takes to provide supports. Zinnia are also drought tolerant and deer resistant. Just plant in full sun and enjoy the show as butterflies, bees, and hummingbirds visit.
In terms of maintenance, deadheading will encourage more blooms, but otherwise these powerhouse annuals are easy care, needing just average soil and no special fertilizers.
Zones:
annual
Height/Spread:
6 inches to 3 feet tall and wide.
Others to try:
'Green Envy', Profusion series, or Benary's Giant series (may require staking if not pinched when young plants)
LOW-MAINTENANCE GROUNDCOVERS
Low-Growing Sedums
October Daphne. Photo by Hans / Pixabay.
While taller varieties of stonecrops (Sedum spp.) have to be pinched or divided regularly to look their best, carpeting forms are much easier to care for. In many instances, simply scattering cuttings on bare soil or gravel will see them rooting in no time. With evergreen, semi-evergreen, and herbaceous varieties to choose from in a rainbow of foliage and flower colors, it is easy to design a tapestry of weed-suppressing, drought-tolerant succulents in your garden.
Zones:
3-11
Height/Spread:
2-6 inches tall and 6-12 inches wide.
Varieties to try:
'Angelina', Blaze of Fulda, Oregon stonecrop, 'Cape Blanco' Oregon stonecrop, or October Daphne (pictured)
Japanese Pachysandra
Japanese pachysandra. Photo by Reimar / Shutterstock.
Tolerating dry shade, occasional foot traffic, deer, and rabbits, Japanese pachysandra (Pachysandra terminalis) is tough. White spring flowers brighten up the green foliage of this evergreen groundcover. Best grown in rich but well-drained soils where it will quickly naturalize to form a dense carpet.
Zones:
5-9
Height/Spread:
6 to 12 inches tall, 12 to 18 inches wide
Note: Reported invasive in parts of the East. Check to see if invasive in your area.
See more ground cover plants for shade or sun.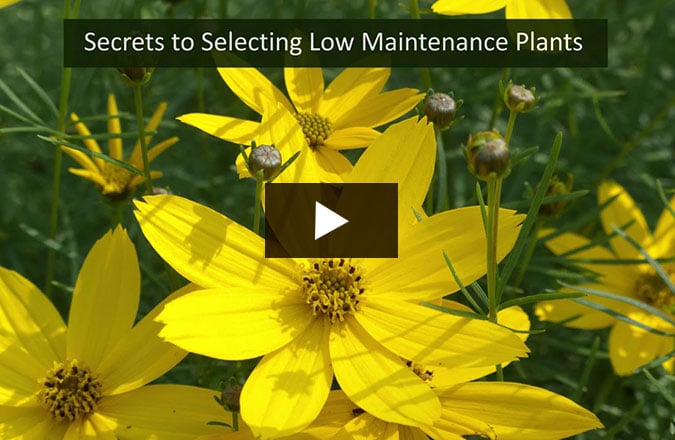 One of the first steps in selecting low-maintenance plants is defining what gardening chores you wish to avoid. Some gardeners don't mind deadheading, and others may not mind digging and dividing crowded perennials. Karen Chapman walks you through not only the thought process that goes along with selecting low-maintenance plants, but also provides design inspirations and loads of plant options. Sign me up!