Flowers For a Bee-Friendly Garden
Bees help your garden thrive, so treat them well by growing some or all of these bee-friendly plants.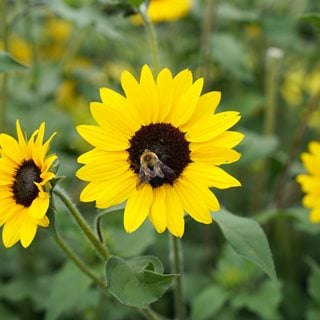 Suncredible® Yellow sunflower. Photo by: Proven Winners.
Which came first, the bee or the bee balm? While the question may be interesting to contemplate, it illustrates the vital partnership between plant and pollinator, and how one needs the other in order to survive.
Bee populations are declining rapidly in many regions of the country, with habitat loss being a primary cause. As gardeners, we can do our part to help keep these important pollinators well fed. Growing a diverse variety of flowering plants can satisfy the appetites of various bee species. Along with planting lots of flowers that attract bees, we can also improve the environment for bees by creating a safe haven in our gardens that they can call home.
On this page:
14 FLOWERS FOR BEES
WHAT MAKES A FLOWER BEE FRIENDLY?
It provides a healthy diet. Flowers that attract bees provide abundant nectar and pollen, the only sources of carbohydrates and protein in a bee's diet. While some bees, called "generalists," aren't picky about the type of flower, others are "specialists" and need pollen from particular plants.
It's the right color. If you thought red or yellow was a bee's favorite flower color, guess again. They actually see flowers in the blue and purple color spectrum better than other hues and are naturally attracted to them. (Interestingly, flowers in the blue-purple range produce the most nectar.) Bees can also see ultraviolet light, and many flowers have ultraviolet nectar guides that are invisible to us but lead bees right to their sweet treat.
It's the perfect shape. Some bees prefer certain flowers because of their shape. Often these preferences are determined by the length of a bee's tongue. For example, long-tongued bees seek out tubular, deep-throated blooms while short-tongued species visit flowers with easily accessible nectar, such as those in the daisy family.
It's just the right size. Sizewise, honeybees often flock to tiny flowers, while larger bees shun them because they are too small to support their weight.
It's single. Regardless of flower shape or size, avoid cultivars with showy double flowers. While attractive, they often make it more difficult for bees to access nectar and pollen than single flowers.
It's chemical-free. Don't treat your flowers with pesticides, which are extremely toxic to honeybees and other beneficial insects. Instead, opt for eco-friendly treatments and apply them in early morning or at dusk when there are few bees around. Also, avoid buying plants pretreated with systemic chemicals that, even in small doses, can be harmful to bees.
It blooms at the right time. Although spring and summer may seem to be when bees are at their busiest, some early-emerging bees rely on pollen and nectar from late winter and very early spring blooms. In the fall, bees feast on late-blooming plants in preparation for winter hibernation.
Early-season bloomers: Crocus, hyacinth, primrose, hellebore, maples, redbuds, willows, oaks, and dandelion
Late-season bloomers: Potentilla, viburnum, aster, sunflower, goldenrod
BEE GARDEN DESIGN TIPS
Beyond planting colorful flowers, there are other things you can do to keep bees abuzz in your garden. Here are tips for creating the ultimate pollinator paradise:
Provide a comfortable home. Not all bees colonize in hives like the super-social honeybee. Bumblebees nest in holes in the ground and need bare areas of unmulched soil where they can dig their underground tunnels. Certain species of solitary bees make their homes in aboveground tunnels or cavities in hollow-stemmed plants and dead wood.
You can purchase a "bee hotel" for these hole-nesting bees—a birdhouse-like structure consisting of hollow reeds or cardboard tubes—or make your own with these steps from Michigan State University Extension. (Here's a fun bee hotel coloring page for budding young gardeners to enjoy.)
Make sure they have access to water. Create a small bee watering station by placing a shallow, wide dish in the garden filled with clean water and a few stones the bees can stand on. A birdbath with a few smooth rocks in it will also do the trick. Another option is to buy a gravity-fed water dispenser designed especially for bees.
Plant a bee lawn that includes low-growing flowering plants as well as turf grass. Dutch white clover (Trifolium repens), creeping thyme (Thymus serpyllum), and native violas (Viola spp.) are examples of plants that benefit pollinators and will flower in a mowed lawn. Even dandelions can be an asset if you're trying to attract bees and other pollinating insects.
Grow some herbs. Many pollinators, especially bees, are drawn to herbs, such as rosemary and thyme, because of their intense scent.
Include a mix of native and non-native plants. Native bees are more likely to be attracted to the native flowers they are familiar with, but non-native plants such as catmint, zinnias, and lavender can also be irresistible to bees, especially if they produce a lot of nectar. By filling your garden with a variety—including annuals, perennials, shrubs, trees, ground covers, vegetables, and herbs— you'll attract a greater diversity of bee species. (See more on native plants.)
Keep in mind that most plants that attract bees will require full sun for at least half of the day. If you don't have a sun garden, plant your bee flowers in containers and place them on a sunny patio or balcony.
Learn more: How to Keep Mason Bees.
RELATED:
30 Essential Plants for Pollinators
24 Hummingbird Flowers
25 Butterfly-Garden Plants
How to Make a Butterfly Garden
The Best Perennials for Pollinators
20 Fragrant Flowering Plants