How to Create the Perfect Balcony Garden
Learn the basics of planning and designing a small-scale balcony or rooftop garden, plus get tips for selecting the best plants and containers.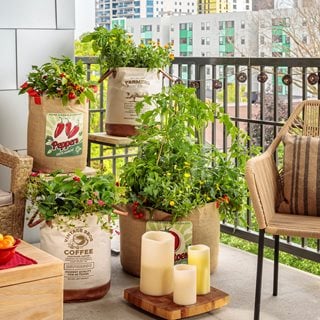 Photo by: Proven Winners
Growing plants in a limited space like a balcony or terrace can be a challenge even for an experienced gardener, but it's also a great opportunity to be creative and have fun.
From deciding what to grow (an urban vegetable garden? a tropical paradise?) to choosing imaginative containers (such as an old watering can or wood crate), the entire process can be an adventure. Yes, you still must adhere to the strict confines of your space, but there are many tricks for making every square inch count. Here are some tips to help you get started:
On this page: Maximize Your Space | Know Your Restrictions | How to Water | What to Grow | Choose Your Containers | Balcony Garden Ideas
On this page:
MAXIMIZE YOUR SPACE
How much space do you need for a balcony garden? Surprisingly, not much at all if you take advantage of walls, railings, and overhead structures.
Turn your balcony into a vertical garden. Attach pots, shelves, or trellises to the walls; and if your balcony has a ceiling, add a few hooks for hanging plants. Cover the railings of your balcony with chicken wire to support climbing plants, or purchase plant hangers that can be attached to the top of a railing. (See more vertical gardening ideas.)
Think of your balcony garden as an extension of your indoor living space. If you choose plant colors and textures that echo the interior design, even the smallest balcony will look more expansive and welcoming.
KNOW YOUR RESTRICTIONS
In addition to the square footage of your balcony, there may be other restrictions that will limit what you can plant and where. If you live in an apartment building or condo, be sure to check what's permissible by the building owner before you begin.
Weight. There may be weight restrictions and rules regarding what you can hang from balcony railings and walls. If the balcony is attached to your home, know how much weight it can safely support. The weight from large ceramic containers and wet soil can add up quickly.
Microclimate. The amount of sunlight the space receives is the most critical factor to consider, but wind exposure and temperature are important too.
Wind: Strong winds, which are common on balcony and rooftop gardens high above the ground, can quickly dry out the soil, rip the petals off flowers, and knock over tall potted plants.
Heat: Sun reflecting from windows can intensify the heat of a balcony garden and burn delicate foliage. Even the basic construction of your balcony (such as concrete vs. wood) will affect how much heat it retains.
Shade: Many urban balconies receive quite a bit of shade if surrounded by tall buildings or covered by an overhang. Often you can work around this problem by putting sun-loving plants near the perimeter of the balcony, where the sun is more prevalent.
Tip: If wind is a problem on your balcony, consider using balcony privacy screens as windbreaks to protect more fragile plants. You can also put plants that don't like the wind in low pots near a wall to give them more protection.
HOW DO YOU WATER A BALCONY GARDEN?
Few balcony or rooftop gardens have access to an outside water source, which means you'll have to rely on water from a sink or bathtub to keep your plants well-hydrated. To minimize your trips back and forth lugging heavy jugs of water, try some of these strategies for watering your plants:
If you have lots of plants to water, consider investing in a large, lightweight watering can that you can fill in the bathtub. Collapsible watering cans are great space savers for balcony gardens because they flatten when not in use.
Put saucers or trays under your plants to collect any water overflow so you don't waste a drop. Self-watering pots, such as AquaPots®, can also help conserve water and significantly decrease watering frequency.
Eliminate watering cans altogether by purchasing a lightweight, expandable garden hose that you can attach to a kitchen sink using an adapter. They come in lengths as long as 100 feet and retract when not in use for easy storage.
Keep in mind that the hotter and windier the conditions on your balcony, the more frequently you'll need to water -- sometimes as often as twice a day. If a convenient water source is far from reach, make life easier by growing plants with low water requirements, such as cacti and succulents.
WHAT CAN YOU GROW IN A BALCONY GARDEN?
Photo by: Ania K / Shutterstock
Just about any plant you can grow in a container is fair game for a balcony garden, as long as you have the space for it and can give it the appropriate amount of sun or shade. If you live in a climate with cold winters, consider growing some plants that are hardy enough to leave outdoors year-round or that can be overwintered indoors so you don't have to start from scratch again each spring.
WHAT CONTAINERS ARE BEST FOR A BALCONY GARDEN?
Anything that can hold soil and has good drainage has potential for a balcony container garden. The style can range from fancy to frivolous, depending on your tastes, but the container should be practical and suit the purpose. Some factors to consider include container weight, durability, weather resistance, ease of watering, and cost.
Plastic and fiberglass plant containers are ideal for balcony gardens because they're lighter in weight than terracotta or ceramic pots and come in a vast array of styles and sizes. However, on windy balconies, they can be blown over easily unless they're secured in place.
Fabric grow bags are another lightweight container option, with the added advantage of being easy to store after the growing season is over. They also have handles for more convenient portability.
Hanging baskets and outdoor railing baskets are real space savers and can be used to grow everything from herbs to houseplants to trailing vegetables.
Tiered planters are another space-saving solution that allow you to use vertical space for your garden rather than taking up precious space on your balcony floor.
See more tips for choosing the right container.
Featured in: Garden Design's Top 10 Garden Trends for 2022 ("Maximizing Balconies & Porches")
BALCONY GARDEN IDEAS
Most herbs will flourish on a sunny balcony or terrace and require very little space to grow. If your balcony doesn't have good sun exposure, some herbs that grow well in partial shade include parsley, chervil, cilantro, and tarragon. Photo: Franz Peter Rudolf / Shutterstock
On a small balcony, take advantage of vertical space to maximize your growing room. Wood pallets turned on end, old book shelves, or tiered planters are all practical solutions for gardening up rather than out. Photo by: Eurybia / Shutterstock
Don't be afraid to play with colors and plant types. A mix of small trees, shrubs, foliage plants, and colorful annuals will add interest and diversity to your balcony garden. Photo by: Udo Kroener / Shutterstock
Flowers cascading over railings and climbing up trellises bring breathtaking color and fragrance to this charming European balcony garden. The symmetrical arrangement of the plantings helps define the space and create balance. Photo by: Leigh Trail / Shutterstock
Slatted walls covered in climbing plants and other greenery turn an open balcony into a private retreat. The walls also function as windbreaks, protecting the delicate foliage. Photo by: Tapui / Shutterstock
A dwarf olive tree is the perfect choice for a balcony garden because of its low water requirements and resistance to high winds and subfreezing temperatures. If you plan to use the tree as a focal point, uplight it at night to reflect the beauty of the silvery foliage. Photo by: Ania K / Shutterstock