Living Big in Small Outdoor Spaces
Designer Debora Carl offers tips on how to make a small garden work for your family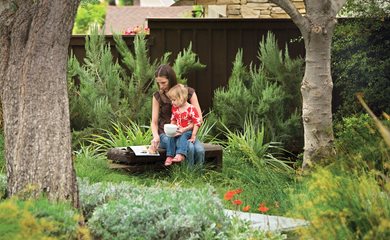 Carl helped this San Diego family make the most of their crapmed lot. Photo by: Jack Coyier.
Read more about this garden: Making the Most of a Lot
Even if your lot is limited in size, you can still have a great outdoors by following these tips.
Keep it simple:
Too much complexity makes small gardens feel cramped and confusing. Choose straight lines rather than curves, and limit colors and materials. A few plant varieties, each featured en masse, are more efective than a mixed crowd of many individual specimens. For pizzazz, spice up a dark-green border with a swath of chartreuse foliage, or toss an orange cushion on a muted chair.
Think in terms of human scale:
Even in pint-size places, don't miniaturize key components such as furniture and patios, or make paths too narrow. Fewer well-sized items make spaces more inviting, you'll use them more.
Don't shy away from a single large, dramatic statement:
One big element can create a focal point for a garden area, drawing attention and prompting people to gather there.
Repeat interior colors and materials outside, and vice-versa:
Minimizing the distinction between indoors and out can make both house and garden seem larger by extension. Let floors flow out onto patios and garden colors show up in the living room. Wherever you are, your view will make all you see appear as part of a whole.
Don't neglect your fences:
They are the walls of your outdoor rooms and often show up more prominently in small spaces, where you have less room to cover them up with greenery. Choose paint or stain colors to harmonize with the house, and add panels of interesting materials (such as galvanized metal) to set leafy silhouettes and other visually striking elements.