Southern California Gardens
Explore beautiful gardens in Los Angeles, San Diego, Santa Barbara and other areas of the Southland
Gardening in Southern California reaps rewards year-round. With an ideal climate, you can have a gorgeous landscape throughout spring, summer, fall and winter. Take a look at these gardens in Hollywood, Point Loma, Santa Barbara and other Southern California cities to glean inspiration for your own property.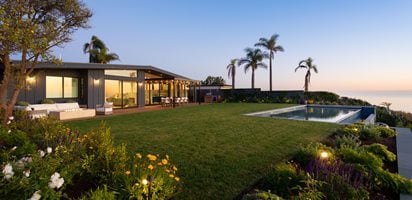 Modern Beach Bungalow in Malibu
A dilapidated backyard overlooking the Malibu Bluffs is transformed into a beautiful outdoor oasis.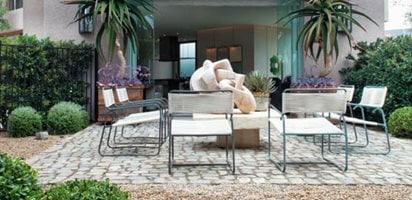 Airy Outdoor Rooms Extend a Seaside Home's Living Space
The harmony between a Coronado beach house and its garden is all in the details.
My Garden: A Paradise for Fish and Flora
See how a 15,000-gallon koi pond was added to this Point Loma property that was once home to scrubby bushes and a patchy lawn.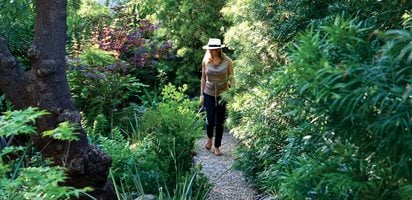 The Path Less Taken: A Silver Lake Garden
In an enclave of Los Angeles sits a down-to-earth garden that takes shade and sloping terrain in stride.
A Waterwise Cactus Garden
In the foothills of Los Angeles, artists Roy Dowell and Lari Pittman created a garden that's part installation piece and part intimate memoir.
Gabor + Allen's Garden Laboratory
On a property in Venice, sits a gorgeous garden bursting with cannas and foxtail ferns, and the calming ambient noise of a koi pond.
My Garden: Natural-Style Pool Blends Seamlessly with the Landscape
A thoughtful arrangement of trees, plants, and boulders creates a pool that mirrors its environment.
My Garden: Pasadena Transformed
A weed-covered lot in Southern California, owned by Caltrans, is completely redone by a couple who live adjacent to the garden.
The Inherited Garden
Christy Hobart reveals her struggle to stake a claim on her grandmother's Santa Monica garden, and unveils the plan for its future.
Split-Level Garden in Santa Barbara
Deft design surprises, and an 80-year-old tale of local landscape rivalry, lurk beneath the cooly elegant facade of Sydney Baumgartner's garden.
Director's Cut: Wes Craven's Hollywood Hills Garden
Wes Craven's garden, with it's lush plants and soothing stream, is anything but a horror show.
Great Designs: Scott Shrader
Scott Shrader has mastered the art of crafting gardens. Behind his own West Hollywood home, he makes small spaces feel expansive, erasing the boundary between inside and out.
Mojave Rock Ranch Reinvents the Desert Garden
Take a visual stroll through this unusual Joshua Tree landscape to see what innovative designers achieve when faced with a huge arid site surrounded on three sides by steep cliffs.
A Star Is Reborn
When Marg Helgenberger, the longtime star of CSI, was shopping for a new home five ears ago, she found the perfect place in the Los Angeles neighborhood of Brentwood-but the gardens were overgrown and needed to be rethought.
Open Invitation: Beverly Hills Glamour
Judy Kameon transforms a Beverly Hills midcentury modern glass-and-concrete house's garden into an elegant and comfortable space.
A Tropical Garden in Los Angeles
A Los Angeles couple takes a surprising approach to designing their new home and garden.
Perfect Union: Beverly Hills Collaboration
A collaboration between Chahan Minassian and Judy Kameon, this modern house is designed for the indoor-outdoor life.
A Sleek and Simple California Kitchen
Landscape architect Raymond Hansen adds a minimalist outdoor kitchen to a Pacific Palisades couple's existing dining terrace.
Victorian-Inspired Outdoor Kitchen
Heather Lenkin took an old driveway behind one of the earliest farmhouses in the Los Angeles area and transformed it into a Victorian-inspired outdoor living area.
Thornton Gardens Comes to Life
As the second-largest landowner in San Marino, California Chuck Thornton gave back to his community in a unique way.
Getty Redux
Discover Los Angeles' J. Paul Getty Museum and its 20th-century outdoor sculpture collection and gardens installed in 2007.
A New Dawn: The Garden of Tony Duquette
The garden and home of the late Tony Duquette continues to flourish in Beverly Hills. Hutton Wilkinson leads us on a tour.
Harmony House, a Garden Makeover
Four years ago, musician Nate Mendel bought a house in the Los Angeles hills surrounded by a scrappy lawn and a few big trees and transformed into a welcoming home base.
Spine Tinglers at the Huntington Botanical Gardens
For inspiration from or indoctrination into the amazing world of succulents, look no further than the Desert Garden at the Huntington Botanical Gardens in San Marino, California.
Laura Morton Creates a Magical Outdoor Space
Los-Angeles based landscape designer Laura Morton turns a driveway lined with pool equipment into a magical dining terrace and outdoor kitchen.
Visit a Topiary Time Piece
The gardens at Lotusland in Santa Barbara include a 25-foot floral clock.
Green Goddess Shares Plant Faves
Learn more about the plants used in Mary Steenburgen and Ted Danson's Ojai garden.
Local Garden Stores:Rolling Greens - Hollywood, CA