Split-Level Garden in Santa Barbara
Deft design surprises, and an 80-year-old tale of local landscape rivalry, lurk beneath the cooly elegant facade of Sydney Baumgartner's Santa Barbara garden
As you stroll along a prosaic gravel path in Sydney Baumgartner's split-level garden, you spy a patch of grass through an opening in a solid green slab of hedge and think: garden-variety lawn. Then you step through the "doorway," and a spectacular wide-angle vignette stops you in your tracks. What had looked like a postage stamp of turf suddenly unfolds to become an enormous oval carpet, punctuated by romantically gnarled apple trees and ringed by masses of plants.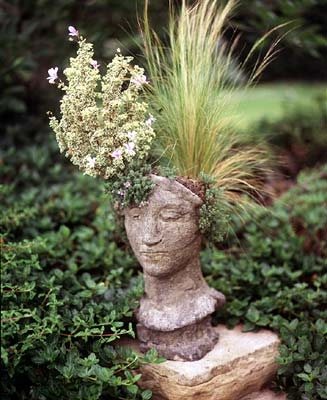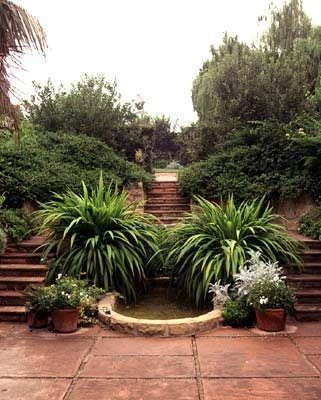 Photo by: Jonelle Weaver.
Photo by: Jonelle Weaver.
Inch a little closer to these borders — sweet and traditional at a distance — and the combinations jump out and grab you by the eyeballs. Think tall, spiky cardoons paired with squat echeveria. Deep, red-black 'Sea Jade' phormium gives way to soft gray Plectranthus argentatus, which is counterbalanced by the acid chartreuse of Helichrysum petiolare 'Limelight.'
And these are only a few of the surprises that Baumgartner, a landscape architect, has packed into her 100- by 150-foot Santa Barbara backyard. Everywhere, secret paths lead to hidden rooms. It all seems coolly elegant — until you stumble upon a ramshackle chicken pen tucked behind a screen of trimmed escallonia or catch a glimpse of a stone head planter that sprouts a stipa ponytail. "A good garden," Baumgartner explains, "is a three-dimensional experience, not just a flat picture. There should always be far more to it than meets the eye."
Ironically, no one was more shocked by this particular garden than Baumgartner herself. "When I moved here in 1986," she recalls, "there was nothing but invasive Chinese juniper, a chain-link fence, and weeds." Clearing the overgrowth revealed an amazing stone staircase, which, Baumgartner later discovered, had been installed by Ralph Stevens in the mid-1950s. Stevens, one of Santa Barbara's master garden-makers, had designed countless local landscapes during the early 20th century (most famously the Lotusland estate). Now he is largely forgotten, his legacy of formal gardens overshadowed by the work of his rival Lockwood de Forest, whose more casual outdoor rooms and broader plant vocabulary resonate more strongly with today's gardeners.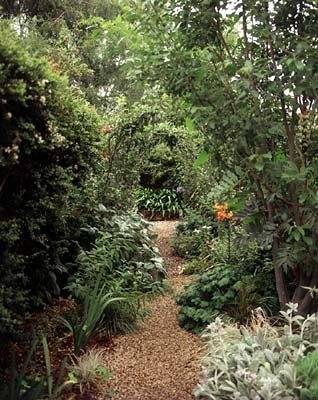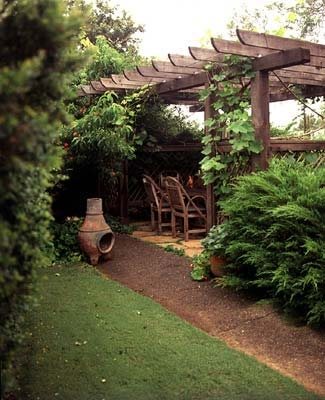 Photo by: Jonelle Weaver.
Photo by: Jonelle Weaver.
And here's where the plot thickens: Baumgartner, now the unwitting owner of a Stevens garden, happens to be a devout de Forest disciple. Though she never met Lockwood himself (he died in 1949), she did become friends with Elizabeth de Forest, his horticulturist wife, in the '60s; over the years, Baumgartner has adapted many of the couple's ideas to suit her own vision. So, as she recast this garden, a bit of local landscape history repeated itself in her yard — and de Forest once again eclipsed Stevens.
Since nothing of the 1950s layout survived except the staircase and the walls that embrace it, Baumgartner felt free to shape the rest of her yard for the open-air lifestyle the de Forests espoused — which meant dividing it into rooms, each with a different purpose. "I did a plan in the first few months," she says of the process, "then as I had time and resources, I'd carve out another section."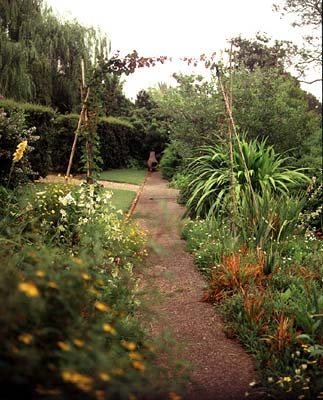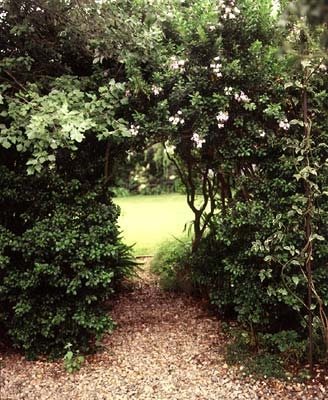 Photo by: Jonelle Weaver.
Photo by: Jonelle Weaver.
Today the lower garden consists of a spacious patio, which Baumgartner uses for parties. Intimate meals are served upstairs, beneath a redwood arbor. And that big lawn is ideal for croquet and bocce. The working parts of the garden — a compost heap, lathe house, storage area, chicken pen, and vegetable and cutting beds — are hidden offstage left, behind huge hedges of Escallonia bifida, Luma apiculata, and Duranta stenostachya.
Inspired by de Forest's belief in borrowed scenery, Baumgartner decided to clear the back of her property in hopes of exposing the Santa Ynez Mountains. But when the task was accomplished, she realized she'd uncovered the key to Stevens' plan: a view of a bell tower that lines up with his staircase to form a central axis through the yard. "Those stairs led me to create a garden more formal than any I've had before," she says, "but once I saw the tower, I understood why he laid it out this way."
Oddly enough, she found the strict symmetry freeing. "If you've got strong structure in place," she explains, "plantings can be more of a mix." In addition to composing the striking combinations surrounding the main lawn, Baumgartner has lined a path with unusual South African plants, including sparaxis, ixia, and crocosmia — many of them grown from Elizabeth de Forest's bulbs or cuttings.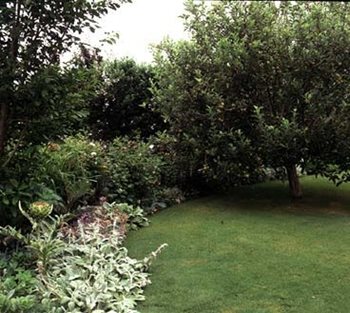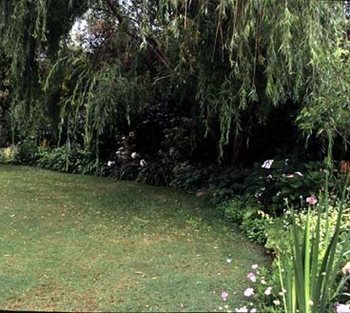 Photo by: Jonelle Weaver.
Photo by: Jonelle Weaver.
"When I started out in the '70s, nurseries carried only about 20 plants," Baumgartner says. She's helped change that by encouraging area growers to propagate specimens from her garden, including Escallonia bifida, Babiana stricta, and Lonicera confusa, a honeysuckle that was a gift from Elizabeth, who passed away in 1984. "These plants remind me of my old friend," Baumgartner says, "and how we traded so many things back and forth."
Which is not to say that Baumgartner's garden is some static, slavish homage to the past. She never hesitates to make changes. When a neighbor's barking dog interrupted meals under the arbor, for instance, she erected a stone wall. Recently, a collector friend gave her a pair of vintage columns, which she fashioned into the base of a new arch.
"This place is so personal," Baumgartner says. "I'm applying what I learned from the de Forests, but I'm still learning new things. Often, I'll wonder, What would they think of this plant? or Wouldn't Stevens be delighted to see his plan so fleshed out? My garden is an ongoing dialogue with a whole history of voices."
See more Southern California gardens