Trees for Your Garden
From maples to magnolias, find the perfect tree for any spot in your garden
Swipe to view slides
LEFT: A precisely planted row of trees provides a powerful design element. (Photo by: Rob Cardillo). RIGHT: Eastern redbud trees in full bloom. (Photo by: Anna Brooks).

LEFT: A mature olive tree. (Photo by: Shaun Sullivan). RIGHT: An espaliered Gingko biloba tree. (Photo by: Nick McCullough).
Finding the right tree for your garden can be a challenge. Whether you are looking to add a bit of shade to your property or to screen a view of a neighboring home, trees are often the solution. Ornamental trees can also be used to create a focal point in your garden. Fruit trees are also beautiful and can be grown in orchard fashion or incorporated into your garden.
When selecting a tree, you may feel a bit like a kid in a candy store. There are small trees that can be grown in pots if you don't have a lot of room and large trees more suited for a pastoral setting. Furthermore, there are trees with weeping branches and ones that flower profusely; trees that are tall and narrow and ones that are low and wide; trees that are evergreen and ones that put on an impressive autumn show then drop their leaves. You can get a tree with a single, stout trunk or one with multiple slender trunks. And the list doesn't stop there.
Popular trees amongst home gardeners include dogwoods, maples, cypresses, cherries, magnolias, birches, crape myrtles and many more. Use the resources below to determine what types of trees you are attracted to and how to work them into the design of your own garden.
Popular Tree Articles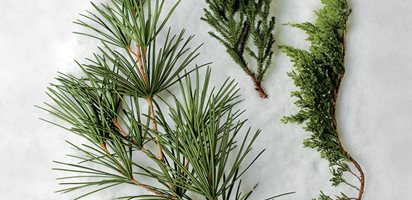 Our Guide to Conifers
Learn to use versatile conifers to add year-round interest to your garden.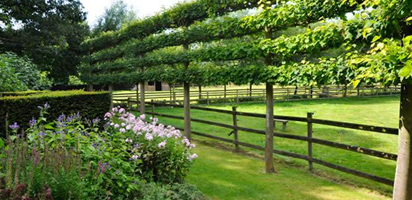 Versatility of Espaliers
Espaliers can work in any garden type: big and small, formal and informal, grand and modest.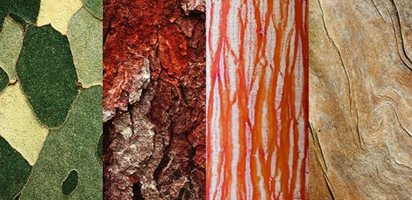 The Art of Bark
In terms of design, bark is interesting in winter, but also a bonus of texture & pattern all year.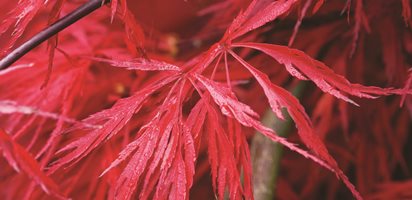 Japanese Maples
For center of attention drama and vivid fall color, nothing beats Japanese maples.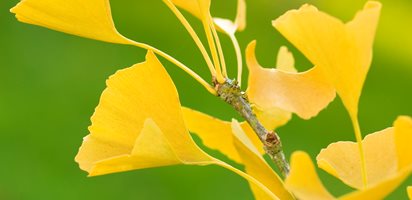 Ginkgo Trees
Botanist Peter Crane is a fan of the ancient tree's history, beauty, and quirks.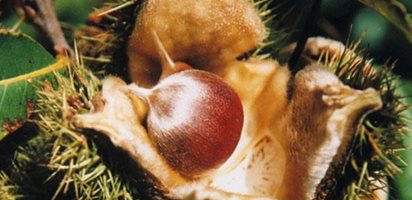 Return of the American Chestnut
The American chestnut almost disappeared when a foreign blight was introduced in 1904.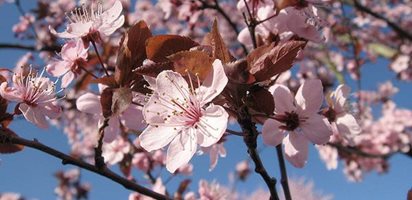 Purple-Leaf Plum Tree
A beautiful ornamental tree that bears pink blossoms and edible fruits.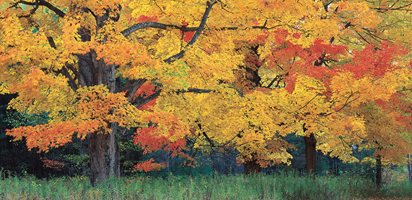 Trees for Fall Color
Nothing else signals the seasonal shift as beautifully as these native trees.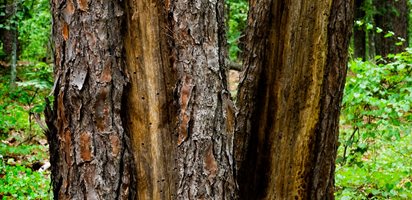 Every Tree Tells a Story
Photographs and stories of irreplaceable trees that have shaped communities and cultures.
Best Trees for Your Garden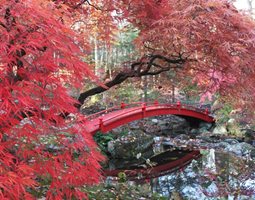 Jan Johnsen
Japanese Maple
Available in a wide range of sizes, from as small as three feet in height, to as tall as 20 feet, Japanese maples are known for their striking colors. In November when their fall colors are at their peak, these trees appear to be ablaze in yellow, orange and red. Pictured here is specimen red threadleaf Japanese maple (Acer palmatum 'dissectum') at the Steinhardt Garden, where more than 400 cultivars of Japanese maples are grown.
Read more about growing Japanese maple trees.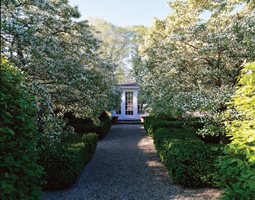 John M. Hall
Crabapple
Reaching a mature height of 15-25 feet, crabapple trees turn a vivid pink in spring when they bud out. Their buds turn to white blossoms, which are equally beautiful. If you are looking to attract birds to your garden, they will love the small apples that ripen in late summer and fall. Pictured is a courtyard at Duck Hill planted with Malus 'Snowdrift,' a single-bloom crabapple underplanted with boxwood.
Learn more about how to grow and care for crabapple trees.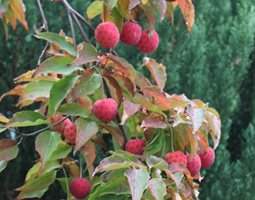 Jan Johnsen
Dogwood
This small ornamental tree, Cornus chinensis var. Kousa (kousa dogwood), is recognized by its early summer display of plentiful white flowers. But in the fall it sports red fruits similar in appearance to raspberries (they are not considered edible). These berries and its purple and scarlet leaves make the kousa dogwood a tree to consider for the autumn garden. It has a beautiful form with horizontal branching, grows in partial shade to full sun, will reach a height of 15 to 25 feet and is hardy in Zones 5 through 8. Get more autumn garden ideas.
See more on growing dogwood trees.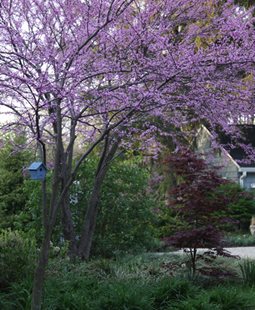 Anna Brooks
Redbud
These eastern redbud trees (Cercis canadensis) are in full spring bloom. Designer Anna Brooks selected them for her own garden because of their broad seasonal interest, specifically referring to their purplish blossoms and smoky foliage tones in the fall. Suited for zones 5 to 9, redbuds will grow to between 25 and 30 feet tall. See more of Brooks' garden.
Read more about how to grow redbud trees.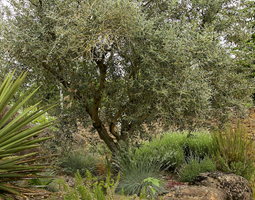 Janet Loughrey
Olive
Olive trees grow best in sunny Mediterranean climates, and you can even grow dwarf varieties indoors in colder climates. There are also many fruitless olive trees to choose from that offer all the beauty without the mess.
Learn more on how to grow and care for olive trees.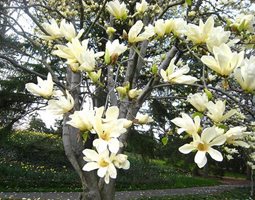 Adam Kuban
Magnolia
Possibly the most well-known flowering tree, magnolias put on a short, but impressive show in spring. Pictured is Magnolia 'Elizabeth,' which has butter-yellow, tulip shaped flowers. Other magnolias have white, pink, red or purple flowers. These trees can grow up to 30 feet tall and are suited for zones 5-9.
Learn how you can grow and care for magnolia trees.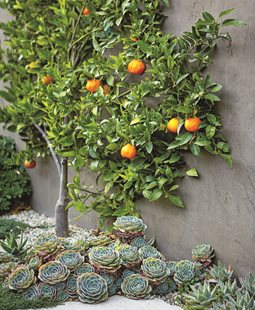 Mark Adams
Citrus
If you are lucky enough to live in zones 8 through 11, you can try your hand at growing citrus trees. With their wonderfully fragrant blossoms and edible fruits, what isn't to love? The most pouplar citrus trees to grow in home gardens are lemons, oranges, and limes, but you could also opt for a tangelo, kumquat or grapefruit. Shown in this image of a garden designed by Scott Shrader is a tangerine tree (Citrus tangerina) that has been trained in the espalier fashion to grow nicely along the wall. See Scott Shrader's home garden.
Reader Questions
My 15-year-old mulberry tree provides wonderful summer shade, but it's growing up into the power lines, and my neighbor says its roots are damaging his underground sprinkler system. Can I prune the roots to keep them out of his yard? Should I replace the tree?
See answer
We recently bought a big Victorian house with a huge cedar tree growing next to a two-room addition at the back. The foundation is poor (sitting on the dirt), and the roots of the tree are lifting it so that the rooms (an office and a laundry) are tilted and have begun to smell of mildew. We've been advised to either remove the cedar or tear down the rooms. What a choice!
See answer
I like the formality of espaliered apple trees, but I have little room for limbs to fan out. What do you think of the apple variety called colonnade, which is supposed to stay narrow, like a bushy pole with short branches?
See answer
Our new house came with a lovely old crab apple tree, but some branches are only 2 to 3 feet off the ground and shade a bed of sun-loving perennials. Is it okay to cut off the low branches? They're 8 to 10 inches thick.
See answer
Get more gardening advice.