Guide to Growing Eastern Redbud Trees
Celebrate the end of winter with an explosion of pink blossoms
Most people never forget the first time they see a redbud tree in full bloom. In my case, the memorable occasion took place at a local arboretum in early spring. The morning sun was shining on a group of nearly a dozen redbuds with flowers fully unfurled, setting off a spectacular show of pink fireworks.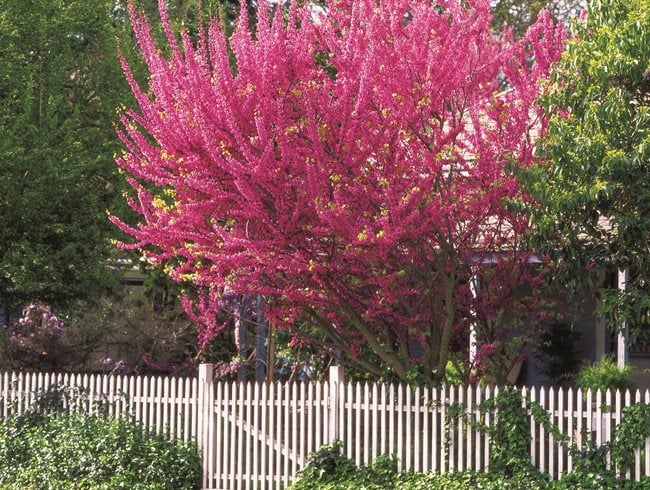 The horizontal branching pattern of the redbud adds architectural interest and makes an attractive canopy for spring bulbs. Photo by: Saxon Holt.
As I returned to observe these trees throughout the year, I discovered that their beauty extends well beyond the spring season, as the fading flowers give way to heart-shaped green to bronze leaves in summer and brown pods that remain on the tree after the leaves fall. These attributes, along with the redbud's compact size and resilient nature, have made it one of the most popular small trees for residential gardens.
REASONS TO LOVE THEM
Clusters of tiny magenta buds swell into showy rosy pink flowers in early spring before the leaves appear, with the long-lasting blossoms putting on a show for two to three weeks.
The buds appear to emerge right from the bark of twigs and branches and even on parts of the trunk, adorning the entire tree with miniature clusters of flowers.
The trunk of the redbud commonly divides close to the ground, creating an interesting multi-trunk shape with graceful arched branches and a rounded crown.
Heart-shaped leaves 2 to 6 inches in length emerge a reddish color, turning dark green in summer and then a bright canary yellow in autumn. The flowers also give rise to clusters of beanlike pods that remain on the tree into winter.
The redbud adapts to a wide range of site conditions and thrives in most types of soil and levels of sun exposure.
WHERE TO PLANT THEM
The eastern redbud (Cercis canadensis) grows throughout most of the eastern U.S, extending as far west as Oklahoma and Texas and north into Canada. This tree is not picky when it comes to soil preference, but it does best when grown in a moist, well-drained location. Because of their modest size, redbuds work well as understory trees and are particularly stunning when planted in groupings. The horizontal branching pattern adds architectural interest to the garden and makes an attractive canopy for spring bulbs.
Zones:

4-9

Height:

20-30 feet

Spread:

25-35 feet

Soil:

Tolerates acidic or alkaline soils as well as heavy clays

Exposure:

Full sun to light shade

Annual growth rate:

13 to 24 inches
The pea-sized blossoms of the eastern redbud emerge in early spring before the leaves arrive, covering the bare branches in garlands of pink. Photo by: Rob Cardillo.
BEST VARIETIES FOR RESIDENTIAL GARDENS
Although most redbuds have lavender-pink flowers, certain varieties and cultivars have white, deep magenta, or light pink flowers. The leaf color may also vary, ranging from deep purple to chartreuse.
'Forest Pansy' (shown) is one of the most popular cultivars, with deep purple foliage and rose-colored flowers. The foliage retains its burgundy color throughout the summer in cooler climates, but lightens to green in the hot climates of the Southeast.
'Ruby Falls' is an excellent redbud for small spaces. Its weeping habit, red-purple flowers and heart-shaped leaves will bring elegance to any garden.
'Texas White' produces an abundance of bright white flowers and has leathery, glossy, bright green foliage. 'Alba' is another white-flowered variety, with light green foliage.
The Rising Sun™ offers spectacular color with new growth starting apricot, transitioning to vivid gold, and finally to bright green.
'Ace of Hearts' is a dwarf variety ideal for small gardens. It tops out at 12 feet and requires no pruning to maintain its shape.
'Silver Cloud' has attractive variegated foliage with splashes of creamy white and pink.
'Hearts of Gold' features bright golden-yellow foliage that gradually changes to chartreuse during the summer.
'Merlot' (a hybrid of 'Forest Pansy' and 'Texas White') has lustrous dark purple foliage and good heat and drought tolerance.
CARE REQUIREMENTS
Redbud trees tolerate moderate dry spells, but when planted in full sun, they should be watered regularly. To keep the soil cooler and evenly moist in the summer, apply a layer of mulch out to the drip line of the limbs.
To maintain the tree's structural beauty and health, you should prune it as needed to remove weak forks, crowded branches, and dead limbs. It's best to prune right after flowering or in late fall while the tree is dormant.
Most diseases affecting the redbud are caused by fungal infections, including verticillium wilt, canker or dieback, and leaf spots. Older trees are especially vulnerable. Early identification followed by removal of the affected areas is the most effective treatment.
The foliage of 'Forest Pansy' emerges a dark purple, gradually turning burgundy red as the leaves develop. Photo by: Susan A. Roth.
REDBUD FACTS
The blossoms of redbuds look very similar to pea blossoms because the trees are in the same legume plant family (Fabaceae). The blossoms are also edible and can add a bright, citrusy taste to salads. The unopened buds can also be pickled and used as a caper substitute.
Although redbuds will grow in partial shade, they will produce more blossoms when exposed to full sun.
Because the redbud is native to a wide range of climates, it's important to plant a tree started from locally harvested seed. These trees perform better and are more cold-hardy when grown in their native environment.
The eastern redbud was adopted in 1937 as the state tree of Oklahoma, where it grows throughout the valleys and ravines in early spring, painting the landscape pink.
BEST PLACES TO SEE THEM
The annual Honaker, Virginia, Redbud Festival, celebrated since 1981, takes place every April, when the city erupts into a brilliant display of pink, with thousands of redbud trees heralding the coming of spring. The event features live music, games, pageants, a canoe race, and auto show.
The Redbud Festival in Columbus, Wisconsin, rejoices the awakening of its redbud trees in mid-May with special events throughout the city, a city-wide garage sale, sidewalk sales, and the Columbus prince and princess contest.
---
RELATED:
Flowering Trees for Residential Gardens
Growing Hawthorn Trees