Purple-Leaf Plum Tree - Botanic Notables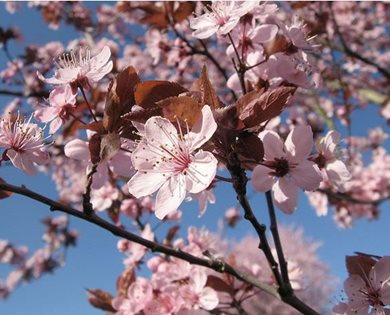 Photo by: I am I.A.M/Flickr.
Prunus cerasifera
Common name: Purple-leaf plum tree
Zones: 4-9
Site: Full sun
Mature size: 15-25' tall, 15-25' wide
Characteristics: Medium growth rate, moderately drought-resistant, pale pink flowers
Pale confetti blows through the sidewalks, and a riot of pink blossoms fill the streets—it's springtime, and the cherry plum (purple-leaf) trees are delighted. Here in Portland, the ornamental trees are a lovely disruption to the gray monochrome of early spring skies. They are everywhere—a pink promise of spring, one that is now blooming across Oregon, Washington, California, and New England, as well as Ireland, England, other temperate European climates, and Australia and western Asia. Also known as the purple-leaf plum, Prunus cerasifera can be distinguished from the cherry blossom—another tree with springtime ubiquity, and similar pink blossoms—by the deep red and purple foliage of many cultivars, and by their fruits.
Purple-leaf plum trees are a precursor to the domestic plum and cherry tree—an ancestry told by its scientific name. The genus name Prunus comes from the Latin for "plum." The species name cerasifera is derived from cerasum, meaning "cherry," and ferens, "bearing." It was named for its fruits before modern edibles were cultivated—now, with domestic plums and cherries, Prunus cerasifera classified as an ornamental tree, not an edible one. But purple-leaf plum tree enthusiasts the world over will tell you the fruit's virtues are overlooked, and they will share recipes for cherry plum cordial (good with seltzer or gin), compotes (add a sugar syrup), and jams (use brown cane sugar and try a dash of chili). The dark fruits ripen in late summer, though they are often camouflaged in a cloud of purple leaves—an abundant bounty, albeit a foraging challenge.
Prunus Cerasifera 'Nigra'. (Photo by: I am I.A.M/Flickr)
The most common cultivars are: Prunus cerasifera 'Thundercloud,' released by famed pomologist Luther Burbank in 1919, it is the most widely sold purple leaf plum in the United States; 'Newport,' one of the hardiest varieties, common in New England, with dark leaves and a rounded shape; and 'Vesuvius,' which is more heat tolerant, and grows to a slightly higher 30' tall. And then there is 'Atropurpurea' or 'Pissardii,' the original purple leaf plum tree. It was named for Monsieur Pissard, a French gardener who noticed the tree while working for the Shah of Persia (now Iran) in the late 1870s. He would later introduce Prunus cerasifera to the West, where it is known as the cherry plum, the myrobalan plum, the purple-leaf plum, the wild cherry plum, or, occassionally, the Iranian cherry.