Flowering Cherry Trees
Ornamental cherry trees herald the coming of spring with a profusion of pink blossoms
"How can we ever lose interest in life? Spring has come again, and cherry trees bloom in the mountains."
This quote, from Japanese poet Ryokan Taigu, describes the Zen-like experience of seeing cherry trees laden with ethereal pink and white flowers each spring, a promise of the intoxicating weather to come. Flowering cherry trees have long been essential to Japanese gardens, and were introduced to the United States in 1902. Since then, they've become almost as American as cherry pie, and are celebrated annually in many cities across the country during their spring awakening.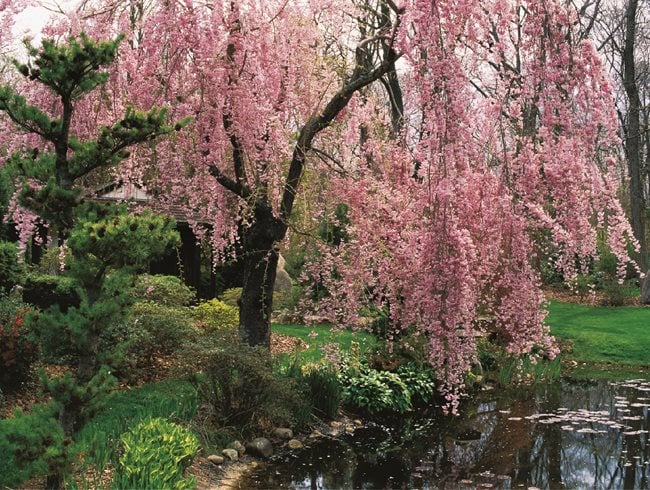 A weeping Higan flowering cherry (Prunus subhirtella 'Pendula Rosea'). Photo by: Susan A. Roth.
BEST FLOWERING CHERRY VARIETIES FOR RESIDENTIAL GARDENS
The term "flowering cherry" refers to several species of Prunus trees and their cultivars, most originating in Japan.

The first cherries planted in Washington, D.C., were the Yoshino cherry (P. x yedoensis).
The double-flowered Higan cherry tree (Prunus subhirtella 'Autumnalis') produces a spectacular show of semi-double pink flowers in the spring and may even rebloom in autumn, but not as profusely.
The graceful weeping branches of the weeping Higan cherry (Prunus subhirtell 'Pendula Rosea') spread 15 to 25 feet and feature light pink 1-inch-diameter flowers that cover the branches in spring.
The Fuji cherry, (Prunus incisa 'Kojo-no-mai') is a compact dwarf variety suitable for small gardens and container planting. It features wiry, twisted branches and early-blooming white blossoms with pink centers.
For more spacious gardens, the Akebono cherry (Prunus ×yedoensis 'Akebono') features wide-spreading branches that extend up to 40 feet at maturity.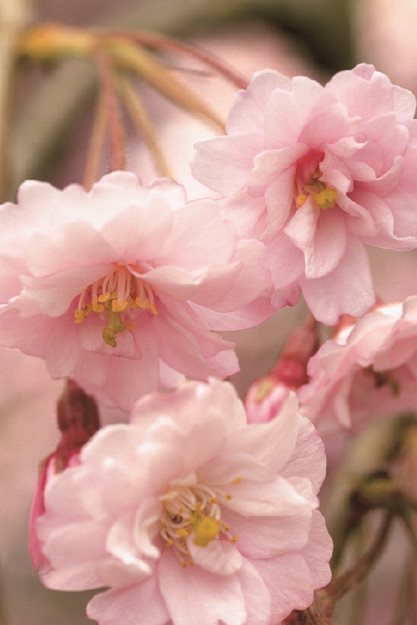 Double-flowered Higan cherry (Prunus subhirtella 'Autumnalis'). Photo by: Mark Turner.
REASONS TO LOVE THEM
Although ornamental cherry trees are typically planted for their profusion of showy flowers in the spring, some species also produce small cherries in the summer. The fruit is too tart for our palettes, but appeals to a wide variety of birds including robins, cardinals, and waxwings. Often the blossoms change colors, starting out dark pink when in bud, turning lighter pink when they first blossom, and then eventually turning pale pink or white. Some varieties also display wonderful fall color, with foliage that turns purple, red, or orange.
WHERE TO PLANT THEM
Plant in full sun and well-drained soil, away from strong winds. Don't expose to extreme heat or cold. For the best results, choose a tree that grows in your zone, preferably from a local nursery that carries varieties suited for your climate. Also make sure that you have the garden space required for your tree to thrive.
ZONES:

5-8, 5-9 in the West

HEIGHT:

20 to 30 feet

EXPOSURE:

Full sun

SOIL:

Moist, well-drained

BLOOM TIME:

Late March through April

WHEN TO PLANT:

Early fall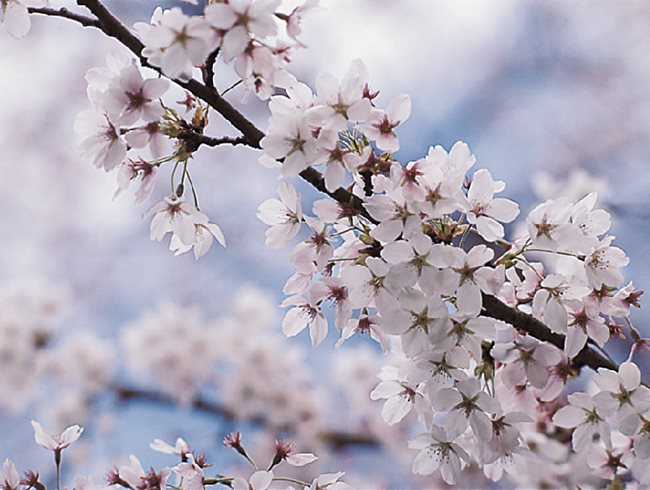 Yoshino cherry (P. x yedoensis). Photo by: D. Cavagnaro.
CARE REQUIREMENTS
Flowering cherry trees do well in most residential gardens because their care requirements are minimal. They are not demanding in regard to soil type or pH requirements, but should be watered thoroughly after planting and until the tree is well-established. Like all cherry trees, ornamental flowering cherries are susceptible to insect and fungal disease problems. Regular pruning to thin out branches and allow for better air and light circulation will help keep your tree healthy. The best time to prune is just after spring flowering. Many fungal diseases can be treated by application of a fungicide. Signs of disease include powdery mildew, hard knots or swelling on branches, leaf spot, and discolored or wilted leaves.
FLOWERING CHERRY TREE FACTS
In Japan, the cherry blossom, or sakura, has been the national flower for centuries and is a symbol for the country itself.
Flowering cherry trees have relatively short life spans of only 25 to 50 years. The Brooklyn Botanical Garden's flowering cherry collection includes some of the oldest specimens in North America, two weeping Higan cherries that were planted in 1921.
Temperature has a greater impact than the amount of sunlight or precipitation on bloom time. Warm, cloudy days are the best environment for coaxing early spring blooming.
The first Japanese flowering cherries planted in the nation's capital were a gift from the mayor of Tokyo.
BEST PLACES TO SEE CHERRY BLOSSOMS
The sight of a single spring-blooming Japanese cherry tree is pure bliss. But seeing hundreds or even thousands of them blooming en masse is a special event celebrated annually in many cities across the country, most notably during Washington, D.C.'s National Cherry Blossom Festival, the largest of its kind in the U.S. However, if you can't make it to the nation's capital, there are many other cherry blossom festivals held across the country each spring. The Brooklyn Botanical Garden has one of the most beautiful displays in the state of New York. Other notable cherry blossom displays include the Missouri Botanical Gardens in St. Louis, the International Cherry Blossom Festival in Macon, Ga., the Northern California Cherry Blossom Festival in San Francisco, and the Nashville Cherry Blossom Festival, presented by the Japan-America Society of Tennessee.
Related:
Flowering Trees for Residential Gardens
Spring Gardening Ideas