Working with Bulbs: The Great Dixter Way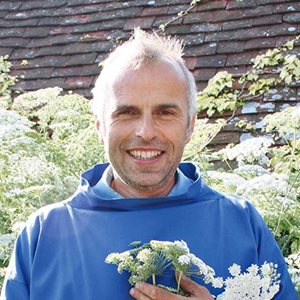 Fergus Garrett,
Learn more about Fergus below.
—with Fergus Garrett, Great Dixter
SATURDAY, OCTOBER 21, 2023 @ 12PM EST*
Join us in October as we learn how to design with bulbs, the Dixter way!
In this webinar, Fergus Garrett shows us how they create the stunning seasonal bulb displays at Great Dixter. He'll also share with us how they choose which bulbs to use, as well as how they decide which ones will be placed permanently in beds and borders and which ones will be displayed in temporary pot arrangements. The beautiful photos will inspire you to create stunning bulb displays right in your own garden.
Don't miss this exclusive opportunity to learn from one of gardening's leading experts!
*Unable to join us at that time? All registrants will receive access to the recording.
Register Now
$20 Registration fee
---
HOW OUR WEBINARS ARE DIFFERENT (& BETTER!)
Our fireside chat format is different from other webinars in that we have the opportunity to interject questions and have conversations about the topics. In addition to your virtual front-row seat with well-known gardening experts, you'll get:
The ability to submit your questions and comments in the Q&A
Show notes emailed to you the day before so you can print them out and jot down your own notes in the margins
After the event, you'll receive a follow-up email with updated show notes and a link to the webinar recording, along with a wrap-up of ideas and comments submitted by attendees. We call this the "wisdom of the crowd"—and these crowds are avid gardeners who always contribute great ideas. Click here for a sample follow-up newsletter from a past webinar.
See what people are saying about our webinars.
---
UPCOMING WEBINARS
IMPORTANT NOTES
Registration will close just before the session begins or when the "seats" are full.
Each person will be given a unique login code that cannot be shared. Only one person/device will be allowed to enter the session with each login code.
---
Fergus Garrett
FERGUS GARRETT, THE GREAT DIXTER
Fergus Garrett trained in horticulture at Wye College, London University. He began his career working in Kent at the English Gardening School, and then moved on to the Unusual Plants Nursery in Essex.
In 1992, he became head gardener at Great Dixter, working closely with Christopher Lloyd until Lloyd's death in 2006. Currently the Chief Executive of the Great Dixter Charitable Trust, Fergus recently became a Royal Horticulture Society Victoria Medal of Honour Holder. This honor is awarded to British horticulturists resident in the United Kingdom whom the Royal Horticultural Society Council considers deserving of special honour by the Society. The Society's rules state that only sixty-three horticulturists can hold the VMH at any given time, in commemoration of the sixty-three years of Queen Victoria's reign.
OTHER SPEAKERS IN THE 2023 WEBINAR SERIES
David Culp
Dan Hinkley
Fergus Garrett
Dan Benarcik
Kelly Norris
---
WHAT PEOPLE ARE SAYING:
"Thanks for all the inspiration!! I'm still making notes." — Kristina
"This talk was so fantastic!! Will be watching it multiple times to make sure I get all the information that I missed the first three times." — Maryann
"Appreciate having the notes with the names of the plants mentioned. Thank you." — Mary
"Wonderful information. Can hardly wait to do some additional planting." — Georgia
"This was fantastic! I'm just starting so this was such perfect information. Thank you!" — Linda
"Such an amazing presentation, I'm so inspired and can't wait to get in the garden! Thank You." — Michael
---
*Required fields
We will never sell or distribute your email to any other parties or organizations.
---
This page will be updated as the schedule fills out and dates are confirmed.
See more online classes