Container Garden Ideas
Dress up your garden with these container planting ideas for gorgeous planters full of flowers, veggies, and more.
Container gardens are great for beginning gardeners, people who have limited space, or anyone who wants to dress up their porch or patio. They can be planted with a single plant or a combination of plants depending on the look you are trying to achieve. Popular plants for containers include flowers, herbs, veggies, grasses and succulents. Many gardeners switch out the plants they grow seasonally to ensure nonstop color throughout the year.
When selecting planters for a container garden you'll want to pick something that suits your taste, allows for proper drainage and is an appropriate size and weight for where you plan to place it. Garden pots come in a wide variety of materials and styles, so you'll definitely find something you like. Check out the following articles for tips and ideas for creating your own container garden.
On this page:
POPULAR CONTAINER ARTICLES
CHOOSING THE RIGHT CONTAINER
Use these tips to help you select the right container:
It's possible to plant directly into any container so long as you create drainage holes. Drilling through wood, plastic or fiberglass is relatively easy. You can make a drain hole in a clay pot by using an electric drill with a masonry bit, but work carefully.
If you are investing in large containers, buy the best you can afford as they will be around for some time. For the same reason, go for classic shapes and styles that will fit in with any garden. Brightly colored pots will restrict your planting choices, and you may soon tire of a one-off fashion statement.
When choosing containers, use the materials and architectural details of your house as a starting point. Match warm brick walls with terra-cotta pots or a white colonial-style frontage with classic lead (or faux-lead finish) planters. For a rustic timber house, seek out beaten copper tubs or weathered wooden troughs.
A tall, narrow pot is less stable than a squat, low one. Use tall pots for trailing plants, which are not usually top heavy, and let them cascade over. Shallow containers, such as alpine pans, work best at the front of a group to anchor it.
Avoid planting into a narrow-necked pot (with a body larger than the neck), as it is difficult to get a plant out once its roots have spread. That's why flowerpots are always wider at the top than the bottom.
Don't worry about having a decorative pot for every plant. Keep most of your container plants in regular black plastic pots. If you keep the decorative pots to the front of the display, black plastic ones just recede into the background.
Unmatched design, refined colors, and unprecedented finishes make AquaPots a favorite among retailers, landscape professionals, and home gardeners. Hundreds of unique designs in multiple sizes, colors, and finishes are available.
Top 4 reasons to invest in AquaPots:
1. Highest quality finishes of any ceramic planters
2. Most durable planters on the market
3. Trendsetting colors and finishes
4. New designs every year
CHOOSING PLANTS FOR YOUR CONTAINERS
'Violet Eclipse' container recipe: Supertunia® Sharon, Supertunia® Royal Velvet®, and Supertunia® Magenta® petunias; Angelface® Blue angelonia. Photo: Proven Winners
Environment:
The #1 key to a successful container planting is to make sure that all of the plants require similar sun or shade conditions as well as water requirements. Get suggestions for some of the best plants for pots in sun or container plants that love shade.
Flowers vs. Foliage:
Don't rely on flowers alone. Long-lasting container combos tend to partner plants chosen for extended bloom time (usually annuals) with plants that add attractive foliage colors, shapes, and textures to the mix (often tender perennials). If one plant goes into a slump, another will pick up the slack. Keep it simple by limiting your selection to three types of plants.
Thriller, Filler, Spiller:
Don't choose plants that are all the same height, shape, or texture: One may be tall and upright (thriller); another, medium-high and mounding (filler); and the last, low and spreading (spiller), to soften the container's edge. Besides giving you aesthetic contrast, this arrangement avoids competition for light and space.
Color:
Combining colors harmoniously is a subjective enterprise, and in practice you'll probably limit your palette to what's available at your local garden centers. But here are a few guiding principles for spinning the flower color wheel:
Pinks, blues, and purples are nearly always compatible.
Hot yellows and oranges work well with reds that verge on purple or brown.
White and silver go with everything, as do very pale yellow and amazingly versatile chartreuse.
Change your mind?
It's easy to add and subtract plants, even in midseason. Using a long knife, cut a circle around the root mass of the plant you want to remove, pull out the cylinder of roots and potting mix (toss this on the compost pile), and plug in your newfound beauty. In a week or so, the replacement will look as if it had been in your container from the start.
PLANTING YOUR CONTAINER
Planting mix:
Start with a commercial, peat-based, soil-less mix, which holds a lot more water than garden soil, and add in a slow-release fertilizer. When filling the pot with the mix, leave room for water—an inch between the soil surface and the rim of the pot. (See more: Potting Soil 101)
Plant placement:
If the container is going to stand against a wall or fence, put tall plants in the back where they won't block light and air from shorter neighbors. If the container will be out in the open, place the tallest plants in the center.
Top dressing:
If you don't like the look of bare soil in pots, top dress around plant stems with gravel, crushed shells, attractive pebbles or some other quick-draining layer. This looks more "finished" and also helps retain moisture.
CONTAINER CARE & MAINTENANCE
Water:
Remember that annuals and other plants will require more water in containers than in flower beds. The soil in containers dries out much faster, simply due to lower soil volume and less insulation, which allows the soil to heat up and moisture to evaporate quicker. A soil meter can help you keep a close eye on the moisture level of the soil. Also, use a watering can with a long spout or watering wand to deliver water straight to the pot and avoid wetting the foliage.
Plants thrive on consistency, especially when it comes to water. Setting your containers up on an automatic drip watering system can help you make sure your plants get watered on a regular schedule. (See the video below for more on how to use drip irrigation in containers.)
Fertilizer:
Nutrients are quickly washed out from the potting mix with all the watering that containers require. Plants do best with a steady supply of a small amount of fertilizer, so supplementing them weekly is much better than a once-a-month schedule that produces feast, then famine.
Deadheading:
Regularly snip off spent flower stalks and errant branches to keep your containers looking clean and healthy. (Learn more about deadheading flowering plants.)
See more about how to care for containers: 6 Tips for Successful Container Plants
CONTAINER DESIGN & DISPLAY
'Summit Ridge' container recipe: Proven Accents® Illusion® Garnet Lace, Graceful Grasses® Fiber Optic Grass, Graceful Grasses® Vertigo®, Supertunia® Latte™, and Supertunia® White. Photo: Proven Winners
Follow these tips to help you display your containers perfectly:
Small pots dotted about the wider garden tend to look lost, so, as a general rule, keep these close to the house in places where you have a chance to stop and admire small plants. Large containers work well anywhere.
Use small pots (less than 12 inches in diameter) to create changing displays of small plants such as bulbs, herbs, sempervivum and alpines. Single pots allow you to mix and match your display easily, according to what's in bloom.
Different levels are the key to good group displays. Buy an inexpensive florist's stand (tiered shelves that stand in a corner or against a wall) to lift pots closer to eye level and create a composition of varying colors, textures and shapes. Or, turn empty pots on end and use them as stands or hide bricks or wooden blocks behind other pots.
The repetition trick is popular with interior designers, but it works in the garden, too. Put an identical plant in identical pots-an agave in a terra-cotta pot, for example-and use them evenly spaced to emphasize a linear feature, such as a low wall, a flight of steps or the edge of a pool.
Think of large container plants as design features that can reinforce the permanent structure of your garden. Use a pair of clipped boxwood or bay to flank a doorway or entrance; delineate a seating area with a living wall of laurel in troughs; place pots of lavender on wide steps where you can catch the scent as you walk past.
Use containers as a low-key way of directing visitors around the garden, for example, to edge a worn patch of lawn where you don't want people to cut through or to direct the eye to seating or pathways.
Use terra-cotta saucers under pots where possible to prevent staining floor surfaces. Large saucers can be a feature in themselves-place a layer of attractive pebbles in the saucer and stand the plant on these. This way, collected water won't rot roots and will raise humidity levels around the plant.
TIPS FROM OUR READERS
"Think not just of color, but also texture and leaf sizes." — Susan Nock, SN Garden Design
"Add more plants than you think you're going to need." — JJ De Sousa, Digs Portland
"Create, mix and match. Don't be scared!" — Katherine Cain, Vivero Growers
"Have fun with what you're selecting for the container—mix edibles & annuals, go for texture! A container is that chance to experiment. Experiment with the container itself, too." — Cris Blackstone, Make Scents
"If your planter is deep & wide, be sure to use a foundation type of plant (eg. boxwood), which will remain as your permanent base plant all year. Then play around seasonally with annuals, color & texture as filler & spiller. You can even add more height around the foundation plant as thriller. You'll be amazed how many artistic & unique styles you can create to enjoy the same pot all year long." — Maryam Yaghoubi Farzaneh, Hortus Life
"Containers are great to place plants right next to seating so you can enjoy plants, and even fragrance, right next to you. They also can bring plants up closer to eye level. Containers are also great to 'contain' those beautiful but 'bully-like' plants that would otherwise take over the garden in-ground." — Jennifer Nitzky, Landscape Architect
"Adding a layer of rock to the bottom does not help with drainage. Studies have found this actually has the opposite effect. Just cover the hole with a piece of screen before filling the pot." — Janet Sluis, Horticulturist
"For a beautiful summer screen, try curly willow, ginger or bamboo in a trough." — Daniel Ward, Longshadow Planters.
Featured Video
Using Drip Irrigation to Water Your Container Plants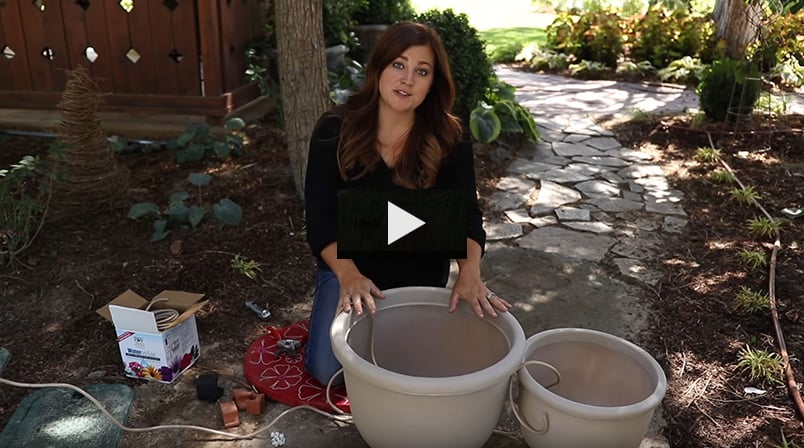 Learn how to set up a drip irrigation system for your containers.