Best Container Plants for Sun or Shade
Up your outdoor plant container game with these tried-and-true varieties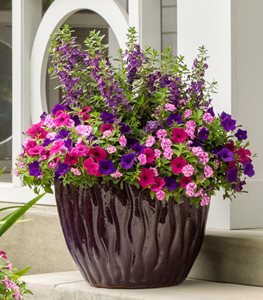 Photo by: Proven Winners.
Creating successful container gardens is not something that's left to chance. Whether showcasing a single specimen such as a small tree or shrub or combining plants together, proper selection can transform the mundane into something extraordinary.
Container "recipes" are like cooking. For a compelling end result, planning and the right ingredients are in order. For container arrangements with pizzazz, include mounding plants as "fillers," trailing varieties as "spillers" to drape over the edge, and anchor with a dazzling upright accent as a "thriller." Make sure plants have similar light and other cultural needs. Get started here:
On this page: Shade Plants for Pots | Full Sun Plants for Pots | Online Learning: Designing Abundant Containers
ONLINE LEARNING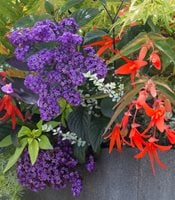 Learn the hallmarks of a well-designed container garden from professional designer Karen Chapman in this award-winning online workshop. You'll learn about layering foliage and flowers, creating a cohesive color palette, and more. Chapman walks you through the steps from planning, to soil, to shopping for plants, and final planting.
RELATED:
19 Amazing Shade Annuals
Amazing Annual Flowers for Sun
Container Gardens Made for the Shade