Outstanding Container Plants
Plants that are great for containers and baskets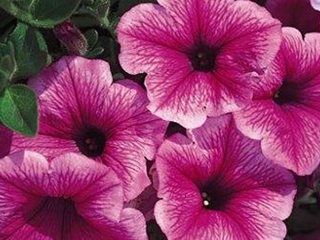 Photo by: Proven Winners.
Colocasia esculenta 'Black Magic': Big tropical leaves. Goes with almost anything in a container. Perennial in mild climates.
Calibrachoa Million Bells®: Great in containers or hanging baskets, good mixer. Flowers like tiny petunias, in white, blue, pink, yellow and other colors. Long bloom, hardy in mild climates, very heat tolerant. For more Superbells®.
Scaevola aemula Blue Wonder®: Trailing habit made for hanging basket. Long blooming. Learn more about scaevola.
Sutera cordata (bacopa): Tiny leaves and flowers in blue, white, salmon, pink. Blooms in shade, "doesn't look exhausted by September." (Davis) Favorites: 'Breeze Indigo', 'Breeze Upright Lavender', 'Giant Snowflake'. Learn more about growing bacopa.
Coleus 'Inky Fingers': Irresistible foliage plant with dainty palmlike leaves. "Diminutive scale belies sturdy robust demeanor." (Cooper)
Supertunia® Series (pictured): "I love their spreading habits and free-flowering character." (Walheim) For more Supertunias®.
Brugmansia 'Snowbank': Among many wonderful angel's trumpets—never failing to evoke the tropics—this stands out. "Awesome in a container, huge, fragrant, dangling apricot flowers in amazing profusion. The most beautiful variegated foliage." (Heims) Zones 8-9; annual in cold climates.
Tropicanna Gold Canna: Like yellow-and-green striped banana leaves. "Beautiful with Solar coleus in a whiskey barrel." (Fell) Zones 7-10.
Black Beauty® Elderberry: Shrub with dark maroon, ruffled leaves. Airy pink flowers. For more elderberry.
RELATED:
Colorful Container Plants