Petunias: Rediscover These Amazing Annuals
A guide to growing gorgeous petunia flowers in your garden or in containers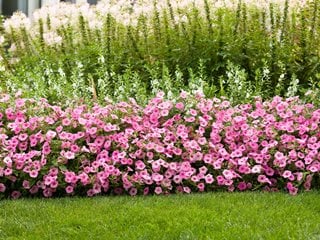 Supertunia Vista® Bubblegum® grows at the front of this landscape bed. Photo courtesy: Proven Winners.
When I was growing up in the 1960s, my grandmother introduced me to purple grandiflora petunias, which she brought home from the nursery by the dozens to brighten up her summer garden. They were the first flowers I ever planted, and I have been madly in love with petunias ever since.
Today, there are even more reasons to fall in love with petunias because the diversity of choices has increased exponentially. From compact types with dime-size blooms to trailing varieties that spread up to 4 feet, petunias now come in a wide variety of colors, sizes, petal profiles, and growth habits. These new-generation petunias have also been bred to outperform their predecessors, producing nonstop blooms all summer long on sturdier, easy-care plants.
On this page: Petunia Types | Growing Tips | Care and Maintenance | Petunia Pictures | Design Ideas
PETUNIA TYPES
Nearly all petunia plants sold today are hybrids, belonging to the same nightshade family (Solanaceae) as tomatoes, peppers, potatoes, and tobacco. Although they are actually classified as tender perennials, petunias will not tolerate frost so they are commonly grown as annuals in most climates. You can find petunias in just about any color, even black, as well as striped, veined, and speckled patterns. The variety of flower forms is also impressive, ranging from petite to palm-sized in single or double blooms with ruffled, fringed, or smooth edges. Some new petunia varieties and hybrids have become so popular, they have created a class of their own, such as the Supertunia® and Wave® series of petunias.
Supertunias®:
The Supertunia® series of petunias, part of the Proven Winners® plant line, are extremely vigorous bloomers that have the advantage of being self-cleaning, so no deadheading is needed. They produce flowers in a broad range of colors including pastels, bright neons, and blends. Growth habits range from slightly mounded to trailing, depending on the variety.
Supertunia® Vista petunias are fantasic landscape plants with medium-sized flowers that mound up to 24 inches and spread three to five feet. In large containers they trail up to four feet.
Supertunia® Charm petunias are great densely-branched container plants with small flowers. They also make incredibly good landscape plants where excellent drainage is lacking.
Supertunia® Trailing petunias are strongly trailing with medium flowers. They make good spillers in containers, hanging baskets or window boxes or can also be grown as front-of-the-bed landscape plants.
Supertunia® Double petunias have large, fully doubled flowers and are good in containers or the front of landscape beds.
Spreading, or Wave® petunias:
The Wave® series of spreading petunias, introduced in 1995 by Ball Seed Co., changed the playing field for petunia lovers by giving them a fast-growing low-maintenance plant that could withstand tough weather conditions. These energetic growers, sometimes referred to as "hedgifloras," produce blooms along the entire length of trailing stems and spread up to 4 feet or more, rapidly covering a large area of ground in one growing season. Wave® petunias are also impressive spilling over walls and fences or trailing down from hanging baskets.
Grandifloras:
Introduced in the early 1950s, the grandiflora is one of the oldest types of petunias. They produce large flowers (up to 5 inches across). Although fewer blooms are produced per plant than other types of petunia, the huge flower size makes the grandiflora one of the showiest petunias, but also the most fragile. Grandifloras usually form large mounds of flowers 12 to 15 inches tall, but some have a cascading habit that makes them suitable for hanging baskets and window boxes. Unlike newer petunia hybrids, grandifloras also need to be deadheaded if you want them to continue blooming all summer.
Multifloras:
These petunias have smaller flowers (about 2 inches in diameter) and a more compact growth habit than grandifloras. As the name implies, they also are prolific bloomers. Although the blooms aren't as large as those of grandifloras, they are more resilient to heat, humidity, and heavy downpours. Multifloras will also continue to flower with minimal pinching and pruning.
Floribundas:
These hybrids of grandiflora and multiflora petunias share the best qualities of both, producing grandiflora-like blooms with the vigor of a multiflora. Like the multiflora, they also tolerate poor weather conditions and require less deadheading.
Millifloras:
One of the best choices for containers, millifloras grow to only about 8 inches tall and wide and produce tiny 1-inch blooms that closely resemble those of Calibrachoa, a popular petunia look-alike.
GROWING TIPS
When to plant:
In spring, after the threat of frost has passed.
Where to plant:
For the best performance, plant petunias in full sun (at least six hours a day). They will tolerate some shade, but may not flower as prolifically.
Soil:
Petunias grow best in a light, fertile soil that provides good drainage and is slightly acidic (pH 6 to 6.5). In heavy clay soils, work some compost, or other organic matter into the ground before planting. When planting petunias in containers, use a free-draining soilless potting mix fortified with a slow-release fertilizer.
Grow petunias from seed:
You can also grow many types of petunias from seed if you're after a certain variety not available as a transplant. Because petunia seeds are very tiny and slow to germinate, you'll have better success starting the seeds indoors 8 to 10 weeks before the last frost date in your area and transplanting the seedlings into the garden once the soil warms up.
PETUNIA CARE AND MAINTENANCE
Help Your Supertunias® Shine All Summer!
Water requirements:
Like many sun-loving flowering annuals, petunias need regular watering because their shallow root systems dry out quickly. However, make sure the soil is well drained because soggy soil can cause root rot and yellowed foliage. Petunias grown in containers may need more frequent watering, possibly every day, especially in hot weather.
Fertilizing:
Petunias need a lot of refueling throughout the summer to keep them blooming vigorously. Apply a monthly dose of liquid fertilizer or apply a slow-release granular fertilizer at the time of planting. Plants grown in containers often need more frequent weekly or biweekly applications because regular watering will wash nutrients out of the soil.
Pruning and deadheading:
The amount of pruning a petunia requires often depends on the variety you're growing. Traditional grandiflora petunias require the most work and will need frequent deadheading to prevent plants from going to seed. Although newer self-cleaning and spreading varieties of petunias will do fine with no pinching or pruning, occasional deadheading will boost flower production and create fuller plants. If your petunias begin to get leggy and bloom less heavily, shearing them back will encourage new growth and more branching.
Pests and diseases:
Petunias can be bothered by thrips, mites, caterpillars and budworms. Mites and thrips can be treated with applications of neem oil or insecticidal soap. Caterpillars or budworms can be hand picked and dropped in a bucket of soapy water, or treated with a Bacillus thuringiensis (Bt) spray (do not apply when butterfly caterpillars may be present). Root, stem, or crown rot can be caused by poor drainage or overwatering; powdery mildew can by caused by overcrowding as well as wet conditions. Watch this video to learn more about how to get rid of budworms.
Get more advice on keeping your petunias blooming all summer long:
Caring for Supertunias®
(from Proven Winners)
PETUNIA PICTURES
With more than 400 cultivars to choose from, and new selections being introduced every year, petunias are far from passé. Here's a look at some of the dazzling new options you may have been missing out on.
IDEAS FOR USING PETUNIAS IN THE LANDSCAPE
Petunias are very popular flowers for adding instant color to a garden. They are incredibly versatile and can be used in many ways. Here are some ideas:
Plant them as colorful additions to seasonal landscape beds
Grow them individually in hanging baskets or along with other strong growers
Use them in containers as the filler or spiller component
Plant petunias in masses for a dramatic blanket of color
Cover bare spots in your garden quickly and prevent weeds
Fill your window boxes with petunias that complement your home's color scheme
Try them in hayracks along a sturdy fence or in a DIY copper wire plant hanger
Last updated: May 17, 2019
RELATED:
20 Common Plants Safe for Cats & Dogs
Outstanding Container Plants
How to Use Annual Flowers and Plants to Add Personality to Your Garden