The Best Deer-Resistant Plants for Your Garden
If you have a garden full of plants that deer love to binge on, replace them with these attractive, easy-care alternatives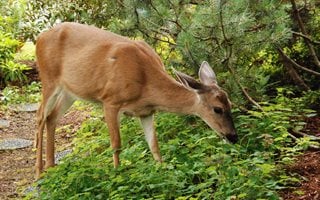 Deer love to graze on many types of groundcovers, especially when new, tender growth emerges in the spring.
The ornamental plants and shrubs in your garden should be a feast for the eyes, not a banquet for the local deer population. Although it's impossible to make a backyard completely deer-proof, other than surrounding it by a tall fence or other impenetrable barrier, you can fill it with plants that don't please a deer's palate. If you like the meadow look, this deer-resistant wildflower mix is great, otherwise check out the suggestions below.
"You can still have a lush, thriving garden by making smart choices. Many stunning plants are unpalatable to deer because of their poisonous compounds, fuzzy or aromatic leaves, and tough, spiny, or bristly textures," says Ruth Rogers Clausen, author of 50 Beautiful Deer-Resistant Plants. We've included some of Clausen's smart choices here, along with a few top picks of our own.
DEER-PROOFING TIPS
Deer are often frightened away by loud noises and sudden movement. Keep them on edge by hanging wind chimes from the branches of trees and shrubs or by placing wind spinners throughout your garden. If that doesn't work, try startling them with a sudden spray of water by installing a motion-activated sprinkler, such as ScareCrow from Ortho.
Interplant aromatic perennial herbs throughout your garden that have scents that deer find offensive, such as mint, thyme, French tarragon, lavender, chives, sage, and rosemary.
Deer love the tender new leaves and shoots of groundcovers when they first emerge in the spring. To eliminate the temptation, treat the area with a strong-smelling deer repellent or something that also doubles as a chemical-free fertilizer, such as blood meal or fish emulsion. "Be careful not to overfertilize, which will result in the soft, succulent vegetative growth that deer love. Just half the recommended dosage at a given time will leave the odor but not overstimulate the plants," advises Clausen.
You don't have to avoid growing all the annuals that deer like to nibble on. Instead, put them in containers on a balcony or front porch or plant them in hanging baskets that are too high for deer to reach.
If all else fails, surround your garden with tall deer fencing or other impenetrable barrier.
Shop all deer-resistant products on Amazon