The Best Deer-Resistant Plants and Flowers for Your Garden
If you have a garden full of plants and flowers that deer love to eat, replace them with these attractive, easy-care alternatives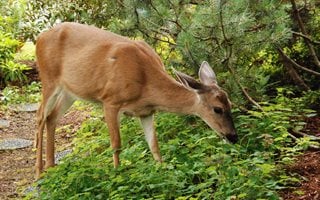 Deer love to graze on many types of groundcovers, especially when new, tender growth emerges in the spring.
The ornamental plants and shrubs in your garden should be a feast for the eyes, not a banquet for the local deer population. Although it's impossible to make a backyard completely deer-proof, you can fill it with plants deer hate and minimize deer damage. For a natural look, this deer-resistant wildflower mix is great, otherwise check out the suggestions below.
"You can still have a lush, thriving garden by making smart choices. Many stunning plants are unpalatable to deer because of their poisonous compounds, fuzzy or aromatic leaves, and tough, spiny, or bristly textures," says Ruth Rogers Clausen, author of 50 Beautiful Deer-Resistant Plants. We've included some of Clausen's smart choices, along with a few top picks of our own, in this list of deer-resistant plants.
On this page: Deer-Resistant Flowers | Deer-Resistant Shrubs | Deer-Resistant Perennials | Deer-Resistant Groundcovers | Deer-Proofing Tips | Online Learning
DEER-RESISTANT FLOWERS (ANNUALS)
DEER-RESISTANT PERENNIALS
DEER-RESISTANT GROUNDCOVERS
JAPANESE PACHYSANDRA
This popular shade-tolerant groundcover is primarily grown for its foliage, which spreads quickly via underground runners to form a dense carpet of glossy green leaves that retain their color throughout winter. As an added attraction, attractive spikes of tiny white blooms emerge from the creeping shoots in early spring. 'Variegata', a cultivar with white markings on its leaves, is especially effective at brightening up shady locations.
Height/Spread: 3 to 4 inches tall, spreads 7 to 8 inches
Zones: 4-9
JAPANESE PAINTED FERN
Deer ignore most ferns, including this stunning low-growing variety distinguished by its silver-gray fronds delicately painted with brush strokes of green and mauve. The fronds hold their color all season, and look lovely when intermingled with other shade-loving groundcovers, such as lily-of-the-valley. Like other ferns, it spreads freely by creeping rhizomes, but not aggressively.
Height/Spread: 1 to 3 feet tall, 1 to 2 feet wide
Zones: 4-9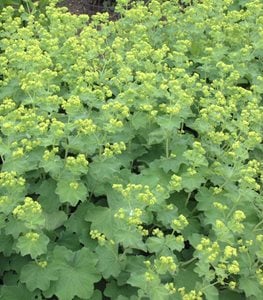 Photo by Ball Horticultural Company.
LADY'S MANTLE
Clusters of tiny chartreuse flowers held on long stems like frothy sparklers make lady's mantle a garden favorite. The broad scallop-edged leaves, which resemble a lady's cloak, are covered with soft hairs that deer find objectionable. This easy-care perennial thrives in sun or part shade and is often planted in masses for use in borders or as a tall groundcover.
Height/Spread: 1 to 2 feet tall & wide
Zones: 3-9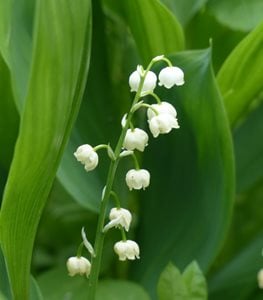 LILY OF THE VALLEY
Lily of the valley is a shade-loving, deer-resistant groundcover is one of Garden Design's spring flowering all-stars. Its dainty bell-shaped flowers perfume the air with a heavenly fragrance in early spring. Bright red berries form on the plant after flowering, and the attractive lance-shaped leaves last all summer, serving as an attractive groundcover.
Height: 6 to 18 inches tall
Zones: 2-7
Learn more about growing lily of the valley.
JAPANESE SEDGE
Sedges are clump-forming grasslike plants that make excellent groundcovers for moist, shady areas. Cultivars with variegated green and white foliage, such as 'Ice Dance' and 'Silver Sceptre', are particularly stunning in the shade, providing a luminous glow. Japanese sedge spreads slowly by underground rhizomes to create a dense noninvasive groundcover that remains evergreen in warmer growing zones. Like most species of sedges and ornamental grasses, it is not favored by deer.
Height: 12 to 24 inches tall
Zones: 5-9
GROUNDCOVERS TO AVOID
English Ivy (Hedera helix)
Lilyturf (Liriope)
Wintercreeper (Euonymus fortunei)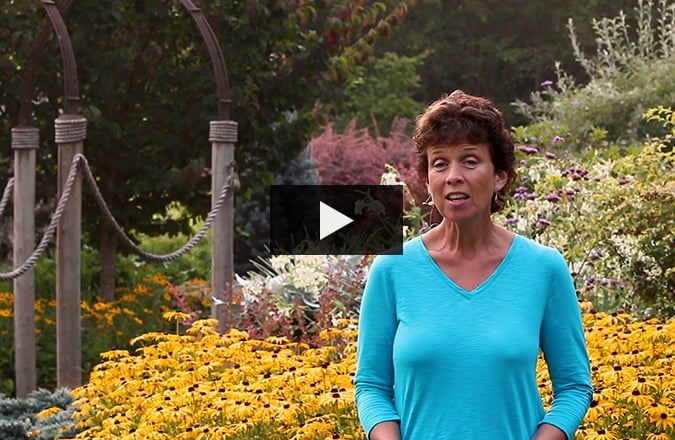 With an emphasis on design, gardening expert Karen Chapman teaches you her tried-and-true methods for creating beautiful, deer-resistant garden areas. Her tips go well beyond a deer-resistant plant list, as she shows you multiple strategies, as well as how to combine them together to get more bang for your deer-resistant buck. Sign me up!
New book release from Karen Chapman, Deer Resistant Design: Fence-free Gardens That Thrive Despite the Deer - buy now on Amazon.
RELATED: A Modern Garden in Deer Country
Deer-Proof Bulbs
Rabbits - Natural Ways to Protect Your Garden