The Best Deer-Resistant Plants for Your Garden
If you have a garden full of plants that deer love to binge on, replace them with these attractive, easy-care alternatives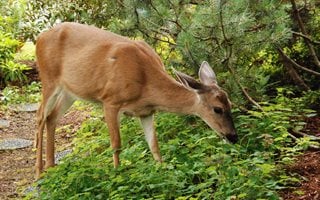 Deer love to graze on many types of groundcovers, especially when new, tender growth emerges in the spring.
The ornamental plants and shrubs in your garden should be a feast for the eyes, not a banquet for the local deer population. Nothing is more enticing to these hoofed herbivores than fresh garden greenery, especially when hunger pangs strike and other food sources are scarce. Although it's impossible to make a backyard completely deer-proof, other than surrounding it by a tall fence or other impenetrable barrier, you can fill it with plants that don't please a deer's palate.
"You can still have a lush, thriving garden by making smart choices. Many stunning plants are unpalatable to deer because of their poisonous compounds, fuzzy or aromatic leaves, and tough, spiny, or bristly textures," says Ruth Rogers Clausen, author of 50 Beautiful Deer-Resistant Plants. We've included some of Clausen's smart choices here, along with a few top picks of our own.