THE 24 BEST HUMMINGBIRD FLOWERS
Invite delightful hummingbirds to your garden with these flowers that attract hummingbirds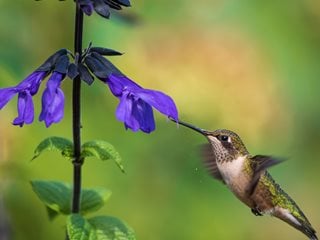 Photo by: Megan Bonham / Shutterstock.
Is there anything more magical than watching a hummingbird, seemingly suspended in midair, dip its long beak into a flower? Sometimes you'll hear these tiny birds before you see them, their wings making a distinctive whirring sound. When two or more appear together, you may hear the sharp "chattering" as they swoop and dive in a series of aggressive, aerial maneuvers. It's no wonder that gardeners love to encourage these remarkable acrobats into their gardens.
Hummingbirds are primarily attracted to long tubular flowers that are red, but are frequently seen visiting flowers that are orange, yellow, purple or even blue giving you plenty to choose from. Keep in mind that many double-flowered forms aren't accessible to pollinators.
Here are some hummingbird favorites to add to your garden:
On this page: Shrubs and Vines | Annuals | Perennials
BUSHES AND VINES FOR HUMMINGBIRDS
ANNUAL FLOWERS FOR HUMMINGBIRDS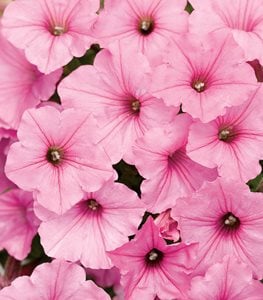 Supertunia® Vista Bubblegum. Photo by Proven Winners.
PETUNIA
Perhaps the most popular annual with gardeners, these are also a favorite of hummingbirds and bees with their large, trumpet-shaped blooms. The flowers are available in every color from white to black, including speckled, spotted, and striped varieties, as well as both single and double-flowered forms.
Trim back mid-summer if these start to look leggy, but otherwise just water and fertilize regularly for an outstanding display. Compact and trailing selections are available.
Zones:
Annual
Height/Spread:
6 to 10 inches tall and 10 to 30 inches wide
Plants to Try:
Supertunia® Vista Bubblegum (pictured), Crazytunia Mandeville, Surfinia Red
Learn more about growing petunias.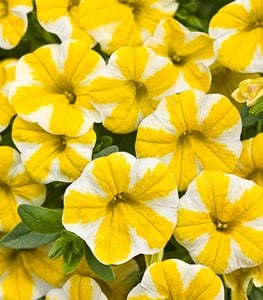 Superbells® Lemon Slice®. Photo by Proven Winners.
CALIBRACHOA
If you want the vibrant color punch of a petunia with even less maintenance, Calibrachoa, also called Superbells® and Million Bells®, may be the answer. Like their larger cousins, these are available in every color of the rainbow with both single and double flower forms, yet need no deadheading , withstand rain with ease, and are a treat for hummingbirds. Choose from compact or trailing varieties.
Your hardest decision may be choosing which ones to include in your sun-loving designs this year.
Zones:
Annual
Height/Spread:
3 to 8 inches tall and 10 to 30 inches wide.
Plants to Try:
Superbells® Lemon Slice (pictured), Cruze Yellow Red Eye, Million Bells Trailing Blue
Read more about how to grow Calibrachoa.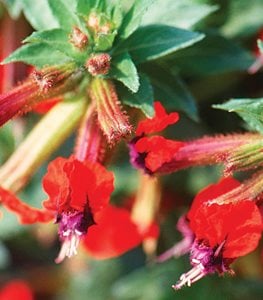 Tiny Mice® cuphea. Photo by Proven Winners.
ANNUAL CUPHEA
This delightful annual should be included in all your summer designs if only to amuse children of all ages! The antics of visiting hummingbirds will certainly add to the fun factor of this charming genus whose flower shapes include varieties that resemble the faces of tiny mice, as well as more traditional flower forms and elongated tubes. Tuck these into hanging baskets, window boxes, and containers and stand back to watch the show.
Zones:
Annual
Height/Spread:
8 to 28 inches tall and 12 to 24 inches wide
Plants to Try:
Tiny Mice® (pictured), 'Flamenco Samba', Vermillionaire®, Bat Face
Learn more about growing cuphea plants.
PERENNIALS THAT ATTRACT HUMMINGBIRDS
What about using hummingbird feeders?
Many homeowners use feeders filled with sugar solution to encourage hummingbirds to visit, but the sugary drink also attracts ants, bees, and wasps. And, in warm conditions the solution can quickly become cloudy with bacteria which is harmful or even fatal to the birds. Rather than using feeders, consider adding some of these plants to your landscape or containers.
RELATED:
Hummingbird Haven
Flowers for Bees
Best Flowering Shrubs