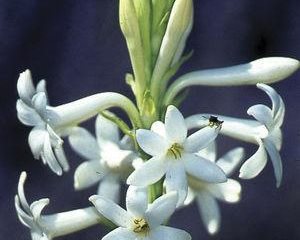 Polianthes tuberosa, from Brent and Becky's Bulbs (Photo by: brentandbeckysbulbs.com)
Most of us think of bulbs as those things we plant when the leaves begin to turn colors in autumn and that burst into resplendent flower before the leaves return. But summer bulbs, which go in when the soil warms in spring, can be the easiest and most satisfying way to give your garden a hit of exotic color and fragrance during the hottest months of the year. Summer bulbs' tough-skinned resistance to heat also make them excellent for cutting, as they'll keep their shape for weeks in water.
For the best results, grow summer bulbs in well-drained soil, says Brent Heath of Brent and Becky's Bulbs (804/693-3966; brentandbeckysbulbs.com), a retail and wholesale supplier in Gloucester, Virginia. Or put them singly in containers and stage them around your patio for outdoor parties: these otherwordly beauties are most fragrant in the evening. (Try tuberose and Oriental and Asiatic lilies for the headiest scents.)
Now is the time for gardeners in most parts of the country to make plans for and order summer bulbs, in order to get them in the dirt in April or May. In northern climates, lift and store the bulbs in fall for replanting next year.