Growing Snowdrops - How to Plant & Care for Galanthus
Learn how to plant Galanthus bulbs and care for them as they grow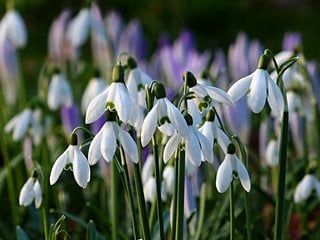 Photo by: Christiane / Pixabay.com.
The sight of snowdrop shoots poking up through snow-covered ground is one of the first signs that spring is near. It was once thought that their leaves were thermogenic, producing their own heat in order to melt through the snow. However, it is more likely a thermal effect of sunlight heating the tips of the leaves warmer than the surrounding snow. Each bulb produces 2-3 narrow, green leaves and a single flower scape (or stalk).
On this page: Basics | Planting | Care and Maintenance | Pictures | Design Ideas | Where to See Snowdrops
On this page:
BASICS
Plant type:
Bulbous perennial
Zones:
3-9, varies by species and cultivar.
Height/Spread:
Varieties range 6-12 inches tall
Exposure:
Full sun to part shade
Bloom time:
February to March
Flowers:
Small, bell-shaped, fragrant, flowers with white outer petals and green tips or markings on the inner segments. Each snowdrop flower consists of two whorls of three lobes.
Other:
Attracts pollinators.
PLANTING SNOWDROPS
Photo by: Abramova Kseniya / Shutterstock.
When to plant:
Plant dormant bulbs in fall. Planting in the green can be done in the spring after flowering.
Where to plant:
They do well under late-leafing deciduous trees that allow sunlight to the snowdrop's leaves while they are growing in early spring. Evergreens do not allow enough spring sunlight through for them to grow well.
How to plant:
Plant bulbs 2-3 inches deep, approximately 3 inches apart, with their points up. Water well to settle the soil.
Other:
It is recommended to wear gloves when planting to avoid possible skin irritation.
For more on how to plant bulbs:
SNOWDROPS CARE
Soil:
Moist, humus-rich, well-drained soil.
Amendments & Fertilizer:
Wild-growing Galanthus fend for themselves quite well, but if they are growing in planter beds or containers, they will benefit from a potassium-rich fertilizer. This should be applied every 7-10 days from the time foliage appears until it begins to yellow and wilt. A mulch of compost in autumn can also help nourish the growing bulbs.
Watering:
Light to moderate water. Soil should remain moist throughout the growing season.
Propagation:
Snowdrop bulbs will multiply and naturalize if left in an area undisturbed. They are easily dug up, divided and transplanted. Dig them up any time after the foliage has died back in mid-to-late spring until early autumn.
Galanthus bulbs tend to dry out if left out of the ground, so re-plant immediately. By mid-autumn, they will have started growing again and shouldn't be disturbed until after blooming.
Diseases and Pests:
There are no serious disease or pest problems. Snowdrops are also deer resistant.
After blooming:
Allow the leaves to remain in place to gather and store energy for next year. They will take a year to get established. In their second year, they will produce more flowers and begin to multiply and spread.
TYPES OF SNOWDROPS
Here are the four most common species, as well as a few other cultivars:
GARDEN DESIGN WITH SNOWDROPS
Photo by: Assy / Pixabay.com.
Not sure how to use them in your garden? Here are some ideas:
For best effect, plant in groups of at least 25 bulbs.
Snowdrops are suitable for rock gardens, fronts of borders, in front of flowering shrubs, and along walkways.
In areas where they can naturalize, such as woodland margins, they are effective when left alone and allowed to multiply and spread.
WHERE TO SEE SNOWDROPS
The following gardens have expansive plantings and a wide variety to see:
---
RELATED:
Loving Giant Snowdrops
Top 20 Spring-Blooming Bulbs
16 Winter Flowers for Your Garden
More Bulbs for Your Garden