Delightful Daffodils
A familiar bulb sparks passion both sides of the Atlantic—our exclusive photographs of five showstopping varieties of daffodils (and suggestions for similar alternatives to grow at home).
With their starched petals, crisp trumpets, and dignified mien, daffodils have a military flair. But they're also cheery team players that bloom for weeks and stick around for generations, outliving the gardeners who plant them.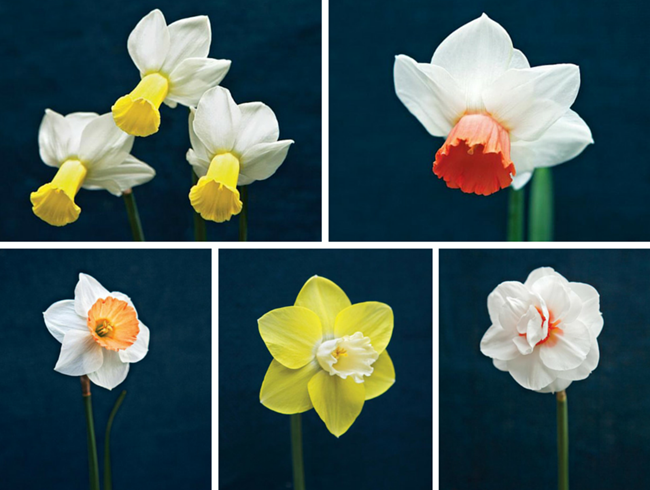 Taken at the RHS Daffodil Show, these photographs feature bulbs bred for competition. Scroll down to learn more about each of these varieties. (Photos by: Howard Sooley)
In England, where the Royal Horticultural Society is the flower's official registrar, daffodil worship reaches epic heights, especially with the spring RHS Daffodil Show. From all over Britain, says garden photographer and daffodil devotee Howard Sooley, "people travel with cardboard boxes carefully packed with cotton wool and daffodil blooms to show others of similar passion." For the last five years, Sooley has captured the "curious and extraordinary" forms cooked up by these hybridizers, many of whom are amateurs. In halls as vast as aircraft hangars, he says, "rows of single-cut stems all face the same direction, like nature's army of spring awaiting inspection against a dark-green hessian backcloth."
Sooley's preoccupation dates back to boyhood, when he stood before poet William Wordsworth's "host of golden daffodils" along Cumbria's Ullswater Lake. He is still fascinated with the flower's simplest forms, but he's also struck by breeders' novelties, including whites with flesh-pink cups he calls "a Frankenstein triumph of father nature."
Bred for competition, many of these bulbs don't shine in cultivation, but the American market offers ample alternatives. And why not? The same qualities that lure British enthusiasts have seduced the rest of us. The Roman poet Virgil sang their praises, early spice traders snapped them up, and American pioneers carried them west—even today, streams of daffodils mark spots where pioneer farmhouses once stood.
Formally known as narcissus, the botanical name for the genus that encompasses all species and cultivars, many Southerners know them as jonquils—which are, strictly speaking, hybrids of one species, N. jonquilla. In England, though, and for other U.S. aficionados, "daffodil" covers the gamut of flowers large and small, early- and late-blooming, single- and multi-stemmed, costly and common.
Useful for their deer resistance, they've been steadily improved for American gardens by commercial hybridizers like Virginia-based Brent Heath of Brent and Becky's Bulbs. While British breeders focus on showstoppers and cut flowers, the emphasis in this country, says Heath, is on robust garden plants that grow and multiply well. Daffodils thrive in pots too, and Heath recommends layering bulbs among tulips, hyacinths, and muscari to create "living flower arrangements."
In the ground, if you let foliage die back after bloom, the fattened bulbs will fuel next season's show. Slip bulbs amid daylilies, heuchera, and hosta in smaller garden beds and those plants will grow up to cover fading daffodil leaves. In open areas, let daffodils naturalize along meadows and fences, spreading their cheerful white and gold swaths for a host of springs to come.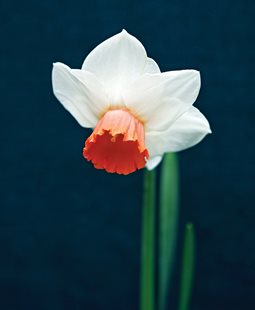 Photo by: Howard Sooley.
'Cool Flame' is a midseason bloomer that reaches 14 to 16 inches in height and produces large white flowers with a sizable salmon-pink cup. ('Accent' has similar characteristics but is more widely available and more colorfast, says Brent Heath of Brent and Becky's Bulbs).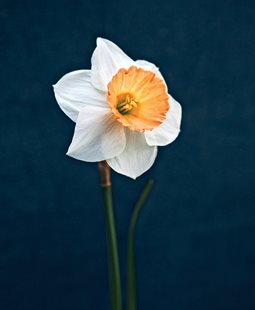 Photo by: Howard Sooley.
'Bell Song' is a fragrant, midseason selection of Narcissus jonquilla that grows 14 to 16 inches high; each flower stem produces ivory blooms with pink cups.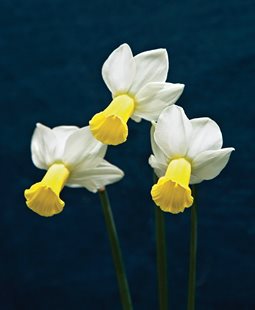 Photo by: Howard Sooley.
'Creed' is a mid-season dwarf (less than 13 inches tall) that's white with a ribbed yellow cup. 'Ara' is another similarly colored selection of N. cyclamineus, with a lemon-yellow trumpet. It grows 16 inches high and is long-blooming.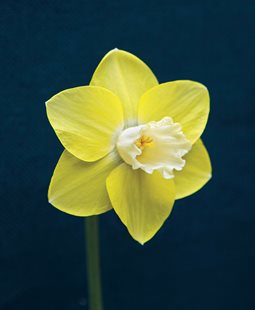 Photo by: Howard Sooley.
'Young American' is a midseason, 18- to 20-inch-high reverse-bicolor yellow trumpet that opens yellow and matures to white. Similar to 'Spellbinder' and 'Galactic Star'.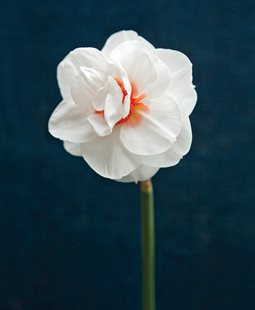 Photo by: Howard Sooley.
'Camisole' is a mid- to late-season double that grows 16 inches tall and has petticoat-like white petals with red-orange centers. Similar to the slightly taller (18 to 20 inches) peony-like, fragrant 'Acropolis'.
Get more spring gardening ideas