Daffodils - Planting, Growing, & Caring for Narcissus Flowers
Daffodils, along with tulips, are one of the most popular springtime bulbs. They are long-lived; bloom for weeks on end; aren't bothered by deer; thrive both in the garden and in pots; are easy to plant, grow and care for; and offer astounding variety (there are over 25,000 registered cultivars!).
On this page: Basics | Growing | Design Ideas | Pictures | FAQs | Places to See Daffodils | Using in Arrangements
DAFFODIL BASICS
Botanical Name:
Narcissus
Zones:
The majority are easy to grow where there is a discernable winter (Zones 4 to 8). Most cultivars can withstand the harsh winters of Zones 2 to 3, and many types (notably those in the divisions Jonquilla and Tazetta) can survive in warmer climates through Zone 9.
Bloom time:
Spring
Exposure:
Best in full sun and with plenty of light even after flowering. At least a half-day of sunlight is necessary to produce enough energy for next year's bloom.
Height:
6 to 30 inches
Color and characteristics:
The most common colors are white and yellow, but there are also some orange, pink, and red varieties. They are recognized mainly for their central cup surrounded by a ring of petals.
Types:
There are thousands to choose from, including:
Modern hybrids, bred to be tall and sturdy with many flower shapes and colors
Antique or heirloom types that have been grown for generations
Smaller species daffodils (sometimes referred to as wild or miniature daffodils)
Those who grow them for competition are even more precise and classify them into 13 divisions (see The American Daffodil Society). The ones most commonly grown in gardens are known as Large Cup and Trumpet daffodils. Furthermore, some are excellent for naturalizing, some have striking double flowers, some are particularly well suited for the South, and others have intoxicating fragrances.
GROWING DAFFODILS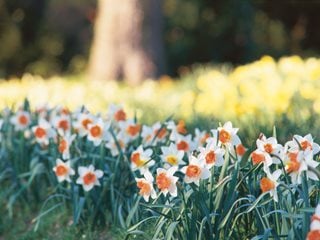 When planted properly, daffodils are low-maintenance, reliable bloomers. Photo by: Roger Foley.
Planting time:
In colder regions, plant in autumn after the first frost when the soil temperature is cooler but before it freezes. In warmer regions, plant after fall temperatures have become consistent and nights are cool. For more, see Bulbs 101: Planting and Storing Bulbs.
Planting depth:
6 inches deep
Soil:
Daffodils prefer well-drained soil, where the bulbs can be relatively dry when dormant during summer. In heavier soil, it's best to grow them in raised beds.
Water:
Some moisture is needed in fall after planting, in spring when plants are actively growing (1/2 to 1 inch of water per week), and after they have finished flowering until their leaves begin to turn yellow.
Fertilizer:
Add bone meal when planting.
Dividing:
If bloom quality and quantity degrade, dig up and divide clumps right after the foliage dies back.
Common mistakes:
Avoid planting in a spot that will get too wet—bulbs will rot if they sit in water.
Cutting back the leaves before they turn yellow will stop the bulb from producing flowers next year.
If you plant them in an area that's sunny in the fall but mostly shaded when the tree cover fills in, the bloom may suffer.
DESIGN IDEAS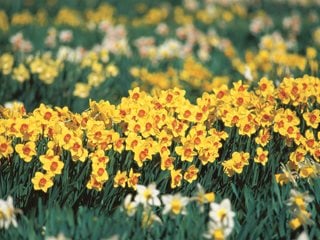 Daffodils are often planted in drifts of like types and colors. Photo by: Roger Foley.
If you love daffodils, but aren't sure how to use them in your garden, here are some suggestions:
Plant in groups of 10 to 100 bulbs for bolder impact. If your planting is to be viewed from a distance, use bright yellows and oranges or plant light colors in front of darker, contrasting ones.
Plant them on a bank or a hillside for a really showy display. Planting on a slope will also provide the necessary good drainage for the bulbs.
Include early, midseason, and late bloomers to extend the season of bloom.
Brent Heath, of Brent and Becky's Bulbs, suggests layering daffodil bulbs among tulips, hyacinths, and muscari to create "living flower arrangements".
Slip bulbs amid daylilies, heuchera, and hosta in smaller garden beds and those plants will grow up to cover the fading leaves.
In open areas, let them naturalize along meadows and fences, spreading their cheerful white and gold swaths for a host of springs to come.
Daffodils are well-suited to designs that mimic woodland settings.
Companion plants:

Daffodils can provide a defensive shield against hungry deer. Self-sowing annuals that bloom after daffodils can hide the yellowing foliage.
Try planting alongside these plants:
Johnny jump-ups
Forget-me-nots
Crabapple trees
Creeping speedwell (Veronica peduncularis 'Georgia Blue')
Primula veris
Vinca minor
FREQUENTLY ASKED QUESTIONS
Are daffodils poisonous?
Daffodils contain a toxic chemical that may cause digestive trouble. They taste so awful that most animals avoid them. However, if your pet does eat a daffodil bulb you should contact your veterinarian. See more Common Poisonous Plants for Dogs and Cats.
Should I dig and store my bulbs after they go dormant or leave them in the ground?
Daffodils are a very hardy bulb that can be left in the ground for years in most cases. There are only a few circumstances that warrant otherwise. Dig them up and store them if:
You live in a very warm climate and need to chill the bulbs in the refrigerator
You live in an exceptionally cold climate and are worried they won't overwinter in the ground
You would like to plant the bulbs in a different spot next year
Your bulbs have become crowded and need to be divided
If the planting area will be wet during warm summer months, then remove and store the bulbs to avoid rot
Can I plant daffodil bulbs in the spring?
The ideal planting time for spring-flowering bulbs is during fall. Then they have all winter to acclimate and develop roots before blooming in spring. However, some gardeners have success planting, or rather transplanting, potted bulbs into their spring gardens. Look for plants with healthy green foliage and buds, but not blooms.
When is the right time to transplant daffodils?
Whether you're transplanting to alleviate crowding or you simply want to move them to a new spot, the best time to do so is after they go dormant. Once the flowers fade, wait for the leaves to wilt, yellow and die off before digging up the bulbs. This should take approximately six weeks. During this time the bulb is storing energy and preparing for next spring's bloom. Replant the bulbs immediately in their new location.
Is there a trick to naturalizing daffodils?
Here are some expert tips for creating a naturalized planting:
Pick an area with good drainage and sunlight
Select daffodils that multiply quickly
Plant drifts of the same kinds and colors
Toss handfuls of bulbs about and plant them where they land
Choose varieties that flower at different times
Use a specialized bulb planting tool or drill attachment to make the process faster
The two terms "naturalize" and "perennialize" are sometimes used interchangeably, but there is a subtle difference. Some bulbs will naturalize, meaning they will prosper and spread about the garden, forming natural-looking groupings. Others are considered good perennializers in that they will return reliably year after year, increasing their clump size over time, but not necessarily moving farther out into the landscape.
---
USING DAFFODILS IN ARRANGEMENTS
If you'd like to cut and bring them indoors, here are some tips:
Choose flowers that are just opening up, they will last longer in a vase
Let them sit alone in water for 24 hours before combining them with other flowers
Pair with tulips, Leucojum, lily-of-the-valley, or bare branches
Combine daffodils from different divisions—try a trio of Tazettas, Trumpets and Doubles
Use milk glass, terra cotta pots or repurposed kitchenware as a container
Related:
Bulbs 101: How to Plant and Store Bulbs
Bulbs for Your Garden
All-Star Spring Flowers