How to Grow Your Own Ranunculus
A must-have addition to the spring cutting garden, ranunculus rivals the rose as the ultimate cut flower.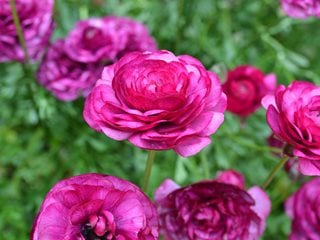 Photo by: Hong Vo / Shutterstock.
Unless you live in a mild Southern California climate, you are more apt to see ranunculus (Persian buttercups) in a floral shop or bridal bouquet instead of growing in your neighbor's garden. These show-stopping spring bloomers have long been a favorite of commercial florists because of their brilliantly colored flowers and long vase life. But if you're an admirer of ranunculus and have been longing to grow your own, it's easier than you might think. Although ranunculus is a frost-tender tuber, it can be grown as an annual in most climates, and the bulbs are inexpensive and widely available at many nurseries and mail-order suppliers.
"With so many wonderful qualities — tall stems, double-ruffled blooms, a light citrusy rose fragrance, high productivity, and one of the widest color ranges imaginable — it is impossible not to fall head over heels for these beauties," says grower and floral designer Erin Benzakein, author of Floret Farm's Cut Flower Garden: Grow, Harvest & Arrange Stunning Seasonal Blooms.
On this page: Ranunculus Basics | Buying Tips | Planting Guide | Pictures | Ideas for Using Ranunculus