Allium Flowers Bring Star Power to the Garden
Stylish, long-lived and easy to grow, alliums are unbeatable bulbs for the perennial border
With names like 'gladiator', 'goliath' and 'globemaster', there's no doubt about the powerful punch alliums can pack. Also called ornamental onions, their sparkling flowers are arranged in symmetrical globes—egg, baseball or soccer-ball size—dramatically perched on leafless stalks, or in a delicate, pendulous clutch. While most alliums are purplish-pink, they also come in white-glove white (Allium 'Mount Everest'), cornflower blue (A. caeruleum) and butter yellow (A. moly). Close cousins to popular and pungent onions and garlic, they even deter deer. Alliums can be grown from seed, but hybrids won't come true and you may end up waiting a year or more for them to bloom. Allium bulbs planted in the fall will flower just as spring bloomers are winding down and continue until summer bloomers kick into gear. They also make chic pairings with a plethora of other perennials and even lend a touch of humor.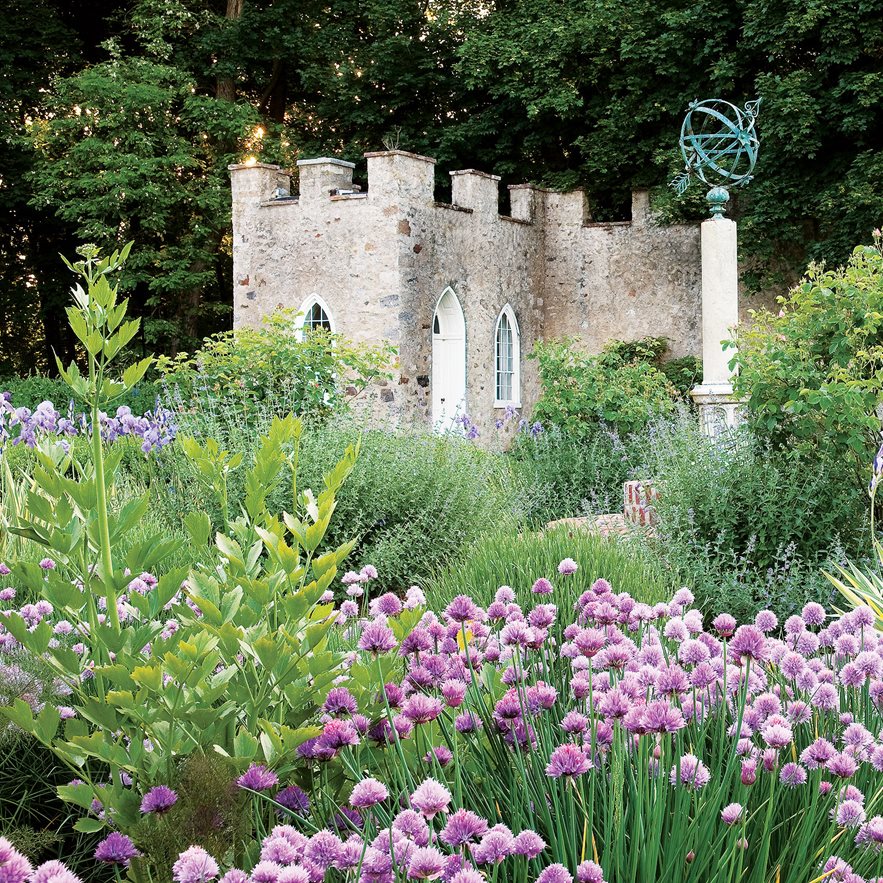 Photo by: Rob Cardillo.
ALLIUM SCHOENOPRASUM
Both beautiful and edible, chives are at home in the border or the kitchen. Clumps of grassy, tubular, tasty leaves are topped by tufty heads of pinkish-purple flowers. Popular with pollinators, but not with mammal pests like deer. Summer blooming and nearly evergreen. Zone 5.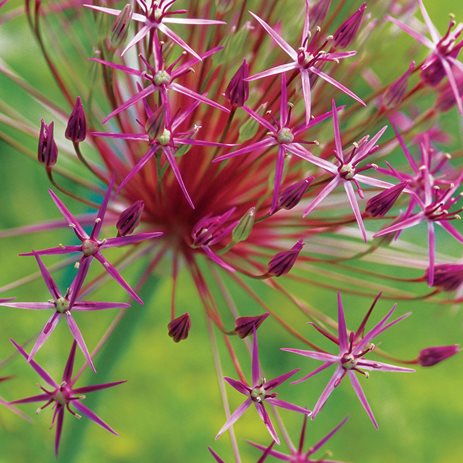 Photo by: Rob Cardillo.
A. CRISTOPHII
Volleyball-size heads of silvery amethyst burst into bloom in summer on two-foot stalks - startling, sculptural and sparkling. Star of Persia adds drama when emerging through lowgrowing perennials. Flower heads dry well, like fireworks frozen in time. Zone 5.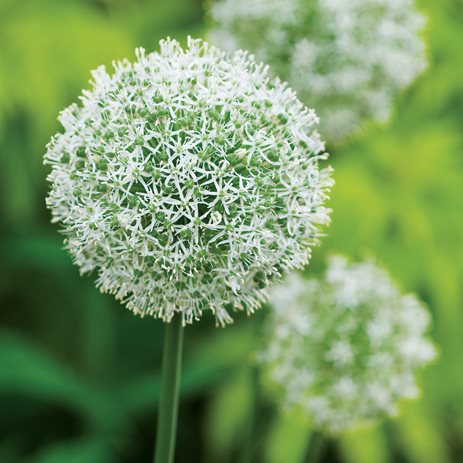 Photo by: Rob Cardillo.
A. 'MOUNT EVEREST' — Buy now on Amazon
A tall hybrid with frosty-white, six-inch snowballs of flowers perched on ramrod-straight, three-foot stalks in late spring to early summer. Low-growing foliage doesn't die back during flowering, making a green groundcover under the blooms. Zone 4.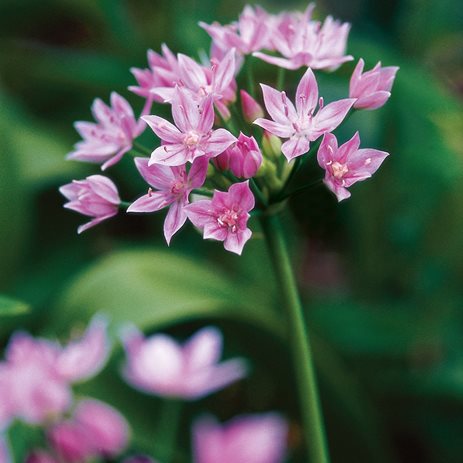 Photo by: Rob Cardillo.
A. UNIFOLIUM
West Coast native with loose, half-dollar-size clusters of lavender-pink flowers, blooming May to July on foot-tall stalks. Though misleadingly named one-leaf onion, each bulb produces two to three leaves. Found in the wild in grasslands that are damp during the spring, this allium is more moisture tolerant than most. Be prepared for it to spread and naturalize. Zone 5.
Photo by: John Scheepers.
A. SPHAEROCEPHALON — Buy now on Amazon
Claret-colored, golf-ball-size clusters of flowers, tightly packed and egg-shaped, nod and sway kinetically atop thin two- to three-foot stalks in late summer. Drumstick allium makes a good companion for shorter perennials, or as a see-through front of the border plant. Zone 4.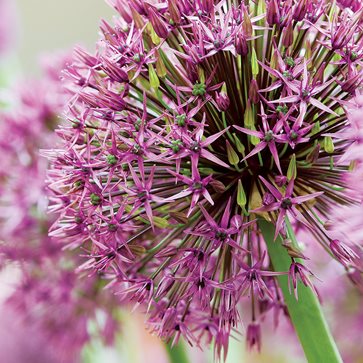 Photo by: Rob Cardillo.
A . HOLLANDICUM 'PURPLE SENSATION' — Buy now on Amazon
Hundreds of purplish flowers are packed into perfect baseball size globes, blooming from late spring to early summer. A classic ornamental onion. Sturdy stems are two to three feet tall. Straplike leaves conveniently disappear as flowering begins. A great cut flower, it can last three weeks in a vase. Zone 4.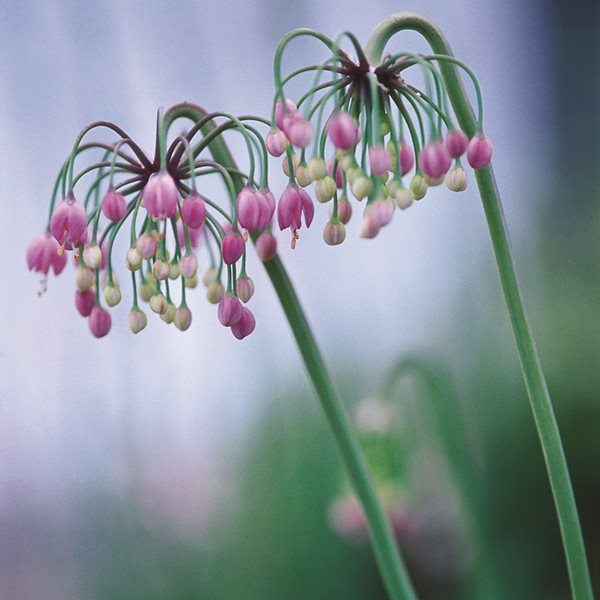 Photo by: Rob Cardillo.
A. CERNUUM
Dainty nodding onion (sometimes called lady's leek) is a summer-blooming North American wildflower, native to dry open woods and meadows. The flower stalks, a foot tall or more, have a distinctive crook at the end, so the one- to two-inch umbels of pale pink or white flowers hang downward. Leaf blades are slender and flattened rather than tubular, forming a soft grassy clump. Zone 5.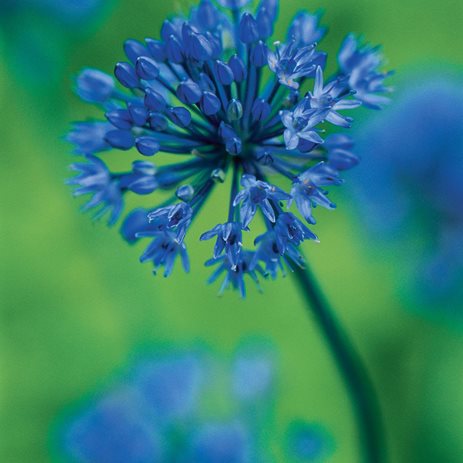 Photo by: Rob Cardillo.
A. CAERULEUM
Brilliant azure blue, half-dollar-size flower heads perch on sturdy one to two foot stems — a rare color for alliums and great in combination with yellow and pink. Blooms in June and July. A native of Asia, blue globe onion is an heirloom bulb, introduced in 1830. Naturalizes in the garden in a welcome, not weedy, way. Zone 5.
Appeal: In alliums we find killer combinations of qualities — easy and gorgeous, elegant and playful, dainty and bold, at home in both meadows and formal borders. Perfect "tuck-ins," alliums play well with other plants, and are reliably perennial. With lots of colors, heights and sizes, there are alliums for every garden, small or large. They also make outstanding, long-lasting cut flowers.
Zones: Ornamental onions can be grown all across the United States, from hardiness zones as low as 3 to as high as 8, depending on the variety.
Exposure: Most alliums prefer full sun - even part shade will make them lean over, reaching for the light. But a few species, such as nodding onion, garlic chives and Allium karataviense can take a bit of shade.
Soil: Alliums are generally tolerant as to soil type. The important thing to remember with alliums, as with most bulbs, is to avoid wet locations, especially during their dormant period. A winter of cold and damp will lead to rotting and woe. Whether it's gravelly or loamy, soil absolutely must be well-drained for alliums to survive and thrive.
Care: Ornamental onions are one of the most carefree of perennials, virtually pest-free. The inherent compounds (sulfides) that make some species culinary favorites with humans ironically make all alliums distasteful to deer and other garden nibblers. Plant in the fall, twice as deep as the bulb is tall, with the pointy end up. Allow foliage to die back naturally; don't cut it off while still green since it feeds the bulbs and sets them up for a successful flower display the following year. To avoid seeing fading bulb foliage, plant alliums among perennials that require similar conditions.
For more on how to plant bulbs: Bulbs 101: Planting and Storing Bulbs
DESIGNING WITH ALLIUMS:
Alliums make great "mixers" among other border plants, and many can be planted to come up through lower-growing perennials like Nepeta x faassenii and Geranium sanguineum, which also hide fading bulb foliage.
Since alliums are perennial, they can be integral elements in a longterm design that gets better as it matures. The consistency of height and flower-cluster size in a single species make alliums a perfect plant for repetition in the garden.
Ornamental onions offer a variety of heights, colors and bloom times, so you can sprinkle a lot of different types throughout the garden. They can also serve as bridge plants, helping the garden transition from spring into summer.
The combination of long stems and spherical flower clusters, swaying and nodding in the breeze, adds three-dimensionality to the garden. Plant with sturdy architectural plants like Phlomis and tall sedums for textural counterpoint.
Combine alliums with grasses such as fountain grass and herbs like lavender for a deer-resistant garden.
RELATED:
Flowers for Bees