How to Create a Meadow Garden
Design a landscape that mimics ecosystems found in nature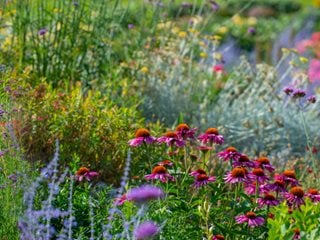 Photo by: Kuttelvaserova Stuchelova / Shutterstock.
Featured in: Garden Design's Top 9 Garden Trends for 2023 ("Swapping Lawns for Meadows")
In recent years, the trend towards more environmentally friendly landscapes has continued to grow. Meadow gardens are gaining in popularity as more homeowners ditch the traditional turf lawn for more sustainable yards. Creating native plant colonies that closely resemble those found in nature is beneficial to wildlife and requires fewer resources to maintain than a traditional garden or lawn.
You don't need a large property to create a meadow planting. A curbside strip, slope, or other sunny spot is all that's necessary. Here are some tips to get you started.
WHAT IS A MEADOW GARDEN?
There are no hard and fast rules for what defines a meadow garden. These areas consist of plants—primarily regional natives—that are naturalized together to give the appearance of a wild meadow. Though many of these plants consist of flowers, native grasses play a primary role. Meadows provide habitat to support wildlife, including bees, butterflies, and other beneficial insect pollinators.
Meadow gardens require no fertilizing and little supplemental water once established, do not use harmful chemicals, and don't require regular mowing. Not all meadow gardens are created alike. Plants can consist solely of natives, or may also include annuals or other favorite plants.
PLANNING A MEADOW GARDEN
Photo by: Firmansyah Asep / Shutterstock.
Choose a site.
Find an area in your yard that meets the criteria for growing a meadow.
Does it receive enough light?
Is it accessible for planting and maintenance?
How big will your meadow garden be?
Even a small corner of a yard can be dedicated to meadow plants. A curbside strip is ideal for a meadow garden as long as it receives enough light.
Be a good neighbor.
Front yard or curbside meadow gardens may be more accepted in some neighborhoods than others. Make sure local ordinances or homeowner associations allow these types of plantings.
Do your research.
To find out what kinds of plants comprise a natural garden in your area, visit local meadows or consult with experts at a local nursery, conservation department, or university extension program. Make a list of plants that will thrive in your area, and what varieties or seed mixes are available to buy. If you are trying to attract butterflies and other beneficial insects, choose plants that will provide food, shelter, and a place for breeding.
Draw up a plan.
Even though a meadow garden has an informal appearance, it still requires planning. Here are some points to consider:
Calculate how many meadow plants or seeds you'll need, based on the square footage of the area and spacing of plants.
Meadow experts recommend a mix of 60%-65% native grasses and 35-40% flowering perennials, though this is not a hard and fast rule. Grasses provide texture and movement as you would experience in a natural meadow, contrasting with flowering plants for a more pleasing effect.
Choose grasses and perennials that provide food and shelter for birds, insects, and other wildlife.
Include plant varieties that are native to your particular region. A meadow garden in California will consist of different plants than one in Missouri. (More on native plants)
HOW TO PLANT A MEADOW GARDEN
Designers: Jay Withgott and Susan Masta. Photo: Janet Loughrey.
Light.
Most meadow plants need at least 6 hours of direct sunlight per day.
Clear the area of weeds.
This can be accomplished in several ways:
Cover the area with a tarp or black plastic for several months—or up to a year—to kill weeds and their seeds.
Place clear plastic sheeting over the area for several months to solarize weeds and seeds.
Lay down layers of newspaper or cardboard and cover with 6 inches of mulch.
Hoe or till the area, removing as much of the weeds and their roots as possible. (Note: this method may also bring new weed seeds to the surface.)
(Learn more about controlling weeds.)
Soil.
To prepare the soil for planting, break up the dirt in the planting area and mix in a small amount of compost. Add sand or gravel as needed to improve drainage. Natives tend to grow in poorer soils, so don't over-amend the soil.
Planting Tips:
Space plants to their mature width, with the goal of having plants completely cover the soil, which will suppress weeds and reduce long-term maintenance.
Plant in drifts of 3 or 5 of the same plant for greater visual impact.
Sow seeds of easy to grow annuals such as poppies, cosmos, or zinnias that will quickly fill in gaps and provide additional color, especially in the first year when perennials are becoming established.
To sow wildflower seeds more evenly, mix with sand before spreading.
HOW TO MAINTAIN A MEADOW GARDEN
Water.
Provide regular water until plants are established. Many natives are drought-tolerant and need little or no supplemental water once they have developed a healthy root system. For seeds, keep the soil surface evenly moist until plants germinate.
Fertilize.
Native plants need little or no supplemental fertilizer, preferring lean conditions and poor soil.
Prune.
Dormant plants can be left over winter to provide food and shelter for songbirds and other wildlife. Cut plants back to the ground in late winter or early spring before they break dormancy.
Mow.
For established meadows, mow plants to about 2 inches high in late winter or early spring. This will help to keep errant shrub and tree seedlings from establishing. Mow grass pathways several times a year, depending on rainfall and the type of grass.
MEADOW PLANTS
Other meadow plants include:
Larkspur
Northern sea oats
MEADOW GARDEN DESIGN TIPS
Design: Eric Groft of Oehme, van Sweden. Photo by: Jason Dewey.
Pathways.
Create gently meandering pathways for strolling and easy access for maintenance. A path can consist of stones or pavers, or grasses that can be mowed.
Create color succession.
Include bulbs, perennials, and annuals that bloom at different times for continuous color throughout the growing season.
Repeat plantings.
Create repetition with similar colors and textures to lend cohesion and draw the eye through the landscape.
Keep it simple.
For smaller spaces, limit your plant palette so the design doesn't become too busy.
Consider scale.
Pay attention to plant size. To keep the appearance of an open meadow, stick to lower growing plants no taller than 3 to 4 feet high. Create swaths of plants in varying heights for a layered look. For smaller areas, use dwarf varieties for a miniature meadow.
Break the rules.
There is no single definition of a meadow garden. Mix native perennials with quick-growing annuals, or emphasize colorful flowering perennials, with grasses playing a secondary role. Intersperse some of your favorite flowers that still retain the look of a meadow.
Finishing touches.
Include boulders as they would appear in a natural meadow for year-round structure and contrast. Install a waterfall to re-create the experience of a native stream. Place a rustic bench where you can relax and enjoy your meadow garden.
Join us for our next webinar!
WORKING WITH BULBS:
The Great Dixter Way
with Fergus Garrett
Saturday, October 21st @ 12PM EDT
FREQUENTLY ASKED QUESTIONS
What is the difference between a meadow garden and a wildflower garden?
The terms "meadow garden" and "wildflower garden" are often used interchangeably, but there can be distinct differences. Wildflower gardens may have some of the traits of meadow gardens, but are often grown from seed mixes that may contain annuals or non-natives. There is nothing wrong with a wildflower garden, but it may not be as long-lasting, environmentally friendly, or intentionally designed compared to a meadow garden.
When should I start a meadow garden?
Site preparation can be accomplished at any time during the growing season. Plant during cooler months of fall or spring. Wait until after all danger of frost is past, and allow enough time for plants to get established before the first hard frost. Plants will be more readily available during spring.
Do wildflower gardens come back every year?
Whether or not wildflowers return year after year depends on what types are planted. Seed mixes can consist solely of native wildflowers, a mix of natives and non-natives, or both annuals and perennials. For the best longevity, choose long-lived perennials that thrive in your area.
Pin this article for later:
RELATED READING