Garden Color Schemes
How to use color artfully, creatively and accidentally in the garden
Planting for color is a complex subject that can be intimidating. The key thing to remember is that color is a gift to revel in, not a problem to be solved—in fact, creative accidents can be the best way forward. Here are some starting points to inspire.
THE COLOR PURPLE
They say: "Focusing on any form of purple quiets the mind's chatter." (Jan Johnsen, Heaven is a Garden)
Debrief: Purple is the most popular requested flower color for use in gardens; and with its calming effect, it's no wonder. In Feng Shui, purple denotes nobility, abundance and dignity, and has been used throughout history by dignitaries and rulers, from Roman emperors to modern European kings and queens.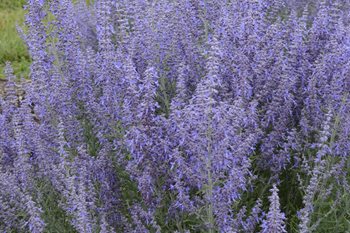 'Denim 'n Lace' Russian sage.
Photo by: Proven Winners.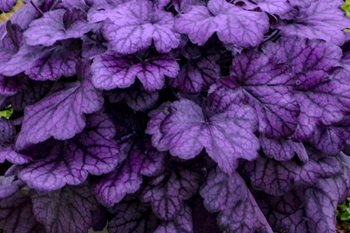 Primo® 'Wild Rose' coral bells.
Photo by: Proven Winners.
A color moment: In the garden, purple can be found in flowers and foliage in a seemingly limitless array of shades. One of the most notable purple plants, lavender, is honored with annual festivals in Mediterranean climates where it grows readily.
Perfect plants: As mentioned, lavender is one of the most (if not the most) popular purple flowering plants, along with shrubs like 'Denim 'n Lace' Russian sage (above) and annuals such as petunias. For an amazing display of purple foliage, try Primo® 'Wild Rose' coral bells (above).
See more purple flowers to brighten your garden.
TANGLED UP IN BLUE
They say: "...the segregation of blue flowers is a mistake. They, more than any others, need the flash of scarlet, the cloud of white, the drift of apricot or buff to kindle them into life." (Louise Beebe Wilder, Color in My Garden)
Debrief: The range of blue is enormous, from uplifting summer skies to melancholy mists. Think of the number of mascot flowers that are blue—Texas bluebonnets, California lilacs, Swiss gentians, English bluebells—this color carries emotional heft. Gertrude Jekyll used blue to create the illusion of greater depth in the same way that landscape painters use misty-blue mountains, so blues were always at the most distant end of her flower borders.
Spiked speedwell and 'Coronation Gold' yarrow.
Photo by: Andrea Jones.
Himalayan poppy.
Photo by: Clive Nichols.
A color moment: The combination (above) of the blue flowers of spiked speedwell (Veronica spicata) mingled with yellow 'Coronation Gold' yarrow is an example of the way a yellow "throw" creates a sparkle that blue by itself could not. Try pink, cream and silver for the same effect.
Perfect plants: The Himalayan poppy (Meconopsis betonicifolia, above) and English delphiniums are classic examples of true blue flowers, but both are tricky to grow. Look to lupines, California lilacs, phlox, bluestars (like 'Storm Cloud'), salvias (like 'Azure Snow'), lobelias (like Laguna® Dark Blue) and others for easy blues.
See more blue flowers for your garden.
WHITE SAYS STYLE
They say: "Provided that one does not run the idea to death, and provided one has enough room, it is interesting to make a one-color garden." (Vita Sackville West, creator of Sissingshurst garden, England)
Debrief: Little did VSW realize that with this suggestion she would launch the cult of the white garden, a simple idea endlessly reinvented by designers keen to show off their paces. A white garden, just like the little black dress on the catwalk, spells style. Emotionally, white may evoke associations with peace and purity, but visually it is a prickly customer that commands attention. Small white flowers woven among colors can give a lift, but a block of white creates too strong a contrast that stops the eye. The key to working with all white is to isolate it (the Sissinghurst garden is entirely enclosed).
Incrediball® smooth hydrangea.
Photo by: Spring Meadow Nursery.
Diamond Frost® euphorbia.
Photo by: Proven Winners.
A color moment: If you can't get to Sissinghurst, the silver garden at Longwood Gardens, Pennsylvania, by Isabelle Greene, which uses a palette of arid and succulent plants, is outstanding.
Perfect plants: Create a wall of large white blooms with Incrediball® smooth hydrangea, or add a light and airy touch with Diamond Frost® euphorbia.
Learn more about creating a white garden..
RED IS STRONG STUFF
They say: "Everyone knows that red reads in-your-face—and that is a very good place for it." (Nori Pope, Color By Design)
Debrief: Energy, passion, power—associations with red are strong stuff. Some gardeners feel timid about using it, but red is not necessarily aggressive if you mix it with fresh green foliage. Red sits opposite green on the color wheel, and thus is its complementary color. In the garden, where a green canvas is a given, the effect is of popping energy and pizzazz. Red attracts attention, but works best at mid- to close range because on the whole it absorbs light and will be lost in a shady border or at a distance.
'Bishop of Llandaff' dahlias, red lilies, black mondo grass.
Photo by: Clive Nichols.
Crocosmia masoniorum 'Lucifer'.
Photo by: Clive Nichols.
A color moment: The borders of Hidcote Manor, England, designed by Laurence Johnson, set the standard. Every year the public garden of Chanticleer in Philadelphia creates hot borders using different annuals and tropicals.
Perfect plants: In her garden above, Clare Matthews uses a red-painted pot filled with black mondo grass as the centerpiece of a border of red 'Bishop of Llandaff' dahlias and red lilies, with black gravel and dark foliage for contrast. Crocosmia masoniorum 'Lucifer' (above) is a stalwart of the red border. Summer holiday containers wouldn't be complete without bright red annuals such as Supertunia® Really Red petunia or Timeless™ Fire geranium.
BROWN MAKES A PRETTY CORPSE
They say: "Dying in an interesting way is just as important as living." (Piet Oudolf)
Debrief: Brown may not feature on the color wheel, but once frost sets in, shades of brown, along with silver and gray, are the flattering neutrals that the well-dressed grass or perennial will be wearing. The popularity of ornamental grasses especially has raised consciousness of the glowing, mellowing effects of brown, especially when backlit by low winter sun. For the wistfully inclined gardener (think of Keats' "mists of mellow fruitfulness," etc.), fall is the best time of year in the garden, and shades of brown, from russet to hay, butterscotch to toast, cappuccino to chestnut, are what put the nuance into the season.
New Zealand flax and tall pampas grasses.
Photo by: Clive Nichols.
'Velvet Queen' sunflower.
Photo by: Andrew Lawson.
A color moment: Visit the Chicago parks for the burnished grasses of Oehme, van Sweden at the Botanic Garden, Piet Oudolf's work at the Lurie Garden in Millennium Park.
Perfect plants: The bronze spiky forms of New Zealand flax punctuate the above winter border of tall pampas grasses, miscanthus and pennisetum. Another cool season grass, 'Toffee Twist' sedge, is a perfect choice to add a hint of brown to containers. The latest trendy deep bronze and "chocolate" plants evoke the luxury and sumptuous qualities of brown—try 'Velvet Queen' sunflower (above).
GREEN MERITS YOUR ATTENTION
They say: "The true worth of green lies in its refreshing quality and in the shades, tones and textures that change it so much." (Jill Billington, Color Your Garden)
Debrief: There are so many green gardens, so diverse in concept and geography—Japanese moss gardens, French parterres of box and grass, tropical jungles, informal conifer gardens. Green restores the senses in a way we take for granted, but designers should pay attention: In shade, lime green or chartreuse will sparkle and light the darkest places. In both formal and informal gardens, green provides the architecture: hedges, trees, grass—the shapes and volumes can be soft and naturalistic or crisp and linear. Late in the season when everything else has collapsed, clipped evergreen shapes hold a garden together.
Hardy bananas in Seattle rainforest.
Photo by: Susan A. Roth.
Sweet Caroline Sweetheart Lime sweet potato vine.
Photo by: Proven Winners.
A color moment: Mount Cuba Center in Delaware, dedicated to the native wildflowers of the Piedmont region, offers impressionistic variations on the shady woodland garden using palest tones of yellow, ink and blue.
Perfect plants: Above, Dan Hinkley's rain forest near Seattle goes tropical with hardy bananas, and Sweet Caroline Sweetheart Lime sweet potato vine (Ipomoea hybrid) thrives in full sun with its bright chartreuse green leaves.
YELLOW CRIES OUT
They say: "Yellow is highly visible, which makes many people nervous..." (Christopher Lloyd, Color for Adventurous Gardeners)
Debrief: Yellow has attracted more than its fair share of controversy. In the fifties it was unpopular with modernists, who regarded it as jarring. And as Christopher Lloyd points out, there are snobbish overtones to yellow prejudice, at least in England: "Yellow in gardens is the people's colour." For that reason alone, there are gardeners who ban yellow from the border. It is also associated with sickliness, i.e., the chlorophyll deficiency that causes yellowing of the leaves.
Mixed border with lupines, roses, senecio, mullein and grasses.
Photo by: John Glover.
Dahlightful® Tupelo Honey dahlia.
Photo by: Proven Winners.
A color moment: Rosemary Verey's gorgeous golden chain tree tunnel at Barnsley House launched a thousand imitators. Crathes Castle, Scotland, has a little known Golden Garden which is a virtuoso performance in the key of yellow.
Perfect plants: The borders of Hadspen House, England, gardened by Canadians Nori and Sandra Pope, show how color harmonies work—this tapestry of lupines, roses, senecio, verbascum and grasses creates an uplifting sunshine. Dahlias are always good for a shot of solid color, try Dahlightful® Tupelo Honey dahlia.
BLACK IS NOT NECESSARILY MORTICIA
They say: "People often expect me to look like Morticia." (Karen Platt, Black Magic and Purple Passion)
Debrief: A color much debated (does black exist in nature?), the appeal of dark burgundy, deep maroon and glossiest black/purple foliage and flowers is a recent craze set to become a classic. Much credit should go to English plantswoman Karen Platt, whose offbeat obsession became a book. Black works both as a harmonious element and as a dizzying contrast: Use black plants to extend the darkest tones of red or purple, and provide velvety depths to a fiery foreground. For high contrast, pair it with gold or chartreuse foliage and pale pink or baby-blue flowers to inject drama into what would otherwise be a routine exercise. "The big no-no is to underplant with white gravel or stone chippings," warns Platt.
Japanese maple, mondo grass, red roses and coral bells.
Photo by: Andrea Jones.
Primo® 'Black Pearl' coral bells.
Photo by: Proven Winners.
A color moment: The above medal-winning garden at Chelsea 2004 paired a dark Japanese maple with a foreground of mondo grass, threaded with red, red roses and 'Sparkling Burgundy' coral bells.
Perfect plants: Take a Gothic approach to gardening with black foliage plants such as Primo® 'Black Pearl' coral bells (above) or Sweet Caroline Raven™ ornamental sweet potato vine.