Top 32 Red Flowers to Grow for a Gorgeous Garden
Paint your garden red with these bold and beautiful flowering annuals, perennials, and shrubs.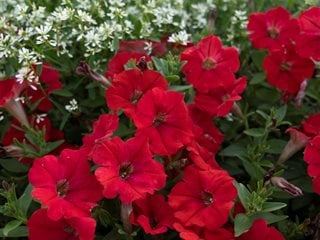 Supertunia® Really Red petunia. Photo by Proven Winners.
There's a good reason why red is the color of stop signs and traffic signals. It's one of the boldest hues on the color wheel and can't help but command attention. In the garden, plants with red blooms serve a similar purpose: They are meant to be seen and are sure to turn heads, even from a distance. What's more, many pollinators are also drawn to red flowers, especially hummingbirds and butterflies.
No matter what the color scheme of your garden, there's a shade of red flower to complement it, ranging from pale rose to fiery vermilion. For a tropical feel, try pairing red flowers with orange, yellow, and hot pink blooms. Or try mixing different shades of red for an eye-catching monochromatic look. Keep in mind that flowers in brighter shades of red can be overpowering if not used judiciously. For the best effect, disperse them throughout the garden wherever you need to make an impact.
See over 30 container recipes featuring red flowers.
Pin this article for later:
RELATED READING