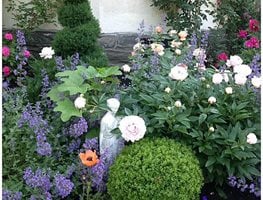 Photo by: Casey Pradelli.
My Garden: An Affinity for Roses
With the planting bed of her front yard cleared by eager online gardeners, Casey Pradelli creates her dream garden, full of roses and inspired by Gertrude Jekyll.
Photo by: Kevin Lee Jacobs
My Garden: From Parking Lot to Rose Garden
Kevin Lee Jacobs shares how he transformed his backyard from a parking lot to a spectacular rose garden, using a mix of cuttings, new plants, and of course, blood, sweat, and tears.
Photo by: Kopol Bonick Studio.
My Garden: A Photographer Creates a 'Picture-Perfect' Garden
After years of photographing beautiful landscapes, professional photographer Dona Kopol Bonick decided to put her camera down and create her own frame-worthy garden with her husband at their Napa, Calif. home. She shares with us the transformation from a horse pasture to now a blooming garden ready to have a Pinot Noir vineyard planted.
Photo by: Plant Paradise Country Gardens.
My Garden: A Rustic Perennial Paradise
Many gardeners dream of taking their passion and turning it into a business, and over the years that is exactly what Lorraine and RJ Roberts of Caledon, Ontario did. When they purchased their 24-acre property in 1999, there were no gardens at all - just trees, grass, and a house. Season by season, they grew thousands of perennials and established new beds until Plant Paradise Country Gardens, an organic botanical garden and perennial nursery, was born.
My Garden: An Ever-Changing Therapy Garden
In 2001, Sue Ingram's world was rocked. Her husband was admitted to the hospital in a near coma from diabetes, an event which was to have lifelong implications for his health. To find peace through her pain, and to create a place of rest and revival to help him heal, she turned to gardening on her Kennewick, Washington property.
Design a Showy Flowerbed with These 5 Easy-Care Perennials
Costa Farms gardening expert, Justin Hancock shares valuable design tips for selecting and planting perennials and ideal companion plants. Because they come back year after year, require little watering, are long-blooming, and offer a variety of textures, shapes and colors, Hancock says perennials are the backbone of any beautiful garden. He suggests starting with these five beautiful, easy-care perennials to instantly transform any garden.
Photo by: Thomas Hagg
Our reader Thomas Hägg gives us a tour of his half-acre Swedish garden, located at the tip of a peninsula in the northern Stockholm archipelago, near Öregrund, an old fishing village.
Photo by: Jack Coyier
Flowers to Grow for Garden Bouquets
At Hortulus Farm, Garden & Nursery, floral designer and event maestro Renny Reynolds creates simple, unstructured arrangements with seasonal and homegrown botanical ingredients. He and partner Jack Staub glean from the perennial borders, cutting garden and flowering shrubs to create highly personal arrangements for decorating their home. Here are their top 10 cutting plants for floral design:
Photo by: Christopher Whelan
My Garden: Rose Extravaganza in an Olive Grove
This magnificent rose garden was created on the site of a family olive grove, which has been owned by the same family for half a century. Located in the San Joaquin Valley, this olive grove was originally developed by the railroads, before recently being transformed into orange groves.
Photo by: Michael Bello.
A Visit to Sandra Jordan's Farmhouse and Gardens
Interior decorator Claudia Juestel visits home furnishing designer Sandra Jordan's 1916 New-England-style farmhouse in Healdsburg, California, with artichoke and cactus fields, escargot farm, and expansive fruit and flower gardens.
Photo by: Joyce A. Hannaford.
My Garden: Color in Massachusetts
In Natick, Massachusetts, seventeen miles west of Boston, Joyce Ahlgren Hannaford has created a garden that is a neighborhood landmark. She shares photos of her garden with us, along with the very personal associations her garden has for her, with plants and landscaping features that serve as memories of her friends, family, and past homes.
Photo by: Susan Seubert