My Garden: A Photographer Creates a 'Picture-Perfect' Garden
After years of photographing beautiful landscapes, professional photographer Dona Kopol Bonick decided to put her camera down and create her own frame-worthy garden with her husband at their Napa, California, home. She shares with us the transformation from a horse pasture to a blooming garden ready to have a Pinot Noir vineyard planted.
As a professional photographer living in Napa, California, Dona Kopol Bonick has had the opportunity to photograph many beautiful locations. One of the perks of her job is her right-of-access into an array of gorgeous gardens, which she has eagerly captured with her camera lens. She has been so impressed by what she's seen, she was determined to recreate the same picture-perfect bliss in her own yard.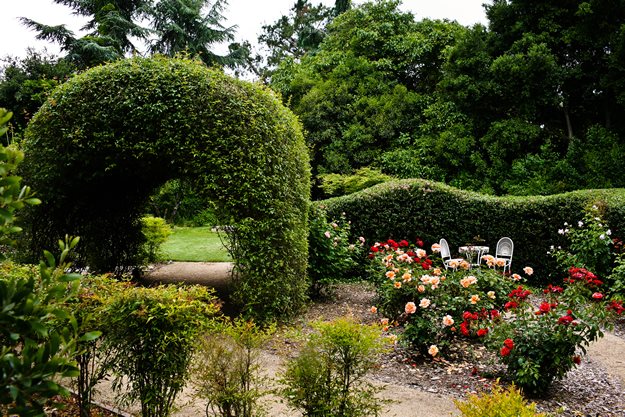 A tunnel is created by Lady Banks roses growing over a metal arch. Next to the tunnel is a small rose garden, with a hedge of Escallonia in the background. "As the hedge was maturing, the individual plants were growing at different rates. When I decided to prune the hedge, I went with the growth pattern and cut it in a wave. I love the feel of motion that it created," says Dona. Photo by: Kopol Bonick Studio.

SEE MORE PHOTOS OF THIS GARDEN
"My husband and I wanted to create areas in our own garden similar to what we'd seen. We wanted to create a garden with separate 'rooms' that had a flow and would be a wonderful backdrop for photography. There were certain features we knew we wanted—a butterfly garden, a tunnel made out of roses, meandering paths, giant timber bamboo, and a meditation labyrinth," says Dona.
A rustic bench draped by climbing wisteria is carved from a dead tree that was on the property. Photo by: Kopol Bonick Studio.

SEE MORE PHOTOS OF THIS GARDEN
When Dona and her husband, John, bought their property in 2002, it was run down and verging on foreclosure. "The area we considered for our garden was just a horse pasture with a little bit of randomly placed fencing. It was a blank slate," she said.
To transform their blank canvas, the couple enlisted the help of friend David Alosi, a master gardener who was once a full-time garden designer for Napa's beautiful Trefethen Vineyards, a popular destination spot for gardening enthusiasts. "We loved the romantic gardens he created. He mixed styles, formal with informal, and combinations of plants, colors and textures. I also love mixing color and texture, as well as trying to have something blooming at different times."
In the fall, the leaves on a Ginkgo tree blanket the grass with a carpet of yellow. The red chairs are surrounded by Nassella tenuissima (Mexican feathergrass). "These were never planted. They traveled from the adjacent section of the garden and planted themselves. I need to keep an eye on them, as they like to travel," Dona says. The hedge in the background is Feijoa sellowiana. Photo by: Kopol Bonick Studio.

SEE MORE PHOTOS OF THIS GARDEN
Having little gardening experience herself when the project began, Dona enlisted professional help to execute Alosi's design and install the pathways, lawn, plants, irrigation system, and wire supports. After the garden was finally established, Dona was faced with the challenge of learning how to maintain it. "I used the Internet a lot to determine the care, pruning and feeding requirements of each type of plant," she says. But as with all fledgling gardeners, her best lessons have come through trial and error, especially when it comes to pruning. "I would just hedge the heavenly bamboo (Nandina), not realizing that all the growth started to occur at the top, and soon the stems became naked. Now I know that I have to hand prune at different heights to get fullness throughout the plant."
Dona's garden includes a myriad array of trees, hedges and plants, including a rose garden, several varieties of bamboo, and many types of perennials, bulbs, and grasses, all carefully selected to provide year-round color. Her future plans are to adorn her garden with more sculptures and to add some unique plant varieties. And of course, when living in Napa, planting grape vines is almost a necessity. "This spring we will be planting a Pinot Noir vineyard," she says.
See more Bay Area gardens