Bay Area & Northern California Gardens
Explore beautiful gardens in San Francisco, Napa, Silicon Valley, Sacramento and more
Gardening is a popular hobby for many people in the Bay Area. Whether you live in downtown San Francisco or have property in Wine Country, you can grow flowers, plants and edibles. Many gardens in this region are designed to be environmentally friendly, especially when it comes to efficient water usage. Take a look at the gardens below to collect ideas for your own Bay Area garden.
North Bay & Wine Country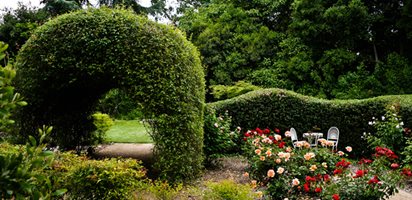 A Photographer's 'Picture-Perfect' Garden
This Napa garden features a butterfly garden, a tunnel made out of roses, meandering paths, giant timber bamboo, and a labyrinth.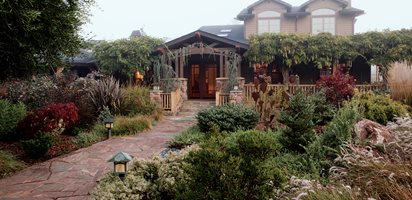 Winter in Petaluma, California
The story and photographs of one reader's winter garden in Petaluma, California.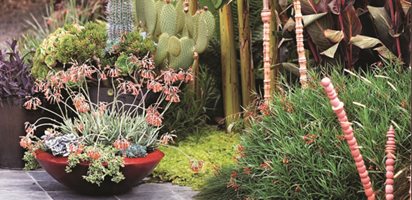 Davis Dalbok's Nor Cal Bungalow Garden
This San Rafael, California, garden is colorful and perfectly suited for parties.
Rudd Oakville Estate in Napa Valley
A party beneath olive trees at a winery in Napa is exactly as the garden's creators envisioned.
Barbara Chevalier's Outdoor Rooms
In Stinson Beach, green walls frame a romantic setting for dramas of family life.
How to Plan an Heirloom Vegetable Garden
An organic kitchen garden in Healdsburg nourishes body, soul and the local community.
Sandra Jordan's Farmhouse and Gardens
Sandra Jordan's New-England-style farmhouse in Healdsburg has artichoke and cactus fields and expansive fruit and flower gardens.
Wine Country Gardens
These California wineries grow more than just grapes.
San Francisco & the Silicon Valley
Small Property Gets a Simple, Sustainable Garden
The clean lines of this minimalist garden in Palo Alto reveal that less is more.
Zen and the Art of Gardening
The Green Gulch Farm and Zen Center faces out to the world.
Make an Escape to the Gardens of Alcatraz
The gardens at Alcatraz are now flourishing after 40 years of neglect.
Greenlee Nurseries - Master of Ornamental Grasses
Grasses guru John Greenlee and landscape architect Ron Herman join forces at a Mediterranean-style estate in California.
East Bay
Making the Most of a Small Outdoor Space
Designer and homeowner share a passion for plants in a jewel-box garden in Berkeley.
Small Backyard Makeover: Using Every Square Inch
A tiny backyard is transformed into a functional, family-friendly retreat.
Central Coast & the San Joaquin Valley
Tales of a Big Sur Backyard
The hardest lesson to learn from gardening in the wild isn't how to clear, but when to leave well enough alone.
Reclaiming a Coastal Garden
With an eye for the right plant in the right place, landscape designer Bernard Trainor reclaims a magnificent Carmel, California, site.
Rose Extravaganza in an Olive Grove
This magnificent rose garden in the San Joaquin Valley was created on the site of a family olive grove, which they've owned for half a century.
Sacramento
Resort-style Entertaining: This outdoor kitchen in the Sierra foothills of California is the social hub of a five-acre backyard