Greenlee Nurseries — Master of Ornamental Grasses
Grasses guru John Greenlee and landscape architect Ron Herman join forces at a Mediterranean-style estate in California
The word meadow has a romantic aura about it — billowing grasses, dancing wildflowers, flitting butterflies. It all sounds so dainty and ethereal — and simple. But a meadow is also complex, durable and the epitome of all that is earthy. And John Greenlee has been utterly seduced by them.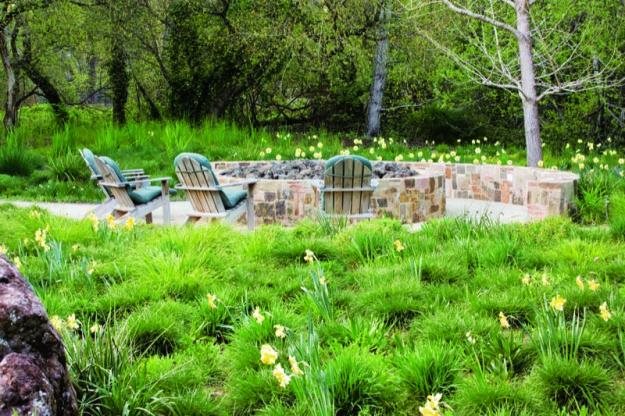 Photo by: Saxon Holt.

SEE MORE PICTURES OF THIS GARDEN
Owner of Greenlee Nurseries near Los Angeles and widely acknowledged master of ornamental grasses, Greenlee has been in love with meadows since they towered over his head as a boy growing up in California. Now, after decades of working with meadow ecologies, he also understands their unique design potential, which is the inspiration for his book, The American Meadow Garden: Creating a Natural Alternative to the Traditional Lawn (Timber Press).
While he has been honing the concept of "designed meadows" for the past 15 years (Greenlee prefers the word meadow to prairie, feeling that prairie implies vastness while meadows have more sense of place), a perfect chance for Greenlee to put his ideas into practice presented itself when Carole Marks contacted him looking for a way to complete her garden at her Mediterranean-modern-style home (designed by Stephen Arnn of AGG Design) in Woodside, California. And Greenlee was additionally excited that he would be complementing an existing garden designed by noted landscape architect Ron Herman.
Marks had been searching for a solution to the 2-acre-plus unfinished part of her landscape, which included a wild area and drainage swale along a small creek. When she and contractor Mick Fox of Fox Landscape and Irrigation Inc. saw Greenlee's designed meadow at the 2007 San Francisco Flower & Garden Show, Marks remembers, "I saw John's garden, and immediately fell in love with the concept." Greenlee refers to the situation as a best-case scenario — an exquisite house set on property large enough (8 acres) and close enough to nature to do something really interesting, Herman's solid design, and a team of client, contractor and designer who were immediately on the same page. The lofty goal was to make the meadow "look like God did it" and be the connective tissue between Herman's more "naturalistic formal" plantings near the house and the surrounding California landscape.
A planting of lupines is part of the perennials component of Greenlee's designed meadow.

SEE MORE PICTURES OF THIS GARDEN
Greenlee set about installing 50 or so varieties of grasses and grassy plants, to which he added hundreds of what he calls "meadow sweeteners" — those plants that groove with grasses and add that certain something, whether it's flowers or seedheads, when "drizzled" through the meadow. For the sweeteners, he turned to perennials like lupines, kniphofias and yarrow, and bulbs like daffodils. (While most of us think of bulbs as isolated clumps or sweeps in a formal border, most are actually native to meadow ecologies.) The sheer variety of plant material on call for the Marks garden made a detailed plan on paper impossible, but Greenlee is accustomed to designing on the spot (he likens it to weaving fabric but in three dimensions). The end result is what he calls "Mediterranean meadow madness."
But Greenlee points out that it would not have worked if there weren't already good bones to wrap the fabric around, and he gives full credit to Herman for that. In fact, Greenlee felt some pressure at the prospect of adding to a Ron Herman garden: "The bar was raised pretty high." But Greenlee has worked with a roster of notable garden designers — Andrea Cochran, Nancy Powers, Robert Irwin, Jack Chandler — and he was honored to add Herman to the list. Though the two designers have distinctly different modus operandi, Herman feels that the contrast between his garden and Greenlee's "only enhances our work."
The merge was made seamless in part because both designers had sustainability in mind. Herman's landscape, completed in 2007, has a dry stream for runoff cachement, drought-tolerant plants, a sloped lawn for efficient water use and permeable pathways of natural materials. While sustainable ideas have been around awhile (one example is the use of clay tiles to channel rainwater in Hollywood in the 1940s), the real push during the past 10 years has touched everyone. Herman notes that all his new projects have elements of sustainability. Greenlee's meadow is as green as it gets, with its drought tolerance, species diversity, lack of chemical dependency and magnetic attraction for wildlife. As one of the most vocal proponents for finding replacements for the standard lawn, Greenlee sees meadows as an obvious solution.
One of the key aesthetic components that connects the work of both designers is the view — from the house looking out as well as from the meadow looking back. The organized arrangement near the house of grasses like Miscanthus and blue fescue, and perennials including black-eyed Susan, lavender, Russian sage and Phormium, finds counterpoints and echoes in the grassy, wildflower-dotted meadow beyond, and vice versa. An oversize fire pit designed by Herman affords a cozy spot to sit in the midst of the meadow (what better way to enjoy a Zen moment or eyeball wildlife). For Greenlee, being in a meadow, as opposed to just looking at it from afar, is critical — Herman calls the immersion experience an "unexpected delight."
The concept of sequencing also found its way into both Greenlee and Herman portions of the landscape. Herman created a garden of layers, employing a series of terraces and walkways and 90-degree turns, partly hiding one area from the next. The pathways continue to meander through Greenlee's meadow, which has fingers that extend through the property. The meadow is itself the embodiment of sequencing, moving in and out of sun and shade, with swathes of shorter and taller grasses and perennials, and a strong connection to seasonal change.
Strolling among the waving grasses, as Carole Marks often does, stopping to sit on a bench "and just take in the beauty and peacefulness," it's easy to connect to Greenlee's early days of lying in a field watching clouds float overhead, and to understand why, for him, meadows are magic.
With its russet tones and swordlike leaves, Phormium makes a good companion for wispy Mexican feather grass, Nassella tenuissima.

SEE MORE PICTURES OF THIS GARDEN
MEADOW MAKING
Select
There's more than one way to plant a meadow. Sowing seeds can be cheaper, but installing plants can bring it to fruition faster. Or you can do both — plant some grasses and perennials as anchors, and sow seeds in between. Annuals (regionally appropriate ones) can be used to give immediate gratification the first year, though over time most will disappear as the perennial plants gain ground. Beware of overly aggressive plants, native and not, or you will wind up with a monotonous mass of limited species. And keep weeds under control.
Situate
There's more than one type of meadow. You can tailor your approach to the distinctive plant life of your region, your soil type, moisture conditions and hardiness zone. Prairie Nursery in Wisconsin even offers seed mixes that are low growing, deer resistant, clay happy and butterfly friendly. Take stock of your conditions first: If you have a great location for a moist meadow in Ohio, a Mediterranean meadow is not the best idea.
Satisfy
There's more than one way to maintain a meadow. Remember, however, that any meadow or prairie planting is a long-term commitment and does require regular input. Some people do controlled burns every two or three years (install fire breaks and keep the fire department informed), but mowing once a year in the spring works also. Both burning and mowing keep woody plants from getting a foothold, enrich the soil and stimulate new plant growth.
See more gardens in the Bay Area