Wine Country Gardens
These California wineries grow more than just grapes
Show me your garden, and I will show you who you are. From the humblest window box to the finest parterre, each garden has its own distinct character — a verdant reflection of the person who created it.
Some of the best gardens today belong to wineries. In fact, an increasing number of wine-country visitors these days are as interested in what is growing outside the winery as what is fermenting inside the cellars. And yet the phenomenon is hardly new, as shrubs and posies have been proliferating around wineries at least since 1787, when an English agronomist named Arthur Young reported that the land around Bordeaux châteaux was often more like a garden than a farm.
The original winery garden was the traditional rosebush at the end of each row of vines, planted there as a barometer of the vineyard's health. From this simple floral statement, vineyard gardens around the world now include English-style cutting gardens, formal French jardins and even vegetable gardens. Truly the château gardens of today, winery gardens are amazingly diverse, but in each of them, the function, selection of plants and overall design reflect the specific philosophy of its creator.
As the best gardens are found in fully developed wine regions, where tasting rooms and other tourist attractions are already the norm, it isn't surprising that Napa and Sonoma counties boast some of the world's finest winery gardens.
As in all gardens, summer is the best time to catch the fullest color and lushest bloom, though spring and fall also have their distinct charm. A few garden mavens love the stark winery look of a garden when, they say, the "bare bones" of the landscaping is fully visible. Most of us, however, will visit wineries in winter for the wine.
"All that in this delightful garden grows, should happy be and have immortal bliss," wrote Edmund Spencer in The Fairie Queen. Some of that immortal bliss rubs off on all who visit these winery gardens.
Matanzas Creek Winery
Hundreds of people come to Matanzas Creek Vineyards every year — not only for the wine but also for the lavender. They photograph it, set up easels to paint it or simply sit on a bench and take in the undulating purple landscape in silent admiration. Originally just an element in the overall landscape rather than a commercial concept, the lavender has been so successful that the winery's gift shop now sells lavender wreaths, potpourri, oils and other products.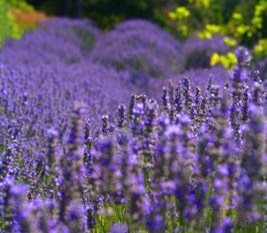 Matanzas Creek Winery, Santa Rosa, CA.
Landscape Designer Gary Ratway, owner of Digging Dog Nursery, recognized from the outset that the site's full sun and good drainage, as well as the dry summers and rainy winters of Sonoma's classic Mediterranean-like climate, would be hospitable to lavender. He planted two types: Provence, the culinary lavender, and the oilier, darker, more fragrant grosso.
Matanzas Creek Winery, Santa Rosa, CA.
While lavender is the star attraction at Matanzas Creek, it is surrounded by a cast of visually exciting supporting actors such as exotic grasses, herbs and other xerophilous specimens (plants capable of thriving in hot, dry climates). Matanzas Creek's gardens appeal to all the senses — olfactory as well as visual. And like all winery gardens, one of the best things about it is that after admiring the blooms and smelling the roses, visitors may then go into the tasting room to enjoy a glass of wine.
Domaine Carneros
How does one visually pull together the disparate elements of a vineyard, the California landscape and Domaine Carneros' classic Louis XV château-style architecture? First, at the edge of the vineyard, plant agapanthus, oleander and other common California plants, which are not only drought resistant, but also make a good firebreak. Then, at the entry gate and among the vines in front of the château, place fragrant and hardy hybrid tea roses such as Queen Elizabeth and Double Delight, which bloom from May through October if pruned back regularly. In the middle of the stairway climbing up toward the entrance, install an arresting fountain crowned by two bronze rams' heads, the symbol of the Carneros region. (Carneros is both the name of the appellation and the Spanish word for "ram.") Line the stairway with more roses, tamed and civilized in orderly terra-cotta pots. On either side of the front door, stationed pots of Heidi hybrid roses stand like footmen who, as guests approach, can almost be heard murmuring, "Bonjour."
Domaine Carneros, Napa, CA.
Niebaum-Coppola Estate Winery
All the world's a stage and so are its gardens, especially when seen through the eyes of one of the world's pre-eminent film directors. Like his wines, Francis Ford Coppola's winery garden both celebrates California and pays homage to his Italian lineage.
One of the principle features of the garden (which was orchestrated by a set designer) is a vine-covered pergola, spreading its shade before a reflecting pool directly in front of the winery. As if designing a stage set, Coppola envisioned the pool as a place where children could sail toy boats on weekends. To make room for the pool, however, a massive fountain had to be removed from the courtyard. Mindful of the historic heritage of the old Inglenook property, Coppola preserved the fountain and had it hauled up to the top of a knoll, where it now sits among giant eucalyptus and olive trees overlooking valley and vineyards.
Like Rubicon, the winery's flagship bottling, the garden itself is dramatic and multifaceted. Like its Zinfandel, the Niebaum-Coppola garden expresses the native character of the land. And like the winery's recently launched Italian family-style duet, the Bianco and the Rosso, this patch of exquisitely maintained earth is engaging, charming and accessible.
Robert Mondavi Winery
The Mondavi garden was planted about six years ago with the herbs and flowers to be used for decorating the winery and dining room. It was so successful that it was quickly expanded to include lettuce and other simple vegetables, and then more vegetables and more flowers. Today, the raised vegetable beds (including a full row of corn) supply virtually all the Mondavi dining room's needs. It employs the services of two full-time gardeners and attracts masses of butterflies. The garden also serves as a setting for the work of local artists.
Robert Mondavi Winery, Oakville, CA.
Executive Chef Annie Roberts is frequently seen clip-clopping along the gravel paths in her red kitchen clogs. She plucks a few succulent cherry tomatoes or gathers delicate greens that will appear in a salad only moments later. Although this is a utilitarian garden, with its backdrop of vines stretching out to the Mayacamas Mountain range, it is a truly enchanting sight.
Robert Mondavi Winery, Oakville, CA.
Sterling Vineyards
In addition to the demands of a hot, dry climate, two other challenges presented themselves to Sterling Vineyards' landscapers. First, the Napa Valley winery is built on solid rock. Second, landscaping would have to complement the winery's stark, monasterylike architecture.
"We don't want an overmanicured look," says Bob Frescura, who has been overseeing the gardens at Sterling for 23 years. The results are dramatic in their simplicity. Rosemary (including prostrata, Tuscan and blue species) spreads out fragrantly around the winery building. Needing only infrequent watering — about twice a week in the summer — the advantages of filling space with this hardy herb are obvious. Now 18 years old, the rosemary adds to the overall Mediterranean look of the property.
Sterling Vineyards, Calistoga, CA.
The white flowers of oleander, another drought-friendly plant, echo the whitewashed walls of the winery building.
The fence line along the road approaching Sterling supports masses of Golden Showers roses. More rosebushes — 800 in all — fringe the parking lot, and Sunburst Honey Locust trees create a golden blur along the driveway in springtime. Wine barrels brimming with roses and bright-hued annuals are arranged in the space where the tramcars dock at the top of the hill. "We wanted to add color where the visitors arrive," explains Frescura, "but we let natives grow where the hills are exposed." Valley oaks, Grecian laurel and the sculptural branches of red-tinged manzanita grow on the hillsides sloping away from the winery. California poppies and lupine add brilliant splashes of springtime color. The carefully thought out informality of this garden succeeds in pleasing the eye without overwhelming the dramatic architecture of the building.
The di Rosa Preserve at Winery Lake Vineyard (owned by Sterling Vineyards) represents the culmination of one man's vision decades in the making. Thirty-five years ago, Rene di Rosa, a newspaper reporter from San Francisco, bought a dairy farm in Carneros, at the cool end of the Napa Valley. (Temperatures here average about 15 degrees lower than at Sterling's Three Palms Vineyards, a few miles up-valley.) Although most people at that time thought Carneros was too cool for growing grapes, di Rosa soon replaced the bovines with grapevines. "Cow juice can't compete with grape juice," he explains now.
Sterling Vineyards, Calistoga, CA.
Besides grapes, di Rosa's other passion is art, specifically the distinctive creations of San Francisco Bay Area artists. A devoted collector with a discerning eye, di Rosa eventually acquired 1,500 paintings and sculptures by Bay Area artists. When Seagram (which owns Sterling) purchased his vineyard in 1986, di Rosa could afford to start what he calls "an art preserve."
In addition to artwork exhibited in a handsome gallery on the property, sculptures pop up unexpectedly around the shoreline of Winery Lake, a 25-acre body of water that acts as a miniature microclimate for the eponymous vineyard surrounding it.
Here, the artistry of sculptures and vines overlap. "After all," di Rosa points out, "there's art in what we're drinking and growing in the vineyards."
Diamond Creek Vineyards
The garden at Diamond Creek, much like its creator, Al Brounstein, is both quirky and predictable with occasional flashes of genius. Even the soil on Diamond Mountain can't be defined in simple terms. When Brounstein first bought the vineyard property on the slope of a volcanic hill, he had no idea that he'd encounter three distinctly different soil types: powdery volcanic ash, gravel and soil heavily impregnated with iron ore. For years, he sought the right flowers to plant on the showcase slope above a vineyard overlooking the swimming pool; finally, he discovered that miniature roses performed beautifully in this environment.
Diamond Creek Vineyards, Calistoga, CA.
A favorite of Brounstein's are the floribunda bush roses, which are used to frame the vineyard, directing the eye toward certain views. Like vines, says Brounstein, roses flourish in this environment of dry afternoon heat tempered by cool evenings.
Diamond Creek Vineyards, Calistoga, CA.
Brounstein, for whom landscaping has always been a hobby, loves water as much as he loves roses. He widened Diamond Creek into a lagoon, creating three waterfalls in the process. He then formed a vast lake on the property, stocked with bass and catfish, and converted a messy bog into a swimming pool edged with purple and white agapanthus. Constantly tinkering with the landscape, replanting here, adding drip irrigation there, Brounstein is out working in the garden virtually every day. The most important aspect of his garden, says Brounstein, is "the natural harmony between the vines and other plants."
Cakebread Cellars
This dual-purpose garden supplies flowers for decoration and produce for Doris Cakebread's cooking classes and other events such as the annual American Harvest Workshop. Its fruits and vegetables also fulfill the Cakebread's personal needs, in addition to supplying select local restaurants and helping to feed the homeless. This kitchen garden has become so abundant that excess crops are sold at a farm stand at the winery.
Cakebread Cellars, Rutherford, CA.
A mere 20 feet away from Cakebread's merlot vineyard, asparagus and eggplants flourish. Andy Barr, once a roof thatcher in his native England, oversees the gardens. "We've started lots of companion planting," he says. "For example, we've put basil between the rows to help keep out tomato hornworms." Further evidence of the Cakebreads' environmentally friendly garden are the many bluebird and barn-owl boxes. Jack Cakebread explains that an old vineyard disease has resurfaced in Napa: "It's Pierce's, carried in the saliva of an insect called the blue-green sharpshooter. We're hoping the bluebirds will eat the insects." The barn owls, he adds, help keep the destructive gopher population under control.
Lunch, on a recent sunny day, was served outdoors, in the dappled shade of giant pecan trees. Jack Cakebread gazed out contentedly at the fieldstone wall fountain that he built, savoring a glass of his own Vin de Porch Rosé and a salad of homegrown lettuce and beets. Life, the expression on his face seemed to say, is pretty darn good.
If You Go
Not all the wineries mentioned in this article are open to the public, but most may be visited by calling for an appointment.
Cakebread Cellars 707-963-5221
Diamond Creek Vineyards 707-942-6926
Domaine Carneros 707-257-0101
Matanzas Creek Winery 707-528-6464
Niebaum-Coppola Estate Winery 707-963-9099
Robert Mondavi Winery 707-226-1395
Sterling Vineyards 800-726-3504
The wineries listed below boast equally splendid gardens:
Benziger Family Winery 707-953-3000
Chappellet Vineyard 707-963-8337
Chateau Souverain 707-433-8281
Domaine Chandon 707-944-2280
Fetzer Vineyards 800-846-8637
Ferrari-Carano Winery (Villa Fiore) 707-433-6700
Korbel Champagne Cellars 707-824-7000
J. Fritz Cellars 707-894-3389
Newton Vineyard 707-963-9000
Stag's Leap Wine Cellars 707-944-2020
Wente Vineyards 510-456-2300
Travel Editor Marguerite Thomas writes on wine, food and wine-country travel for.
Posted with permission from Wine News.
See more gardens in the Bay Area