A Small Property Gets a Simple & Sustainable Garden
The clean lines of this minimalist garden reveal that less is more
Lorrie Castellano and Roger Fisher of Palo Alto, California, had their heart set on a garden with simple, clean lines to go with their new architect-designed home on a small city lot just 50 by 112 feet. They had done their research and really knew what they wanted.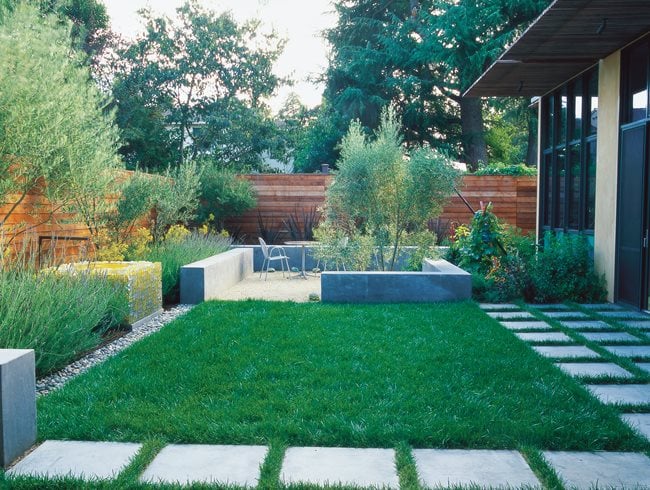 Lawn and courtyard balance the volume of the house. The horizontal lines of the fence and rectangular pavers that match the dimensions of the doors create an expansive and cohesive look.
Before the house was completed, Lorrie and Roger spent two years living in the small 1920s cottage originally center stage on the property. Quite literally, they came to know their lot inside and out. They plotted the sun's position through the year, spray-painted house footprints on the ground, and built temporary structures to work out how much space and volume their home would fill. From the outset, garden space took priority over house size—they chose to shave inches off the building for outdoor gain.
At night, lighting unites house and garden.
Bernard Trainor stood out from the small group of landscape designers they considered working with. "Bernard 'got' the need for consistency between house architecture and the garden," says Lorrie. And Trainor liked their style, too. "It's fun to work with clients who really see making their garden as an exercise in space planning rather than a room to fill with a list of features," he says.
Madrone trees underplanted with New Zealand flax line the path to the front door.
Certain items were nonnegotiable: Seeing plenty of the California sun combined with true indoor/outdoor living were priorities, especially for Roger, a native of rainy Manchester, England. A vegetable garden, a water feature, and a lawn for a young granddaughter and the dog to play on were also on the "wants" list. Lorrie admits to discarding a personal vision of white roses in favor of a "sustainable, no-fuss" planting brief that was more consistent with the garden as a whole.
A fiberglass bowl surrounded by chunks of industrial glass catches water from a simple spout, by Mark Rogero of Concreteworks.
Trainor's design turned a small garden into an expansive-looking living area by highlighting the importance of negative space, making the lawn and courtyard balance the bulk of the building.
The courtyard was paved with decomposed granite with a dusting of finings, a soft, permeable surface that aids water runoff, making it a sustainable option. The owners wanted a living fence or hedge as a boundary but eventually agreed with Trainor that it would take too much space. His solution: a fence of cedar horizontal planks. This adds to the expansiveness of the garden, guiding the eye along its length and reinforcing the horizontal planes of the walls.
Wall seats allow plenty of space for sitting in the sun and enjoying aromatic plants like lavender and rosemary.
The heart of the garden is a water feature on a direct axis with the master bedroom. An amber-colored fiberglass bowl overflows into clear and amber pieces of industrial glass, all contained within a stainless-steel mesh cube. At night, lighting adds a jewel-box quality to the piece.
Lorrie resisted Trainor's suggestion that she grow vegetables in containers, so he found the right spot for a small yet productive edible garden. The rest of the planting meets the "no-fuss-or-fluff" brief—arid-loving plants suited to the northern California climate are planted in grids and rows, creating colorful, textural effects from all perspectives.
An olive tree provides Mediterranean flare, while the yellow, velvety flowers of kangaroo paw add a playful touch.
The garden looks good from indoors as well, and all doors slide open to ensure great indoor/outdoor flow. Cohesion is achieved by repeating materials used inside in the garden. Poured concrete pavers at each entrance echo concrete flooring inside the house. Low concrete sitting walls outside define a sanctuary-like courtyard. It's a calming, well-integrated garden, a real lesson in restraint.
NO-FUSS-OR-FLUFF ARID PLANTS
UPPER STORY IMPACT
Arbutus 'Marina'—a hybrid form of madrone, the California native.
Ficus carica 'Black Mission'—fig.
'Majestic Beauty' and 'Mission' olives—the blue-gray foliage is typical of the Mediterranean look.
BLOCKS OF FOLIAGE
Bambusa multiplex 'Alphonso Karr'—a yellow-stemmed bamboo.
Carex tumulicola—Berkeley sedge gives a lush meadow look.
Lavandula x heterophylla—lavender.
Rhodocoma arida—from South Africa, clumps of blue-gray foliage.
'Little Ollie', a dwarf olive, used as a driveway hedge.
'Tuscan Blue' rosemary—tough, aromatic foliage and blue flowers.
SPIKY INCIDENTS Anigozanthos 'Harmony'—kangaroo paw for quirky, velvety flowers. Astelia nervosa—silver spear. Phormium 'Dusky Chief' and 'Sea Jade'—these bronze New Zealand flax make strong focal points. Thamnochortus insignis—vertical architectural clumps of reed-like leaves up to 4 feet high.
RELATED:
Small Gardens
Bay Area Gardens
Modern Gardens