Rudd Oakville Estate in Napa Valley
A party beneath olive trees at a winery in Napa is exactly as the garden's creators envisioned
When Thomas Hobbs wrote Shocking Beauty he had no idea who might be reading it, or what it might lead to. Hobbs, a nursery owner and garden designer based in Vancouver, British Columbia, predicated the book on his belief that the best high-octane fuel for the creative individual is inspiration. In an interesting twist, the book itself proved inspiring, leading Susan Rudd, who considers it her favorite gardening book, to engage Hobbs to design a garden at the winery estate she and her husband Leslie own.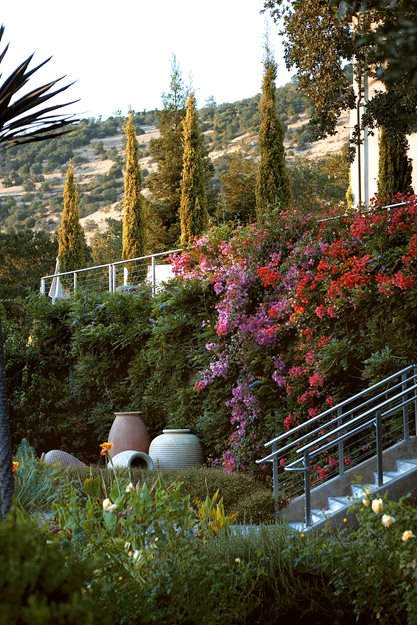 Bougainvillea ascends to the railing of a walkway leading down from the Rudd Oakville Estate winery. Photo by: Shaun Sullivan.

SEE MORE PHOTOS OF THIS GARDEN
In 1996 the Rudds, who also own the specialty food chain Dean & DeLuca, purchased a 55-acre estate in Oakville, California, taking the first step toward realizing a longtime dream to own a beautiful working winery. The old vines were ripped out and new ones planted, the caves expanded to include an artful space for entertaining, and the facilities extensively renovated. Finally at Rudd Oakville Estate, as the winery is called, only the landscape remained. And for this, the couple envisioned the area they called "the meadow" being transformed into a garden for outdoor gatherings, a space where they could sit outside with customers and friends, sharing ideas and wine.
Susan visited Hobbs' Southlands Nursery while on a trip to Vancouver in 2003. "I never expected that I'd ask him to do the garden," she says. But while there, she recognized the plantsman from his book. "So I decided to go over and say hello." What followed were several hours of lively conversation. The two even discovered that they are both from the Canadian prairie city of Winnipeg. Says Hobbs: "We had a very cool coming together of minds. We just really connected."
Susan extended an invitation to Hobbs and his team to visit the winery and consider designing and shaping the garden. "I had always loved that part of California," says Hobbs, "and had vacationed there many times. I featured several gardens from that area in my books [including The Jewel Box Garden]. When we arrived, we hung out with Susan and Leslie and they said, 'Do whatever you want.'
"There were these magical olive trees — amazing treasures that blew my mind. I hoped to get people right up to them, to touch them and sit near them," recalls Hobbs. His guiding inspiration? "I imagined that it was all mine," he says, "that money was no object and I could do anything I wished." Hobbs also envisioned a mini strolling garden, influenced by the VanDusen Botanical Garden in Vancouver. "I pictured the winery having tastings and people walking through the gardens with wine in hand."
The fountain at the entrance to the reception area on the Rudd estate is a copper vat once used to make chocolate. The Rudds found it at a horse ranch in Colorado and were able to incorporate it into the design of their dream winery. The iron pots on either side of the front door are from a salvage yard in San Francisco — a lucky find by Leslie Rudd. Hobbs planted them with tree ferns. Photo by: Shaun Sullivan.

SEE MORE PHOTOS OF THIS GARDEN
Five years later, Hobbs' overall vision of a garden for strolling, entertaining, growing edibles and inspiring visitors had come to life. He and his team had turned the meadow into full-fledged gardens, complete with niches for one-on-one confabs and open spaces big enough for larger gatherings. Using the gray-green of the olive foliage as a color catalyst, Hobbs had woven together textural mounds of blue and gray using germander, rosemary ('Tuscan Blue' and 'Benenden Blue'), Santolina, Grevillea lanigera, Euphorbia characias ssp. wulfenii and Plumbago, punctuating this silvery tapestry with tawny tones and the spiky forms of yucca, Echium candicans, Libertia peregrinans and Phormium.
The Hobbs squad had even used their magic to transform a utilitarian-looking greenhouse and its potager garden into something noteworthy, with neat rows of vegetables and herbs, and espaliered fruit trees. Says Hobbs, "I wanted it to have a storybook Peter Rabbit look to charm guests and maybe show them what they could do at home."
Now on a summer's eve, Rudd winemaker Patrick Sullivan is set to host a dinner party — not an unusual event at the winery these days — under the silvery canopy of the gnarly olive trees beloved by Hobbs. On this day, the garden is being used exactly as it was intended: a place of beauty to enjoy camaraderie and excellent wine. Sullivan has carefully selected the latter, pairing each with items on a seasonal menu planned and executed by three chefs hailing from PRESS (the nearby St. Helena steakhouse also owned by the Rudds) and Dean & DeLuca, St. Helena. The guests are all Napa food- and wine-industry insiders, and tonight is their opportunity to preview Rudd's next big release, the 2005 Oakville Estate Proprietary Red.
Entertaining begins on the rear terrace off the dining room of Rudd's executive offices, an island in a sea of neat rows of vines cast gold in the late-day light. Out of the kitchen come trays of canapés, including a fig marmalade on a savory shortbread, heirloom tomatoes in puff pastry with herbed goat cheese, and mini-BLTs with arugula and basil grown right on the estate. It's all paired with plenty of Rudd's '06 Bacigalupi Vineyard Chardonnay. Most of the guests know each other, and the vibe of a party off to a good start is unmistakable.
A few people peel away with Sullivan to the adjacent vineyard for an up-close look at the plump purple fruit, just weeks away from being harvested, and to learn a little more about the land, described by Sullivan as so special that, "I'm just a conduit between the vineyard and bottle of wine." He goes on to explain how the red rocky soil, considered grade A+, makes this a standout estate in Napa. "Leslie felt like he could come in and make the existing vineyards sing. He purchased the winery in 1996 and replanted all the vines in '98. Now, 10 years later, it's finally starting to mature and the wines are really taking off."
Hobbs used the olive trees — planted prior to his involvement in the project by designer Roger Warner — as anchors for his plan. The plants in the gardens, including bronzy Libertia peregrinans, shrubby Teucrium fruticans, blue-flowered Plumbago auriculata, gray-green Santolina chamaecyparissus and rosemary 'Tuscan Blue' and 'Benenden Blue', came primarily from San Marcos Growers in Santa Barbara, Monrovia in Southern California and smaller nurseries in Northern California. Photo by: Shaun Sullivan.

SEE MORE PHOTOS OF THIS GARDEN
It is that same rust-colored earth and the apricot-hued stones that helped inform some of Hobbs' color palette, resulting in his mapping out hundreds of plants for the estate. As the party moves away from the terrace and through the strolling gardens — which take up about 50 percent of Hobbs' overall installation — the guests sip wine and enjoy the displays of dahlias in full flower, the bold vertical accents of Phormium amongst rocks and rosemary, the grassy texture of Chondropetalum and soft, chartreuse mats of Stachys byzantina 'Primrose Heron' blurring the edges of the paths.
Sullivan and his guests eventually reach the Olive Garden, with a wrought-iron dining table that is as much a part of the permanent landscape as the olive trees overhead. The table is heaped with in-season flowers including hydrangeas, ornamental kale and poppy seedpods. Enormous concrete urns are placed nearby with the eye of an artist, and it's easy to imagine the ancients who would have filled them with stores of olive oil and wine. With the number of glasses and variety of bottles on the table (including that '05 Estate and an '03 Cabernet), even Dionysus would anxiously anticipate this meal. With the promise of such good things to come, it's easy to get this group seated quickly.
Chefs Ryan Fancher and Stephen Rogers have prepared the meal on site, collecting herbs, heirloom tomatoes and other ingredients from the two gardens on the property that exist solely to uphold PRESS' farm-to-table philosophy. Chatting in the kitchen, the chefs rave about Rudd organic gardener Jon Brzycki's beautiful touch with mixed greens. "Sometimes there are as many as 13 varieties," says Fancher, who also credits Brzycki with growing each to the chef's exact specifications.
A variety of main courses, mimicking those served at PRESS and all including Rudd-grown produce, are offered. There's kobe filet with sliced heirloom tomatoes, a veal chop with watercress and garlic confit, grilled ahi with corn and chanterelle mushrooms, and wild Alaskan salmon with sliced cucumber, avocado and dill crème fraîche.
After dinner the guests stretch their legs in the Olive Garden, redolent with fragrant herbs, and stroll to an adjacent area that features a circular fountain with dancing waters, designed (at Leslie's request) by the folks who created the Bellagio Hotel's water show in Las Vegas. Meanwhile, the final touches are completed on the wine and cheese course being served in an intimate garden alcove. Dean & DeLuca executive chef Ben DuBois describes his cheese board as mostly local and sustainable as he serves up a creamy Point Reyes Blue, an aged goat cheese from Cypress Grove Chevre and a current Bay Area favorite — Mt. Tam cheese from the Cowgirl Creamery — along with jewellike morsels of fresh local figs and apricots soaked in port wine. Beside DuBois, Sullivan pours a round of '05 Edge Hill Port for his guests.
Looking around the garden at its mature trees, the perennials that have come into their own, and the blend of color and texture brings to life a comment made by Sullivan. Comparing the quality of the estate's wine to the fruition of the garden, he notes: "A garden isn't going to be there in one year. It takes years for the roots and the plants to get established and to fill out. The same is true with a vineyard."
As the guests perch themselves on just-so-placed flat boulders tucked into the beds bordering the lawn or otherwise settle themselves into the magic of this midsummer night's scene, it's easy to recall Hobbs' comments about the garden. "It's a treasure. A secret thing. Driving down the nearby road, you'd never know it's there. And the wine is really good too."
Get a sample menu from chef Michael Chiarello.
See more gardens in the Bay Area