Michael Chiarello's Napa-Inspired Recipes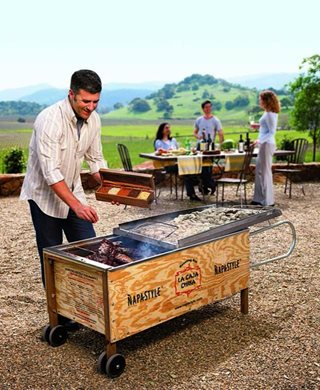 Photo by: Napa Style.
From the white wine citrus sangria to the grilled peaches with honey gelato for dessert, enjoy this complete dinner menu from celebrity chef Michael Chiarello.
APERTIF: WHITE WINE CALIFORNIA CITRUS SANGRIA
Ingredients (Serves 8-10):
3 bottles pinot grigio
1 1/2 cups brandy
3/4 cup orange liqueur
1/2 cup sugar
1 orange, thinly sliced
1 blood orange, thinly sliced
3 kumquats, sliced
1 lime, thinly sliced

Instructions:
-In a large pitcher, combine the wine, brandy and orange liqueur.
-Pour in the sugar, stir or shake the pitcher thoroughly to mix.
-Add all citrus slices at once.
-Allow the mixture to sit for 1 hour before serving to allow the citrus flavor to come through.
STARTER: GRILLED AVOCADO AND TOMATO SALAD WITH GREEN GODDESS DRESSING
Ingredients (Serves 8):
DRESSING
2 medium avocados, pitted, peeled and chopped
2 tablespoons roughly chopped fresh basil
1 tablespoon roughly chopped fresh tarragon
1 teaspoon minced garlic
1/8 teaspoon powdered ascorbic acid (Vitamin C), optional
2 tablespoons fresh lime or lemon juice
1/2 teaspoon finely ground sea salt, preferably NapaStyle Gray Salt
1/4 teaspoon freshly ground black pepper
1/2 cup extra-virgin olive oil
SALAD
10 vine-ripened tomatoes, quartered
4 avocados, peeled, halved and pitted
1/3 cup extra-virgin olive oil
2 lemons
1 red onion, sliced
1/4 cup pine nuts, toasted light brown in the oven
1/4 pound Parmesan cheese
Instructions:
-In a food processor, combine the avocados, basil, tarragon, parsley, garlic and ascorbic acid. Process until very smooth.
-Add the lime juice, salt and pepper, and process until well mixed. While the motor is running, add the olive oil. If necessary, add enough cold water to create a pourable dressing.
-Remove to a bowl and refrigerate until needed.
-Preheat a grill to medium heat.
-Cover a large platter with tomato quarters and set aside.
-Place avocado halves in a bowl and drizzle with two tablespoons olive oil, juice of one of the lemons, salt and pepper. Place each half, flat side down, on a hot open grill for about 30 to 45 seconds. Cook on the flat side only. When well caramelized, remove and place on top of the plated tomatoes.
-In another bowl, squeeze the other lemon over the sliced red onion and mix well. Add the remaining olive oil, season with salt and pepper. Place onions in the empty avocado pit holes. Spoon the remaining lemon/olive-oil mixture over avocados and onions.
-Top with green goddess dressing, distributing generously on all sides. Sprinkle pine nuts and grate cheese on top.
MAIN COURSE: GRILLED GAUCHO STEAK WITH CHIMICHURRI SAUCE
Ingredients (Serves 8):
3 red onions, peeled and sliced 1/2-inch thick
1/4 cup extra-virgin olive oil, for brushing
3 pounds skirt steak
Chili Water, *recipe follows
8 fresh pita breads
4 vine-ripened tomatoes
1/2 pound blue cheese
1/2 cup plus 1 teaspoon Chimichurri Sauce
Instructions:
-Prepare a medium-hot fire in the grill.
-Lightly brush the onion slices with olive oil. Place on the grill and cook for about 6 to 8 minutes. Transfer to a platter and reserve. Place the steaks on the grill. Baste a couple of times with Chili Water and cook until done, about 4 to 6 minutes on each side. Transfer to a platter.
-Lightly brush the pita bread with olive oil and grill for 1 minute to heat through.
-Slice the tomatoes into 1/4-inch slices and then cut the slices in half. Lay out the pita bread on 2 sheet pans and crumble the blue cheese on top. Transfer to the oven to keep warm. Slice the meat lengthwise into 1/2-inch slices and put into a bowl. Toss the meat with 1/2 cup chimichurri sauce. Remove the pita from the oven and divide the meat between them. Place the sliced tomatoes on the side of the meat and top all with rings of grilled onion.
-Spoon the remaining 1 teaspoon of chimichurri sauce over top and serve.
CHILI WATER
Ingredients:
1 tablespoon smoked paprika
2 tablespoons salt
1 cup warm water
Instructions:
-Mix all ingredients together.
SIDE: TWO CORN POLENTA TAMALE WITH GARDEN PESTO
From Michael Chiarello: "The polenta I make at Bottega was so good that customers were always asking me for the recipe. I was almost embarrassed to give it to them, because it called for an amazing amount of cream. But what a delicious indulgence! This is the same recipe, with the fun addition of fresh corn as well. Presenting an Italian dish in a Mexican fashion will guarantee a memorable meal. For the pesto, I use pure olive oil so the clear flavor of the herb dominates. If you want to freeze pesto, omit the nuts and cheese."
Ingredients (Serves 6-8):
POLENTA
3 cups heavy cream
2 cups chicken stock
1 teaspoon NapaStyle Gray Salt
1/2 teaspoon freshly ground nutmeg
1 cup polenta
½ cup semolina
2 cups fresh corn kernels cut off the cob
1 cup freshly grated Parmesan, plus more for garnish
18 large corn husks (available at Latin markets)
GARDEN PESTO (Makes about 3/4 cup)
2 cups firmly packed fresh basil leaves
1/3 cup olive oil
3 tablespoons pine nuts, toasted
1/2 teaspoon minced garlic
Sea salt, preferably NapaStyle Gray Salt
Freshly ground black pepper
Pinch of powdered ascorbic acid (vitamin C), optional
1/4 cup freshly grated Parmesan cheese
Instructions:
TAMALES
-Soak the cornhusks for 30 minutes until they're soft and pliable. Tear two husks into ½-inch thin strips. Cook the polenta: In a medium-size heavy pot over high heat, bring the cream, stock, salt and nutmeg to a boil. Add the polenta and semolina gradually, whisking constantly. When the mixture thickens, switch to a wooden spoon and adjust the heat to maintain a bare simmer. Cook, stirring often, until thick, smooth and creamy, about 15 minutes. Add fresh corn and continue to cook for 2 minutes. Add the Parmesan and stir. Pour out onto a cookie sheet to cool.
-Unfold a soaked husk, wide end up, on a work surface. Starting at the top edge, spoon ½ to 2/3 cup of polenta down the center and mold into a 4-inch-by-2-inch rectangle, leaving room at the bottom for folding.
-Roll up the tamale jelly roll to enclose the filling. Fold up the bottom end of the husk and tie with one of the strips of husk. Repeat with remaining husks and filling.
-Add 1 inch of water to a deep pot with a tight-fitting lid; place a steamer basket in the pot (or a plate turned up side down). Arrange the tamales upright (closed side down) in the basket. Bring the water to a boil over medium-high head. Cover and steam for 25 minutes, adding more water if necessary.
-Serve with the pesto on the side.
PESTO
-You can substitute almost any green herb and many vegetables to make this; arugula, parsley, asparagus, broccoli, rabe — they all work well.
-Prepare an ice-water bath in a large bowl, and bring a large pot of water to a boil. Put the basil in a large sieve and plunge it into the boiling water. Immediately immerse all the basil and stir so that it blanches evenly. Blanch for about 15 seconds. Remove, shake off the excess water, then plunge the basil into the ice-water bath and stir again so it cools as fast as possible. Drain well.
-Squeeze the water out of the basil with your hands until very dry. Roughly chop the basil and put in a blender. Add the garlic, salt and pepper to taste, then add olive oil, pine nuts and the vitamin C, if using. Blend for at least 30 seconds. In this way, the green of the basil will thoroughly color the oil. Add the cheese and pulse to combine. The pesto will keep several days in a tightly sealed container in the refrigerator.
DESSERT: GRILLED PEACHES WITH BASIL & HONEY GELATO
From Michael: "Basil in ice cream? You might think I make this gelato just for the sake of being new, but there's nothing new about the idea of herbs in dessert. I've had rosemary granita in Italy and have seen recipes for medieval sweets that use savory herbs. Spring basil is always so delicately perfumed and fruity that it wasn't much of a leap for me to imagine it with fruit."
Ingredients (Serves 6-8):
GELATO
8 packed cups unblemished basil leaves
1/2 teaspoon gray salt
1/8 teaspoon ascorbic acid (powdered vitamin C), optional
1 tablespoon sugar
1 quart vanilla ice cream, softened
GRILLED PEACHES
8 ripe peaches
2 juiced lemons
3 tbsp honey
Pinch gray salt
Instructions:
GELATO
-Blanch the basil leaves in boiling salted water for about 5 seconds, then place in an ice bath. Drain and wring the basil dry in a dishtowel. Chop coarsely. In a food processor, puree the basil with salt, ascorbic acid and just enough water to make a puree (about 6 tablespoons). You should have about 1-1/2 cups basil puree. Transfer 1/2 cup puree to a small bowl and stir in 1 tablespoon sugar. Freeze the remaining puree for later use in pesto.
-Place the ice cream in a bowl over ice. Quickly fold in the sweetened basil puree; you can fold it in completely or leave it streaky. Return ice cream to the freezer until serving.
GRILLED PEACHES
-Bring a pot of water to a boil and place peaches in the water for 15 seconds (just until the skins loosen); immediately place in ice-water bath to cool. Dry well, peel and cut in half. Cut a small section off the round side so the peach can sit up on the plate. Toss in lemon juice. Prepare a hot grill and wipe with an oiled towel. Place the flat section on the grill and leave alone for 30 seconds. Remove from the grill and chill for 10 minutes.
-Arrange two peach halves on a plate (hole side up). Place a small scoop of basil ice cream in each hole, sprinkle with salt and drizzle with honey and serve.