Zen and the Art of Gardening
The Green Gulch Farm and Zen Center faces out to the world.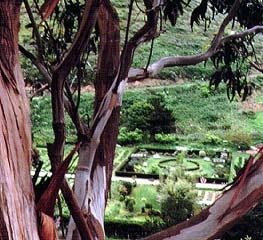 Green Gulch Farm and Zen Center is about groundwork. In this haven, matters of the earth and things elemental to the human spirit sit well together. Dedicated to benign human intervention within a protected wilderness, the farm, formerly a cattle ranch, takes in 115 acres of coastal scrub, old oak forest, streams, marshlands, sandy beach, and farmland. It is a jewel in the crown of Golden Gate National Recreation Area. On hills where cattle once grazed, indigenous redwood, live oak and California bay have been planted for beauty, windbreaks and erosion control. Down in the valley, a 15-acre organic farm and formal English garden, the focal point of the whole design, are the result of 23 years of experimentation and plain hard work.
"Only when something happens do we find the realm of calmness," said Shunryu Suzuki, the founder of the Zen Center. And though Green Gulch appears tranquil, much is happening all of the time. There is the commercial organic farm; the public garden; and the Zen Buddhist practice center where, from kitchen to compost heap, meditation and Zen teachings inform life and work. The center welcomes temporary residents and overnight guests, as well as other visitors who come for classes, conferences and retreats. For nonprofit Green Gulch, this hospitality is the main source of the income that also supports a wellspring of urban outreach programs. The farm and garden just about break even selling fruits, vegetables, and flowers to local stores and restaurants.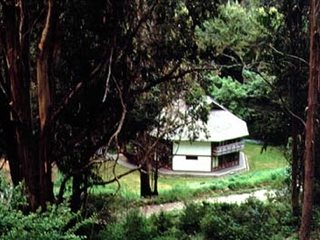 Photo by: Jim Bones.
If the garden is the heart and soul of this self-sustaining community, then Wendy Johnson, 46, with prematurely white hair, lively dark eyes and the healthy complexion of someone who works outdoors, is the heart and soul of the garden. For Johnson, what she does is an expression of who she is. She has worked here for 15 years, nine as head gardener. Recently, that job passed to Sukey Parmelee so Johnson could find time to write a book about how gardening balances nature's rules and human desires. She and her husband, Peter Rudnick, who runs the commercial farm, have spent the better part of their adult lives at Green Gulch and are raising their 17-year-old son and 5-year-old daughter here. How is it that a woman born in Westport, Connecticut, came to cultivate a formal English garden at a Japanese-inspired Zen center in Marin County?
"My teacher, the late Alan Chadwick, was a mad English gardener," Johnson says. Her mentor at Green Gulch was also a "creative genius," who synthesized French intensive agriculture with near mystical reverence for the natural world.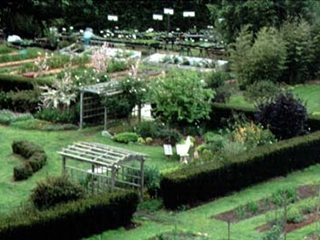 Photo by: Jim Bones.
Cultural cross-fertilization doesn't stop there. Zen at Green Gulch is not identical to the Buddhism practiced in a Japanese monastery. "Zen is part of the American vernacular now," she says. "That gives it spunk and vitality, so it's not just a clone. It's rooted in American soil." Watering and tending as she speaks, Johnson sticks to the fundamentals — soil, water, climate, critters that help, pests that hurt.
"To garden, you have to be extremely aware of your surroundings, of where you sit and walk and the specific tastes and flavor of the land," she says. "You need to understand where the stream runs and how the trees bloom, to take the pulse of your garden, and train your powers of observation. A garden is not natural. It is all artifice. We make it, respecting the rules of nature and the ecosystem."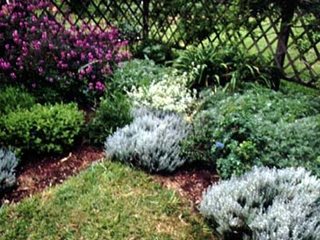 Photo by: Jim Bones.
The circle of life and death is formalized here — in the mixed border orbiting the garden's Herbal Circle, in the bowl of the valley, in the embrace of cliffs opening out to the sea. The flowers are on the edge of bloom. The compost heap teems with flies and worms that recycle organic garbage into gardeners' gold. Amid this abundance, I come upon memorials for people who have died, many from AIDS. Hanging from low tree branches are Popsicle sticks with scrawled messages, remembrances of children and others.
This continuum speaks to the heart of Johnson's work and her feelings about what goes on between the soil and living things. "The plant needs the soil as much as the soil needs the plant," she says. "How you take care of the soil is important, and that fits in with basic meditation. The key to gardening for me is the relationship among the elements, the soil, the human beings working in the soil, the sky, and the air. I've seen the healing power of the garden. Just by giving people a genuine steady task, and leaving them to do that task, somehow the garden passes through the gardener's hand and mind."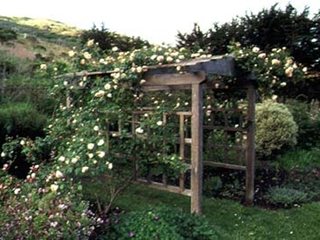 Photo by: Jim Bones.
For Johnson, the garden emphatically is not a metaphor. It is quite simply a matter of life and death. "It's not about turning away from the world. The garden faces out to a busy world, and allows contemplation and questioning. Two years ago, when life revolved around a double stroller, my husband and I packed up our paraphernalia and toddlers and drove across the Golden Gate Bridge to Green Gulch, where the farm was holding a sale of plants from its organic garden. On Route 1 near Muir Woods, we drove into the secluded valley, where Green Gulch lies in the embrace of sheer cliffs on the cusp of the Pacific.
"To ears attuned to city sounds and children, the place was oddly quiet. Few people were about and we had the meticulously cared-for gardens to ourselves. While my husband inspected the potted plants, I chased after our two boys, who showed their horticultural appreciation by hot-rodding the stroller around the Meditation Garden. A woman passed by, walking unhurriedly, eyes lowered, feet seemingly testing the earth. A Zen bell chimed. This was another world, too precious for me. No doubt I was jealous. I wouldn't have minded a hit of solitude myself. In any case, it was time to collect the Zen flora and our own fauna and return to the muddle and fray of home turf. ''Revisiting Green Gulch today, I see it with different eyes. Life has changed. We bought a house eight miles from the gulch and traded the double stroller for a John Deere tractor-lawn mower. Where Green Gulch has cultivated a gorgeous landscape garden in the lap of wilderness, our house, when we moved in, was all but imprisoned in untamed chaparral and a eucalyptus forest that blocked out the sky.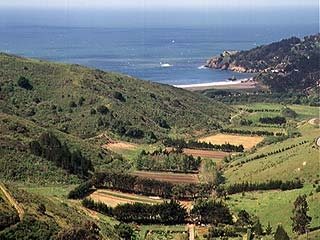 Photo by: Jim Bones.
"In our small orchard, raccoons wriggled under the fencing. We watched in amazement as a flower twitched as it was being sucked down a gopher hole. Our land was tunneled with them. Neighbors offered neat solutions for the gopher problem — strychnine sticks and car exhaust piped down the holes. We hesitated, only because we weren't sure what message this would send the kids. Besides, we much preferred Nature's way. We watched gleefully as a Great Blue Heron speared a gopher and swallowed it whole. When turkey vultures circled, we cheered.
"We hired two guys locally known as the Eukenders to go after the trees. They whacked 300 trees and painted the stumps with Roundup — around here, the poison of preference. After a farmer disked the land, we threw down a mix of grass seed, clover and wildflowers. Now the young garden is taking shape. I confess, though, with so much blood and Roundup fresh on my hands, I had twinges about entering a Zen Buddhist haven that is committed to pure organic gardening, vegetarian cooking and a deep reverence for living things. But I found the distance from our place to Green Gulch to be not all that far. Green Gulch, too, is a "working garden," as Johnson says. "It has to be commercially responsible and productive. The flowers are here not just because they're pretty. They help support us. They teach and demonstrate organic gardening. We're fiercely scrupulous. When we have to drive over Mount Tamalpais all the way to Sebastopol and truck dirt back 50 miles and haul it in wheelbarrows, just because it's CCOF [California Certified Organic Farmers] approved, I think we're nuts. But it's OK. There's no other way."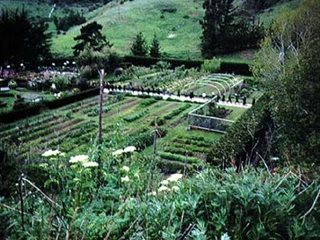 Johnson is matter-of-fact about invasive alien plants and pests, I was relieved to hear. Broom is ripped out. Eucalyptus is cut and the stumps poisoned with good old Roundup. Deer fencing, buried wire baskets to fend off gophers, bird netting, and traps help. But she has no compunction about more aggressive deterrents.
"We had a gorgeous bed of blue 'Pacific Giant' delphinium," she says. "One dawn, a gardener collected 90 snails off a single row. We fed them to the ducks. Sometimes we pay kids a penny a piece to collect snails. I used to stomp on them. The snails really bring out the warrior instinct. I can't do that now." She is realistic about the battle. "You will lose plants to pests and bad luck and bad practices. You have to be vigilant and meticulous. Neglect breeds disease. If the plants are vibrantly healthy, you reduce loss to pests."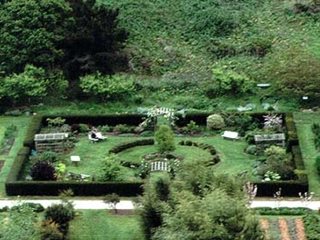 Photo by: Jim Bones.
Dodging an oscillating sprinkler, we walk the Herbal Circle, where shrubs, roses and perennials bloom throughout the year. Here are 'Blue Charm' veronica, bright orange geum, purple and pink alpine columbine and 15 varieties of roses. At the center is a Japanese snowbell (Styrax japonica) encircled by herbs and lichen-covered rocks. Paths and rose arbors open out onto the larger garden. Basket willows hang over a pond coated with duckweed. Aesthetically pleasing, the pond is part of the lifeline of the garden and farm. Water is never taken for granted in a state prone to drought, fire and water wars. Green Gulch is unusual because it is entirely self-sufficient. Agricultural water runoff from Mount Tamalpais and the coastal headland mountains is collected in a system of reservoirs. Water from the man-made duck pond nourishes roses and potatoes before it feeds into Green Gulch Creek, joins Redwood Creek and flows out to the Pacific.
In the Meditation Garden, three types of trees — Mugo pine, bamboo and cherry — are called the Three Friends, sho-chiku-bai in Japanese. They exemplify Zen attributes: pine for strength, bamboo for flexibility, and cherry for transient beauty. Johnson leads me to a barn that now serves as living quarters and a zendo, where Zen practitioners meditate. Suffused in painterly light, the clean, spare room evokes tranquility. A gigantic flower arrangement all but leaps at the eye, an assault of color as sensuous and voluptuous as the barn is plain.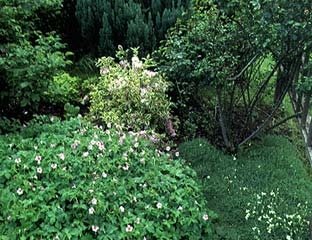 Photo by: Jim Bones.
"Some people have trouble with these arrangements," Johnson says. "They ask the flower arranger if she could be less elaborate. A single stalk of bamboo in a vase. That's beautiful, too. They're two different aesthetics. Zen has room for that; It accepts paradox. Nature is excessive. There's no putting a girdle on it." In the zendo, a man robed in black is seated on a cushion facing the wall. At the feet of a huge carved statue of a Bodhisatva Manjusri, representing wisdom or understanding, are more spectacular flower arrangements. Fresh today, they remain for a week. "That way," Johnson says, "people can see them wilt and die and finish their life cycle."
Squabbling robins, red-winged blackbirds and scrub jays pepper the soundscape. Though a wish for peace is implicit in Zen, there is no winning against deer, raccoons, gophers, moles, slugs, snails, aphids and winged robbers that see Green Gulch — and any garden — as a gigantic free banquet. Johnson advises me on natural ways to tip the odds in the gardener's favor. Diversifying plants and planting astutely helps. On the edges of the plowed fields, poison hemlock and fennel draw pest-eating ladybugs and wasps. Helpful insects stand sentry over lettuces with luscious names: red and green oak leaf and sangria. Nearby, broccoli, chard, cabbage, and beets all grow without man-made insecticides. Society garlic (Tulbaghia violacea) is planted near the roses to deter insects. Balance is everything in nature, Zen, and the art of gardening. What else can a gardener take home from Green Gulch? Nothing fancy. Do the groundwork, Johnson says. "Take care of the soil. Amend it. You don't need chemicals. Learn what grows and how it grows. Don't be afraid to make mistakes. Work conscientiously. A garden is intensely personal. Experiment and you'll find your own taste."
As for me, I feel redeemed. Wendy Johnson and Green Gulch have rekindled my persistence. I am, if not at peace, at least practicing détente — even with gophers. I have decided they are my helpers. For every hole they dig, they aerate the earth and leave me a rich mound of potting soil. I'll bring the boys to Green Gulch next Earth Day. They need to understand that all those critters are part of the Great Recycling System. And, for that matter, so are we.
See more gardens in the Bay Area