Hellebore Flowers Offer Beautiful Late-Winter Blooms
Jerry Fritz shares the good news about the winter champion: luscious hybrid hellebores from Cotton Candy to 'Velvet Lips'
Helleborus x hybridus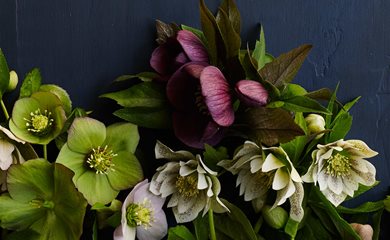 Common name: Hybrid Lenten rose
Zones: 4-9; evergreen in 6-9
Bloom time: February-May
Bloom size: 2-3 1/2"
Height/Spread: 18-24"/24"
Site: Partial shade, well-draining soil
Characteristics: Low-maintenance, deer-resistant
Hybrid hellebores get their common name, Lenten rose, from the rose-like flowers that appear in early spring around the Christian observance of Lent. The "blooms" (which are actually sepals that protect the true flowers) last for several months, from February until May, and the foliage is evergreen in all but the coldest regions.
PLANTING & CARING FOR HELLEBORES
Tolerant of a wide range of growing conditions, hybrid hellebores perform best when sited in partial shade in rich, moist, but well-draining soil. Hellebores are quite easy to grow, and since they are perennials, will continue to bloom for a number of years.
Hellebore planting tips:
Many gardeners like to plant hellebores on a hillside or in raised flower beds to better enjoy their downward-facing blooms. See an excellent example of this planting strategy: A Winter Jewel Box.
When transplanting hellebores directly from their nursery containers, be sure to shake off the potting mix and free up any bound roots.
Be careful not to plant your hellebores too deeply as this can hinder flower production. Make sure the crown of the plant is just slightly buried beneath the soil.
Plant with companions such as snowdrops, crocus, muscari, daffodils, phlox, trillium and bleeding heart.
Hellebores contain toxins that are harmful to pets and humans, so keep them out of reach. See more Common Poisonous Plants for Dogs and Cats.
Hellebore care tips:
The leathery foliage of hellebore flowers looks best when sheared in late winter just before new growth emerges.
An annual application of manure or compost will help to boost the growth of your hellebores.
Provide plenty of water during spring and fall when they are actively growing. You can ease up during the summer because heat causes hellebores to go dormant.
OUR FAVORITE HELLEBORES
For landscape craftsman Jerry Fritz, Helleborus x hybridus (hybrid Lenten rose) are staples in the landscapes he designs for his clients. "Hellebores are among the earliest and certainly the most exquisite flowers in the spring garden." Until recently however, named varieties were all but impossible to find. Advances in propagation through division, tissue culture, and hand-pollination have resulted in more diverse flower colors, forms, patterns, increased plant vigor, and larger blooms. According to Fritz, "The newer hybrids are not only accessible and collectible, they are seriously addicting as well." With improved breeding techniques producing a seemingly endless array of new varieties in recent years, these perennial favorites are worthy of a second look.
Fritz—a well-known speaker, author, and industry expert who has been featured in many national publications and appeared on the Martha Stewart Show—trials the newest hellebore cultivars at Linden Hill Gardens, his destination plant nursery in Ottsville, Pennsylvania. "The most exciting trends right now include truer and more unusual colors (from amber to almost black), increased plant heights, outward-facing blooms, and more exotic patterns of speckling, veining, and picotee edges," he says. "The fact that Lenten roses can be successfully grown in most zones, are low-maintenance and deer-resistant, only enhances their already sky-high appeal. For me, hellebores are an indispensable plant for any serious gardener."
PROPAGATING HELLEBORES
Can't get enough hellebores? You can propagate them yourself in one of three ways:
Grow them from seed.
Collect seeds in May and June and sow immediately. Expect seed-grown plants to flower after two years.
Allow them to self-sow.
This may result in unexpected hybrids if you grow multiple types of hellebore flowers in close proximity. Also, thin out any new seedlings that are too close to mature plants. Expect self-sown hellebores to flower after three years.
Divide your favorites.
This propagation method is the perfect choice if you are looking to create an exact duplicate of one of your plants.
This article was adapted from its original version for use on the web.
Last updated: February 14, 2019
Get more spring gardening ideas