Botanic Superlatives: Super Sunflowers
Sunflowers can grow remarkably fast and incredibly tall. Young gardeners, unwitting cultivators, and casual competitors have all planted extraordinary sunflowers—here's a look at a few.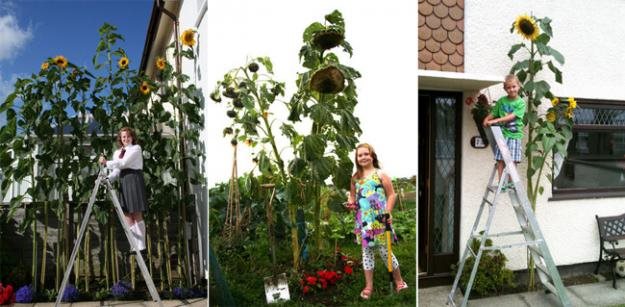 (Photo by: Carrickfergus in Bloom; Sophie Montgomery, Naomi Kinnon, Joel McKimm (L-R)
A sunflower in Margate, Kent, England, has been nicknamed the Eiffel Flower. At a height of 23ft, it could grow to be a contender for world's tallest (the record is currently 26-feet and 4-inches measured in 2009). Eve Fielding did not set out to grow a superlative flower; she merely planted some sunflower seeds with her granddaughter to see who could grow the tallest flower. Several months later, it had grown extraordinarily tall, despite its shady corner.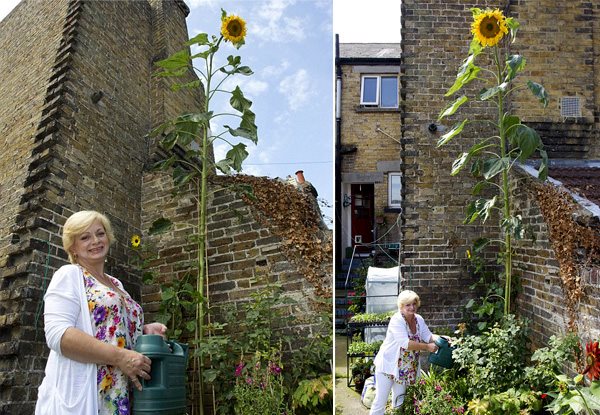 Eve Fielding, 42, with her sunflower in Kent, England (Photo by: Holly Fielding)
Gordon Davis almost uprooted the errant sunflower in his carrot patch in Staverton, Gloucestershire, England. Now, three months later, it's grown into an incredible plant with 104 heads (usually, sunflowers usually have just one). The surprised gardener says he hasn't even watered it.
Gordon Davis, 72, with his 104-head sunflower stalk. (Photo by: Avery Fisher)
Small gardeners are growing tall flowers in Carrikfergus, Ireland, a town that hosts an annual Tallest Sunflower Competition. Appealing to younger growers, the Carrikfergus Borough Council distributes sunflower seeds to local school children in March. Contestants (aged 15 and under) compare their towering flowers the following September. This year's tallest sunflower was grown by 5-year-old Joel McKimm, and measured 3-meters and 30-centimeters. The winning flower in 2010 was cultivated by Naomi Kinnon, age 7. In 2009, 11-year-old Sophie Montgomery won with her sunflower of 3-meters and 60-centimeters. [See photos at the top of the post.]
And, the flower to beat: according to The Guinness Book of World Records, the tallest sunflower grew to 26-feet and 4-inches, measured on August 17, 2009. It was cultivated by Hans-Peter Schiffer in Kaarst-Voorst, Germany (below).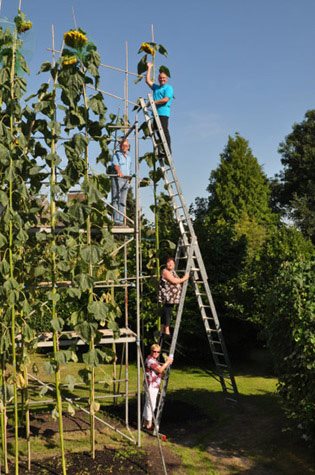 Hans-Peter Schiffer's tallest sunflower (Photo by: Hans-Peter Schiffer)
In 1997, Canadian-born artist Cameron Cross began an installation project titled "The Big Easel". Cross is reproducing all seven of Vincent Van Gogh's Sunflower Paintings, and planting them in seven international locations. Each colossal sculpture is composed of an 80-foot-tall easel, and a 24-by-32 foot canvas. The artist has chosen the seven locations for their connection to sunflower farming, or to Van Gogh himself. Currently, three installations have been completed, in Australia, Canada, and the USA. Japan and South Africa are next on the itinerary. One hopes that Arles, France will be home to one of Cross' paintings, as it was there that Van Gogh painted the Sunflower series, from 1888 to 1889. When complete, the project is expected to be included in the Guinness Book of World Records.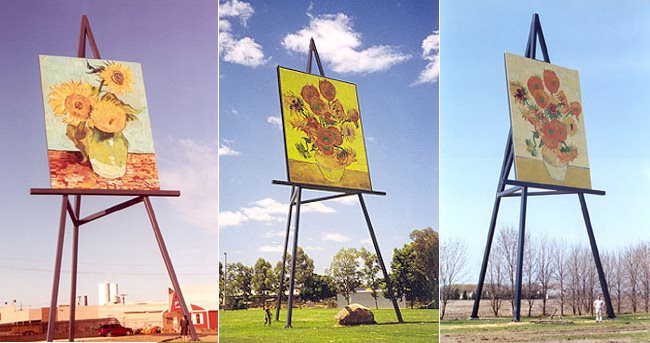 (L-R) Goodland, Kansas (USA); Emerald, Queensland (Australia); Altona, Manitoba (Canada) (Photo by: Cameron Cross)