9 Verbenas to Vamp Up the Summer Garden
For a knockout display of color from spring until frost, it's hard to beat these long-blooming, sun-loving plants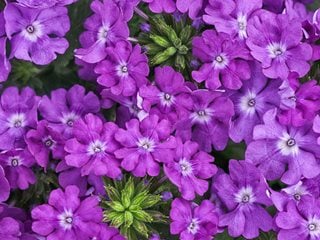 Superbena® Violet Ice. Photo by: Proven Winners.
Vibrant, vigorous, and versatile, annual verbenas are some of my favorite flowers for adding va-va-voom to the summer garden. It blooms all season long, with miniature nosegays brimming with brightly colored flowers.
Verbena looks just as good weaving through garden beds as it does spilling from pots, window boxes, and hanging baskets. Verbena also tolerates midsummer drought and baking heat with little complaint, making it the ultimate easy-care flower.
Newer cultivars boast even better flower production and a broader array of color options than ever before. Check out this selection of verbena plants to find your favorite.
On this page: Basics | Types to Try | Planting | Care | Pictures | Troubleshooting | FAQs
BASICS
Zones:
Winter hardy in zones 8-11. Garden verbenas (Verbena ×hybrida) are short-lived tender perennials grown as annuals in most climates.
Bloom season:
May through October.
Sun and soil requirements:
Full sun (at least 8 hours a day) and average well-drained soil.
Height/spread:
Varieties range in height from low-growing and trailing to somewhat upright.
Colors and characteristics:
Common garden varieties have tiny, fragrant flowers in saucer-shaped clusters up to 3 inches across. The most common flower colors include shades of pink, red, purple, coral, and blue-violet, as well as bicolored varieties.
Attracts:
Colorful and scented verbena flowers provide a rich source of nectar for pollinators, attracting hummingbirds, bees, and many types of butterflies.
TYPES TO TRY
Superbena® series:
These new verbena hybrids developed by Proven Winners®, are bred to be more robust, more mildew resistant, and more resilient than older varieties. They also produce larger flowers in a broad pallet of hues, including bicolored striped patterns.
Tapien® series:
A type of trailing verbena characterized by a multibranching growth habit, spreading up to 3 feet to create a dense low-growing carpet of blooms. Tapiens are also highly mildew resistant and thrive under a wide range of weather conditions, ranging from extreme heat to light frost.
Lanai® series:
A semi-trailing verbena characterized by bold patterns, bright colors, and contrasting eyes. It spreads up to 2 feet and has one of the longest bloom seasons, extending from early spring through fall. Compact versions with mounded habits are also available and are ideal for smaller containers and baskets.
HOW TO PLANT VERBENA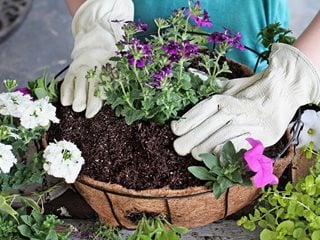 Photo by: Stephanie Frey / Shutterstock.
When to plant:
Midspring or early summer, after the threat of frost has passed.
Growing from seed:
Verbena transplants are widely available at garden centers in the spring, but you can also grow some types from seed, with the exception of sterile verbena hybrids. Sow seeds indoors 8 to 10 weeks before the last frost date in your area, and transplant the seedlings into outdoor beds once the soil warms up.
Where to plant:
Hanging baskets
Containers
Landscape borders
Groundcover
VERBENA CARE
Water requirements:
Although established verbenas are drought tolerant, you should water your verbena plants regularly during extended periods of drought, especially container-grown plants. It is equally important to ensure that your verbenas are well-drained in both containers and garden beds so the roots don't sit in soggy soil. For the best results, pair verbenas with other plants that have similar water requirements.
Fertilizing:
In garden beds, adding a continuous-release fertilizer and enriching the soil with organic matter at the time of planting will usually be sufficient. Otherwise, fertilize container-grown plants regularly with a water-soluble fertilizer.
Pruning and deadheading:
Although most verbenas do not require deadheading to keep them blooming, you may want to trim back trailing varieties if they begin to overtake containers or crowd out other plants in the garden. Giving your verbenas a light trim every now and then will also result in fuller plants and more prolific flowering.
Get more verbena growing tips:
Succeeding with Superbena (from Proven Winners).
TROUBLESHOOTING
One of the most fuss-free flowering plants you can grow, verbena suffers from few pest or disease problems. When issues do arise, they are usually caused by lack of enough sunlight or poorly drained soil. Here are some stress signals to look for and potential solutions.
Leggy plants and sparse flowering are often a result of too much shade. Move your verbenas to a spot in the garden where they get 6 or more hours of sun. Verbenas recover well after transplanting, so don't hesitate to relocate your plants to a better location.
Powdery mildew is the most common problem seen in verbena, and even the newer mildew-resistant varieties aren't immune. Be sure to give your plants adequate spacing for good air circulation and avoid watering from overhead. Also don't water your plants in the evening, so the foliage doesn't remain damp overnight.
Yellowing leaves, poor flowering, and root rot are all signs of poorly drainage. You can often save your plants by transplanting into an area with better drainage or into elevated beds. If occurring in container-grown plants, add more drainage holes.
Spider mites are one of the few pests that pose a problem for verbena. If you notice spider-web-like netting on your plants and the leaves look discolored, try spraying the foliage with a strong stream of water or use an insecticidal soap. Avoid chemical insecticides that can harm pollinators.
FREQUENTLY ASKED QUESTIONS
What about lemon verbena?
A popular member of the verbena family, lemon verbena (Aloysia triphylla) actually belongs to another genus. Its leaves give off a lemony scent when rubbed and are widely used in aromatherapy products, perfume, medicine, and as a culinary herb.
What about blue vervain?
Mainly known for its use as a medicinal herb, blue vervain (Verbena hastata) grows 2 to 6 feet tall and blooms July to September. In the wild, it forms colonies with slow-spreading rhizomes and self-seeds.
What about purpletop vervain?
There are also tall verbena varieties (Verbena bonariensis), also called Brazilian vervain or purpletop vervain. Plants are 4- to 5-feet-tall, usually grown as an annual, and have 2-inch clusters of flowers on slender but sturdy stems. Tall verbena can be vigorous self-sowers, but newer cultivars, such as Meteor Shower®, are bred to be less assertive.
RELATED:
Annual Flowers
20 Purple Flowers to Brighten Your Garden
12 Flowering Plants for the Summer Garden