Coleus Plants - Growing, Care & Varieties
Colorful coleus varieties add pizzazz to shady beds, sunny borders and containers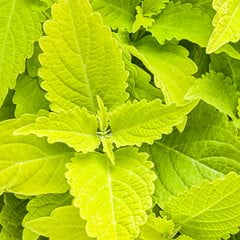 ColorBlaze® Lime Time™ coleus. Photo by Proven Winners.
Easy-to-grow coleus plants aren't just shade plants anymore. Heat and sun-tolerant varieties are widely available, making them a popular choice for any outdoor planting. Their bold and beautiful foliage make them the center of attention no matter where they're planted. Although technically an evergreen perennial, coleus are usually grown as annuals because these tender tropical plants can't handle even the slightest frost.
On this page: Basics | Planting | Care | Varieties | Design Ideas
On this page:
COLEUS BASICS
Botanical name:
Coleus scutellarioides (syn. Plectranthus scutellarioides, Solenostemon scutellarioides)
Zones:
Hardy to Zone 10, but can be overwintered indoors in colder areas.
Height/spread:
Varieties 6 inches to 3-1/2 feet tall and 1 to 3 feet wide.
Exposure:
Full sun to shade, depending on variety.
When do coleus bloom?
Coleus plants will bloom with racemes of tiny white or bluish flowers any time of the year. However, plants grown from cuttings won't flower as often, if at all.
Color & characteristics:
Coleus plants have a wide range of color variation, from bright chartreuse to hot pink to near-black, and any number of combinations. Coleus leaves range from one to six-inches long, and also come in many different shapes and sizes. A member of the mint family, coleus have unique square stems that this group of plants is known for.
Is coleus poisonous?
Coleus are non-toxic to humans, but the sap can cause minor skin irritation. The essential oils they contain are toxic to dogs, cats and other animals.
Is coleus deer resistant?
Rated a 'C' on the Rutgers Deer-Resistant plants list, stating they're occasionally severely damaged.
Planting ColorBlaze® Dipt in Wine
PLANTING COLEUS
When to plant:
Start coleus seeds indoors, 8 to 12 weeks before last frost date. Transplants should only be planted long after the danger of frost has passed and soil has warmed to at least 60 degrees. Any amount of frost will damage coleus plants.
Where to plant:
The amount of light can have a dramatic impact on plant size and leaf color. For the best leaf color, a location that receives morning sun and dappled afternoon shade is best. Darker-leaved varieties tend to handle more sunlight better than those with lighter-colored leaves. Also, choose a wind-protected area, as their semi-succulent stems are prone to breakage.
How to plant:
Make sure young plants are hardened off to the light and temperature conditions of the site before planting. Amend the planting area with compost or other rich organic matter. Dig a hole slightly deeper and wider than the root ball. Tease out roots if potbound. Place in the ground with the base of the stem at the same level it was in the pot. Backfill with soil, tamp down slightly to remove air pockets, and water well.
COLEUS CARE
Maintenance:
Keep plants looking tidy and maintain their size and shape by pinching or trimming stem tips. To promote denser and more compact growth, pinch out flower spikes before they elongate. Since coleus are mainly grown for their vibrant colors, there's no need to waste the plant's energy on flowering or setting seed.
Soil:
Coleus thrives in any average, moist, but well-draining soil. Use a high-quality, well-draining potting soil in containers.
Amendments & fertilizer:
Coleus does best with regular fertilizing. Feed in-ground plants monthly with a water-soluble or liquid fertilizer—to promote lusher growth and richer leaf colors. For containers, add a slow-release fertilizer at the time of planting and supplement with water-soluble fertilizer every two weeks, or as needed
Watering:
Water regularly. Coleus are thirsty plants, so keep the soil moist. However, avoid overly damp soil, as this can cause leaf drop or root rot. We recommend using self-watering containers.
Growing indoors:
Coleus do quite well when overwintered indoors as a houseplant. Use good potting soil and place them in a sunny windowsill, rotating occasionally to provide even lighting. Provide supplement light with grow lights if needed.
Propagation:
Many gardeners propagate new coleus plants from cuttings in early fall to overwinter indoors. (Note: It is illegal to propagate patented plants to be sold.)
Diseases & pests:
Keep an eye out for mealybugs and spider mites.
COLORFUL COLEUS VARIETIES
DESIGN IDEAS
The sheer assortment of colors, shapes, and textures available makes coleus a favorite plant for containers, beds, and borders.
Container featuring ColorBlaze® 'Sedona', ColorBlaze® Dipt in Wine, and ColorBlaze® Dark Star. Photo by Proven Winners.
Use trailing varieties like ColorBlaze® Chocolate Drop or Strawberry Drop to drape over the edges of hanging baskets.
Make a bold statement with a mass planting of a single variety.
Choose colors that compliment or add contrast to nearby plants or flowers.
Brighten a shady corner with light and bright colored foliage, like ColorBlaze® Lime Time™.
Give a big punch of color to a plain container with a vibrant, multi-colored coleus.
Coleus make good bedding plants, either by themselves or in combination with other warm-season annuals.
Use upright-growing types as a thriller and trailing types as a spiller for containers. (For more on container design, see the video Thriller, Filler, Spiller.)
RELATED:
Foliage Plants
Annual Plants