12 Mosquito Repellent Plants
What plants keep mosquitoes away? Plant these 12 plants in your garden for their colorful and fragrant display, plus their ability to keep uninvited bugs out.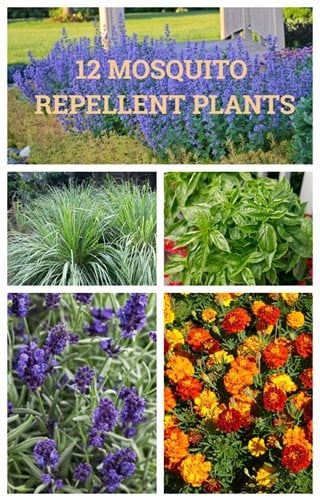 Most insect-repelling plants do so with their natural fragrances, which keep annoying mosquitoes away and introduce wonderful scents throughout your garden. If you don't want to douse yourself or your garden in chemical bug sprays you can grow some of these plants to help keep mosquitoes away naturally. Plant these plants in areas where guests will be often such as by a seating area or a doorway.
12 Plants to Use as a Natural Mosquito Repellent
---
Need more tips to keep your garden pest free?
Sign up for our weekly newsletter for timely gardening information!
We consulted with the New York Botanical Garden, Brooklyn Botanic Garden, and Plantshed for the best plant options.
More Natural Ways to Keep Mosquitoes Away
In addition to growing the plants listed above, you should also practice good mosquito control in your garden so that the pests don't get out of hand. The best thing you can do is prevent water from collecting and becoming stagnant; mosquitoes can lay hundreds of eggs even in a tiny spoonful of standing water. Mosquito rings can be used virtually anywhere you have standing water — rain barrels, birdbaths, water gardens, ponds — even animal watering troughs. They contain a naturally occurring bacterium (Bt israelensis) that kills mosquito larvae.
There are also other natural products available that can help ward off mosquitoes in your garden. These include, citronella torches and candles, as well as essential oils derived from the plants listed here.
The Importance of Mosquito Control
Throughout the years, mosquitoes have transmitted many diseases including malaria, dengue, yellow fever, encephalitis, and more recently the West Nile and Zika viruses. Mosquitoes are even to blame for heartworm in dogs. So it isn't just about the annoyance or the itchy bite, it is a health concern for your family and pets.
RELATED:
How to Grow Herbs: Indoor & Outdoor Herb Gardens
15 Easy Herbs to Grow
Backyard Landscape Ideas