Best Outdoor Foliage Plants to Grow
Add plants with interesting foliage to your landscape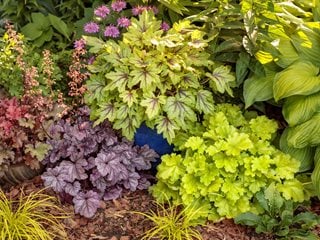 Photo by: Proven Winners
Featured in: Garden Design's Top 9 Garden Trends for 2023 ("Adding Texture with Foliage Plants")
When choosing plants, gardeners usually think of flowers first. Often overlooked are plants with foliage interest, which adds a different component to the landscape.
There are many kinds of annuals, perennials, shrubs, and trees that provide leaf color throughout the growing season. Foliage can be an effective background element or take center stage.
Look for foliage attributes such as color, variegated patterns, leaf shape and texture. Some varieties change hues throughout the year, while others exhibit spectacular fall color. Think about how different plants will look together and how foliage complements other features such as flowers, berries, fruit, and bark.
Here are some suggestions to get you started:
See more on the Proven Accents® line of foliage plants from Proven Winners, get container recipes and planting ideas.
RELATED:
Top 15 Evergreen Shrubs
Evergreen Trees for Residential Gardens
20 Great Shade Plants