GARDEN ROOM IDEAS FOR EXTENDING YOUR LIVING SPACE
See how one gardener transformed her suburban yard with beautiful and functional garden rooms
Until recently, most yards consisted of a green lawn, a few trees and shrubs, and were intended to be viewed, not used. Now the yard is regarded as an extension of the home and a place to spend leisurely time. Outdoor garden rooms have become a popular way of improving yards for practicality and aesthetic beauty.
When Alli Guleria purchased a new home on a 1/4-acre lot in suburban Washington, D.C. (USDA Zone 7a), the yard consisted mainly of green lawn and a few trees. She decided to eliminate the high-maintenance lawn and create a series of garden rooms, each with a different function.
Featured in: Garden Design's Top 10 Garden Trends for 2022 ("Blurring the Lines Between Indoors & Out")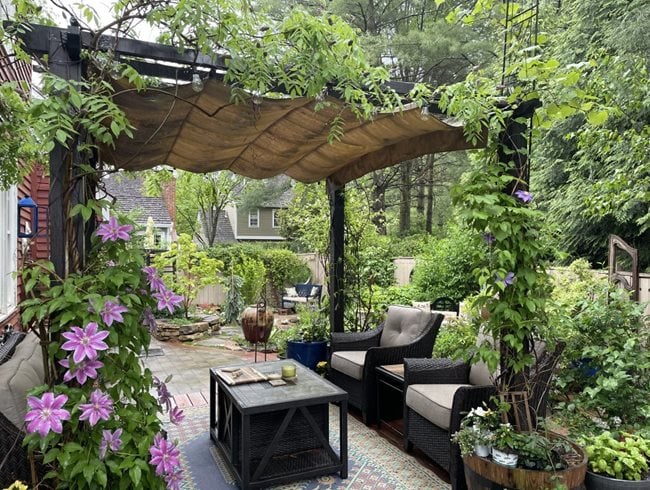 The first room she created was an inviting living area by the house, with ample seating for guests and a canopy to provide shade and protection from the rain. "It's become a gathering hub and the place where friends and family want to hang out to eat, sit, or talk," she says. Photo: Alli Guleria.
Guleria gradually improved the yard further away from the house, adding shade trees, pathways, and additional garden rooms. Raised beds contain a wide variety of plants that perform well in dappled shade. Photo: Alli Guleria.
Tucked away in a quiet corner of the yard is a charming seating area adjacent to a trickling water feature where Guleria relaxes with an evening glass of wine. "Strolling down the pathway transforms me to another place and helps me unwind. The water sounds are calming, and the view from the loveseat looks back at the house, revealing a perspective that I wouldn't see otherwise," she says. Photo: Alli Guleria.
Guleria utilizes this intimate seating area for smaller gatherings with close friends. "It's a serene space with the waterfall and subdued plantings that inspires relaxation and thoughtful conversation." Photo: Alli Guleria.
Four different water features are sited around the yard, including one just outside the kitchen entrance to the home. "There's quite a bit of activity in my neighborhood. The sound of water helps to drown out traffic and other background noise," Guleria says. Photo: Alli Guleria.
Wooden fencing from a home improvement store was used to construct an arbor in a transition area between rooms. "I wanted to create an element of mystery about what's around the corner, and the sensation of walking into an enchanted garden," Guleria says. The arbor is planted with 'Wollerton Old Hall' climbing rose, a fragrant English variety with blush apricot blooms. Photo: Alli Guleria.
A stone patio comprises the main transition area between the backyard garden rooms. The open space allows for different views and makes the yard feel more spacious. Guleria created repetition with curved lines for the patio edging, raised beds, and meandering pathways. "Curves create a sense of flow and make the space feel more natural and relaxed," Guleria notes. Photo: Alli Guleria.
An intimate side yard became a spot where Guleria enjoys her morning coffee. "Side yards are an often overlooked and underused area. I can see the street from here and watch people go by. It's at once private and visible. A couple of neighbors have admitted they've snuck over to sit and relax," she laughs. An existing kousa dogwood was limbed up to open the space, while a rich palette of shade lovers including golden bleeding heart, red leafed nandina, blue flowering ajuga, and creeping mazus groundcover create a mosaic of color. Photo: Alli Guleria.
(See how Guleria updated this side yard on LandscapingNetwork.com)
WHAT IS A GARDEN ROOM?
Garden rooms are distinct areas for particular functions, whether it's dining, cooking, lounging or meditating. They are defined by barriers such as fencing or hedging, or structures such as a trellis or pergola that create intimacy and privacy. Pathways or transition areas are used to connect the different spaces.
Creating separate smaller spaces can actually make a yard feel larger. Much like the interior of a home, outdoor rooms can be highly personalized and embellished with touches such as customized hardscaping, hand-selected furniture, statuary and plants. These rooms can be as simple as a small bench surrounded by plants, or as elaborate as a full outdoor kitchen.
Garden room landscaping is an individual process, with each situation unique and no hard and fast rules. Here are some basic guidelines to get you started:
HOW TO PLAN GARDEN ROOMS
An intimate side yard oasis to enjoy a morning coffee. Photo: Alli Guleria.
Evaluate your yard.
Determining what you have to work with will help you decide how to use your yard. How big is your property? How does the light fall in different parts of the yard? What do the views look like from different vantage points? Will a tree be sufficient to provide shade for a seating area, or will you need to create your own shelter with a pergola, awning or patio umbrella?
How will you use your garden rooms?
Do you want places for cooking, eating, entertaining, lounging, reading, or meditation? A lap pool, dog run, children's play area, or kitchen garden to grow your own fresh food? Prioritize which activities you are most likely to spend the most time on.
Location.
Think about placement of different areas. Plan for more heavily used spaces such as dining and entertaining areas closer to the house for greater accessibility. A cooking area will be most efficient if sited near access to an indoor kitchen. Place cooking and dining areas next to each other so that food doesn't have to be transported over long distances. Areas further from the house can be reserved for reading, enjoying a cup of coffee, or a quiet meditation spot.
Screening.
To establish privacy and separation, rooms can be partially or fully enclosed. Create a sense of mystery and intrigue with partially obstructed views. Screening can be comprised of walls, fencing, trellises, hedging, ornamental grasses, vines, or salvaged materials such as an old door or gate. Even a grouping of container plants or large urn can be used to define a space.
Flow.
Connect garden rooms with pathways or a transition area such as a stone patio, lawn, or gravel landing. Use curving pathways, a focal point such as a bench or statuary, or decorative structure such as an arbor that will compel visitors to meander and explore.
Get inspired.
Look for garden room ideas in books, online, at garden centers, and by visiting other gardens. Make a list of features you want to include.
Choose a style.
Consider how outdoor spaces will integrate with your home. Pick a style or combination of looks that will complement the home's facade and reflect your own personal tastes. Use repeated elements such as colors, fabrics, plants, or hardscape materials to unify indoor and outdoor spaces. Pick a subdued color scheme that is calming or brighter hues for a stimulating environment.
Draw up a plan.
Create a rough sketch to visualize the placement of rooms. Consider scale to make sure each space isn't too big or small. For more elaborate projects, consult with a landscape designer or architect. It may not be practical to tackle the entire yard all at once, so plan in stages and set a goal, budget, and timeline.
Learn more about designing for privacy.
GARDEN ROOM ELEMENTS
Consider all aspects of garden rooms for a more cohesive result.
Hardscape.
The framework or "bones" of the garden, including walls, terraces, pathways, patios, and decks should ideally be built first. Install electrical access for lighting, water pumps, and appliances, as well as natural gas lines for fireplaces, stoves, and barbecue grills. Choose materials that will complement the home and outdoor furnishings. A well-designed hardscape will look good year-round, even when plants are dormant.
Personal touches include keepsakes from Guleria's travels: a metal cowbell from Italy and birdhouses from Germany. The rustic clock, a local find, adds whimsical appeal. Photo: Alli Guleria.
Furnishing and accessories.
Choose comfortable furniture that will make you want to spend time outside. Select different types of furniture for various functions, such as a patio table and chair set for a dining area, a plush couch or lounge chair for reading and napping, or a casual loveseat where you can enjoy a cup of tea or glass of wine.
Consider smaller details such as end tables for food and drinks, and decorative touches such as pillows, statuary, lanterns, or pots. A gas fireplace, fire pit, or water feature will transform the ambience of a space.
Plantings.
When choosing garden room plants, consider cultural requirements such as water and light. Also consider size, multi-seasonal attributes, and ease of maintenance. Use shrubs or hedging such as boxwood to define spaces, trees for structure and shade, and vines to soften walls and fencing.
Plants with flowers and foliage interest add color, texture, and depth. Don't forget to include plants with fragrance such as bulbous Oriental lilies, perennial phlox, annual sweet alyssum, groundcover thyme, shrub roses, or vining jasmine. Include natives or other varieties that attract and support birds, butterflies, and insect pollinators to foster a deeper connection with nature.
Lighting.
Add lighting to extend your time outdoors in the evenings. Include functional lighting along pathways, patios, and decks for safety, as well as decorative uplighting to highlight trees and statuary.
Maintenance.
Think about long-term care of your yard and how much time you have to spend on maintenance. A paver patio will be easier to keep up than a fussy lawn. Use hardscape materials and outdoor fabrics that are durable and easy to clean. Choose plants that need little or no pruning and fertilizing. A small fountain will be easier to maintain than a large fish pond.
Join us for our next webinar!
WORKING WITH BULBS:
The Great Dixter Way
with Fergus Garrett
Saturday, October 21st @ 12PM EDT
RELATED:
Find Your Garden Style
Backyard Landscaping Ideas
Rock Garden Design
Moon Garden Design
Seattle Zen Front Yard