How to Create a Magical Moon Garden
Extend your time outdoors with a nighttime white garden oasis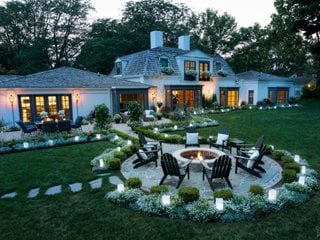 Moonlight Garden. Photo by: Proven Winners.
The long days of summer are made for relaxing and lounging in the garden. After the sun sets, the ensuing darkness transforms the garden into a place of magic. The sound of crickets chirping, the sight of a rising moon, floral scents wafting in a gentle evening breeze, are moments to savor. Moon or white gardens were popularized years ago as a way to enhance sublime evening experiences.
WHAT IS A MOON GARDEN?
Moon gardens include plants with white flowers and silver or variegated foliage that can be seen in the reflected light of the moon, creating a sense of mystery and romance. Moon gardens also include flowers with pronounced evening fragrance that heighten the experience. Light-colored hardscape and accessories further accentuate the garden at night.
In the dark, our eyes can only see a limited color spectrum and contrast. White flowers and foliage take on a glow, appearing to float in the air as the contrasting green foliage disappears into the darkness, creating a magical effect. As night falls, our senses are heightened and we become more attuned to the sights, sounds, and smells of nature. Outdoor surroundings become a multi-sensory experience.
MOONLIGHT GARDEN DESIGN
This Adirondack-style moon garden was sited to be seen from the home's second-story sleeping porch. Designers: Charles Atwood King and Karen Lamitie-King. Photo: Janet Loughrey.
You don't need to adorn your entire yard in moon garden plants. Even a small section of a patio or a secluded corner of the yard can be transformed into a night garden, an intimate destination for quiet reflection, or a place to share a glass of wine with friends.
Choose a site.
Site the moon garden where it's easily accessible, or pick a spot that can be viewed from a patio, porch, or inside the home.
Choose an open area which will allow for stargazing and moonlight illumination.
Pay attention to the play of light and shadow, which can enhance the mystique and intrigue.
Include different components.
Include a mix of plants, hardscaping, and accessories. It can be as simple or elaborate as you want, depending on budget and space.
Hardscaping.
Use light-colored stone materials such as pebbles, flagstone, or white marble chips to accentuate garden areas. Paint a background wall white, or incorporate a white lattice trellis or other screening, which can also provide support for vines.
Pathways.
Make sure paths can be easily navigated at night for safety. Use white gravel to outline paths or install light-colored flagstone to walk on. Add soft solar lights or other artificial lighting.
Seating.
Site a comfortable chair or bench where you can immerse yourself in the garden. Include a small table to set a cup of tea or glass of wine. A votive candle or solar lantern placed on the table will add subtle illumination and ambience.
Photo by: Nicola Stocken Tomkins / Garden Collection
Accessories.
Adorn the space with decorative accents such as a reflective gazing ball, metallic wall art, or light-colored statuary such as a cherub, buddha, or stone lantern.
Lighting.
Add supplemental lighting for illumination on overcast or moonless nights. Keep it subdued so it won't overpower the natural light of the moon. Hang string lights above a patio or along a fence. Add candles, lanterns, or uplight trees.
Engage the senses.
Include elements that engage the senses of sight, smell, and sound.
A small fountain or waterfall provides the soothing sound of moving water while also reflecting the moonlight.
Attract night-sounding creatures such as crickets and frogs by creating natural habitat.
Include plants such as ornamental grasses or bamboo that will gently rustle in the evening breeze.
Choose night bloomers that are highly scented, placing them near the seating area.
Extend the theme.
To further emphasize the celestial theme, include plants with star-shaped flowers, create crescent-shaped planting beds, add star and moon-shaped accessories, or hang a string of twinkling lights to simulate the stars. Use your imagination and have fun!
MOON GARDEN FLOWERS & PLANTS
For more plants, see:
10 Elegant White Hydrangeas
20 White and Silver Plants Perfect for Creating Moon Gardens (from Proven Winners)
CHOOSING MOONLIGHT GARDEN PLANTS
A fairy figurine with gazing ball is the centerpiece of this all-white garden bed. Designer: Cheley Witte. Photo: Janet Loughrey.
Plant selection.
Consider plant varieties with different sizes, structure, and leaf shape.
Use a mix of white-flowered perennials, annuals, bulbs, roses, and vines.
Incorporate variegated or silvery foliage to lend contrast, texture, and visual interest.
Include different shades of white flowers, including snow-white, cream, ivory, and pearl.
Plant for seasonal interest.
Choose night garden plants that will bloom at different times, as well as plants with attractive foliage that will lend continuity throughout the growing season.
Make an impression.
Group the same varieties together in drifts of 3-5 for maximum impact. Larger blooms or groupings will show better in the dark than smaller individual flowers.
Enclose a dedicated moon garden area with planters. Photo by: Proven Winners.
Less is more.
Choose a few primary plants rather than a lot of different varieties to keep the design from being too busy.
Grow up.
Include vines to add vertical height. A trellis can support climbing jasmine or moonflowers for a living wall of color and fragrance.
In-ground and containers.
Incorporate both in-ground and container plantings. Even apartment dwellers can have a small containerized white garden on a balcony. For container ideas, see: 27 Container Recipes for Moon Gardens.
Keep it eco-friendly.
Plants that are more heavily scented at night will attract moths and other nighttime pollinators, which will help keep a healthy eco balance in your yard.
Join us for our next webinar!
WORKING WITH BULBS:
The Great Dixter Way
with Fergus Garrett
Saturday, October 21st @ 12PM EDT
RELATED:
Let There Be Night
Zen Garden Design
Rock Garden Design