The Glories of Garden Phlox
Capture the essence of summertime with these showy, long-blooming perennials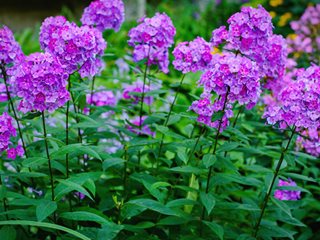 Photo by: Photomara / Shutterstock.
A summer garden mainstay since colonial times, garden phlox owes its enduring popularity to its heady clouds of billowy blooms, no-fuss nature, and slender stature. But the real icing on the cake is the long flowering season, with the first blooms opening in July and often lingering through September. "Phlox carries the garden through the dog days of summer, holding down the fort until the asters and blazing stars come on board," says plant specialist James Locklear, author of Phlox: A Natural History and Gardener's Guide.
Garden phlox is also one of those rare perennials that you'll find in nearly every hue on the color wheel, even hard-to-find shades of blue. In fact, the choice of colors and cultivars is so vast, it can be daunting to choose among them. Here's a look at some of our top picks, along with advice for incorporating phlox into your own garden.
On this page: Phlox Basics | Grow Your Own | Care Tips | Pictures
PHLOX BASICS
Botanical name:
Phlox paniculata
Common names:
Garden phlox, summer phlox, tall phlox, border phlox
History and origin:
Phlox are native to many parts of the eastern and central United States. They were exported to Europe in the early 18th century, and many of the early cultivars originated in England and Germany. Several cultivars that are still grown in gardens today were developed in the 1930s by German plant breeder Karl Foerster, who once declared that "a garden without phlox is not only a sheer mistake but a sin against summer."
Zones:
4-8
Height:
1 to 5 feet, depending on the cultivar.
Characteristics:
The dainty five-petaled flowers of garden phlox (from the Greek word for "flame") are packed by the dozens into dense clusters, or panicles, ranging in size from 4 to 6 inches tall and 6 to 8 inches wide. The flowers are often sweetly fragrant, and some cultivars are adorned with central eyes in contrasting colors. While most phlox have green leaves, some have variegated foliage with creamy white or yellow margins.
Bloom time:
Although the typical bloom period for garden phlox is July through September, you can extend the flowering season by choosing cultivars that have been bred to bloom a bit earlier or later than the norm. Often phlox are categorized as early season, late midseason, and late season bloomers. By planting varieties of each, you'll have phlox in full flower all summer long and well into autumn.
Cultivars:
There are well over a hundred cultivars of garden phlox, resulting in a great diversity in plant height, panicle sizes, and flower color. The Dutch have been the most ambitious breeders in recent years, says Locklear, aiming at bigger flowers, exotic colorations, and much shorter plants that can be used at the front of the border or in containers. In the U.S., many of the newest cultivars have been singled out for their improved resistance to powdery mildew and other foliar diseases. Heirloom cultivars with smaller flowers are also making a comeback because they are reminiscent of those grown in Victorian-era cottage gardens.
Pros:
Long-lived, often lasting in the garden for decades under hospitable growing conditions.
Provides color in the heat of the summer, when many other perennials begin to fade.
Attracts bees, butterflies, and hummingbirds. (See more plants that attract hummingbirds.)
Rarely needs staking.
Cons:
Susceptible to damage caused by powdery mildew.
May be grazed on by deer and rabbits.
Although phlox are easy to start from seed and often self-sow, the offspring of most cultivars do not remain true to the color of the parent plant.
GROW YOUR OWN
Light requirements:
Although phlox flowers best when given full sun, it is actually a native woodland plant and doesn't mind a bit of shade, especially when grown in hot southern climates. As a general rule, aim for about 6 hours of sun exposure daily.
Soil:
Grow in moist, fertile, well-drained soil enriched with compost or other organic matter. Phlox prefers soil that's slightly alkaline and will benefit from regular applications of lime if your soil tends to be acidic (see Garden Soil 101).
How to plant:
If you are growing bare-root or potted plants, put them in the ground in spring after the danger of frost is past, spacing plants about 18 to 24 inches apart to ensure good air circulation. Thoroughly water, and then apply a layer of mulch around the root zone to help keep the roots cool and moist. You can also grow phlox from seeds, but they must be started indoors in late winter (see Starting Seeds under Fluorescent Lights).
Propagating:
The easiest way to clone your garden phlox is by division. Simply dig up the plants in early spring or late summer and separate the clumps into sections with a sharp knife and replant immediately. Each division should contain at least 3 or 4 shoots and a portion of the root system. It's also possible to propagate phlox from stem cuttings taken in early summer.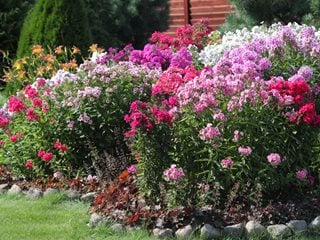 Photo by: Pelevina Ksinia / Shutterstock.
Using in the garden:
Few perennials can perk up the languishing midsummer landscape like garden phlox. Use them in mass plantings, cottage gardens, meadow gardens, pollinator patches, cut flower gardens and containers, or wherever where you need to add a punch of color. Because garden phlox is available in a wide range of heights, you can find varieties perfect for the front of the border, back of the border, and anywhere in between. Mix with flowering shrubs such as abelia.
Plant and seed sources:
One of the most extensive online sources for phlox, including heirloom varieties dating back to the early 1900s, is Perennial Pleasures Nursery in Vermont. Grower and manager Rachel Kane specializes in garden phlox (her favorite perennial) and grows 142 cultivars, offering more than 80 varieties for mail order.
Other online purveyors of phlox plants and seeds include:
CARE TIPS
Watering:
Phlox doesn't like drought and should be watered during dry spells or whenever you see the foliage begin to wilt. Ideally, phlox should receive about an inch of water per week during the growing season. To keep the foliage healthy, water at the root zone rather than overhead.
Dividing:
To prevent overcrowding and improve the vigor of your plants, divide them every 3 to 4 years. Telltale signs that phlox is ready for division include sparser blooming and centers that begin to weaken or die out.
Pruning and deadheading:
Phlox doesn't normally require pruning, but if you want to delay blooming and get bushier plants with more flower heads, pinch or cut back the stems by one-third to one-half in early summer. Deadheading the spent flowers may also extend the bloom period and prevent unwanted reseeding.
Mildew prevention:
The No. 1 enemy of garden phlox is powdery mildew, a fungus that attacks the plant's leaves and causes them to become shriveled and gray. The malady is particularly prevalent in humid climates during the hot, muggy days of summer. Plants growing in partial shade are also more susceptible. The best preventive measure is to improve air circulation by selective thinning of the plant stems and providing adequate spacing. The problem can also be avoided by planting mildew-resistant cultivars, such as all the varieties featured here. When thinning plants, remove all but four to five strong stems in early spring.
Winter care:
After the first killing frost, cut back the stems just above above the soil line and remove and discard the foliage, especially if your plants have been affected by powdery mildew. In colder regions, protect the roots by applying a layer of mulch before the ground freezes.
RELATED:
Hydrangea
Color in the Garden